It was 9:07 pm and my thoughts raced like a tangled mess, loops of thread getting stuck at adjacent knots and reversing only to strike another dead end. Analogous to my chain of thoughts, the Uber driver took lefts and rights after he was done trying his hands at u-turns and cycles.
Being a person who does not stay out after sunset, I was terrified. The driver, who was probably in his early twenties, had no clue where he was steering the black Toyota Corolla, neither did I.
It started on Friday when a colleague and I decided to avail our five free Uber rides, which were part of the company's promotional campaign after it launched in Karachi on August 24,2016.
The ride started at 08:15 pm from Teen Talvar and had to end at my home. The car dropped off my colleague at her house near Teen Talwar, Clifton and set off for its final destination, Numaish: one of the city's most famous areas right next to Mazar-e-Quaid, a historical landmark.
After taking two right turns, the driver revealed that he had no clue where Numaish was — what the heck! I always traveled via rickshaws and the familiar drivers knew their way around the city pretty well. This was new.
After a struggle of almost 15 minutes, I ended up calling my colleague to guide me through the lefts and rights of Karachi till I reached home at 9.15 pm.
Uber started recruiting drivers in Karachi sometime at the start of 2016, which gave them a window of around three to four months to train the latter. Nonetheless, the driver wasn't at all familiar with the Uber app or the Google Navigation App.
That wasn't it. The driver charged me Rs250 for a ride that was meant to be free.  Later my colleague showed me the digital receipt sent by Uber which stated I was supposed to pay Rs72 (the amount in excess of Rs300 entitled on every free ride), not Rs250.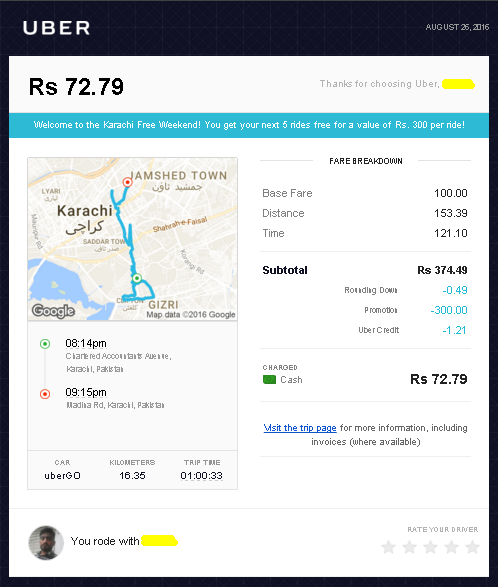 Second day into business and the driver had the audacity to take advantage of the situation, which shows nothing but absolute lack of training at Uber's part.
This wasn't first, earlier the same morning I was charged Rs150 for canceling a ride that was ordered by mistake and canceled the very minute.
Earlier the taxi-hailing service's launch in Karachi took college students and office going people by storm. Whether it was social media posts or casual roadside conversations, Uber managed to make it everywhere.
However, many like me are complaining about the overall ride quality. The company offered free rides, but it wasn't really the case, at least for me — besides wasting about half an hour of my time, the driver made me pay what I didn't owe him in the first place.
One must not forget that the cab hailing service is novice in the city and Karachi is both diverse and complex, but, did they not know it before launching?
Nonetheless, the American multinational transportation network deserves a benefit of doubt as a good part of the 20 million population of Karachi must have tried availing the free rides offered by them. In addition to that, Karachi is a diverse city with a very complicated road network. Catering to the cab needs of a city this huge is no piece of cake. However, when you decided to grab a chunk of the cake, do it tastefully at least — teaching your drivers to use basic navigation does not equal asking for moon.
Karachi, due to its dysfunctional transportation system, can prove to be a lucrative market for services like Uber. However, the San Francisco-based ride-hailing company must play its cards right, or it can face the same fate it did in the capital city of UAE, Abu Dhabi, i-e. suspension of its services for an unspecified period.
It may have been a good marketing technique to offer free rides as part of brand promotion, but I personally feel I was taken for a ride that day.