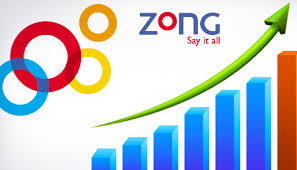 With over $2.5 billion investment, having 75 per cent share in 4G, widest 4G network in more than 300 cities and the second highest number of 3G and 4G customers, Zong, is celebrating its 9 years of successful operations.
In his message, CEO and Chairman Zong Liu Dianfeng said that customers are very important to us and that we want to offer the best services at the most affordable rates with the widest and deepest network coverage throughout Pakistan.
"We will continue to expand our network and increase our coverage map with an additional investment of $200 million in 2017, reaching our 4G site count to 10,000, the highest of any operator in Pakistan" he added.
From being the 5th and smallest operator in 2008 to being the No.1 data telecom operator in a matter of 9 years is nothing but incredible. With the ownership, research and investment of China Mobile Communications Corporation, the largest 4G telecom operator in the world, with an investment of more than $ 2.5 billion, Zong has seen a phenomenal growth in a matter of just a few years, establishing itself as the fastest growing telecom company in Pakistan with hundreds of thousands of customers becoming part of the Zong family in a short span of time, he added.
In the last 9 years, Zong has been the pioneer in leading the digital revolution in Pakistan, introducing high speed internet at affordable rates for the Pakistani people.
In 2016, the company announced and executed an additional 1,000 4G sites on top of its original target, rattling the market and its competition. The organisation's execution capability set a record by completing this target 3 months in advance, while customers enjoyed top data download and nonstop streaming services across the country.
With Zong's widest 4G network spanning more than 300 cities of Pakistan, the company's dedicated staff has worked day and night to revolutionize customer experience through cutting edge technology. Zong's success can be attributed to its focus on customer centricity and ensuring the widest, strongest and most technologically advanced network nationwide, he concluded.