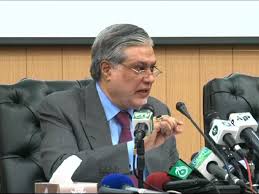 Pakistan will hopefully get financial allocation of $2.5b as infrastructural financing from Asian Development Bank (ADB), which would help country's economy to post 7 per cent growth rate by 2019 said Minister for Finance Senator Muhammad Ishaq Dar in an interview with APP here Thursday. He had a meeting with the ADB President Takehiko Nakao and the bank was requested to consider the financial allocation of $2.5b, under infrastructural financing in view of the surging requirements of that sector.
The minister described his meeting with the ADB president, held on the sidelines of ADB Board's 50th Annual Meeting as "very productive and useful." The minister said ADB had already agreed in principle for enhancing its annual financial allocation for Pakistan to $2b. ADB was in fact requested last year, during its meeting held in Frankfurt in that regard, which also led to merging of two major financing lines as part of its
plan for 2017-19.
To a question, the minister explained that Pakistan had a long-term basis plans and activities regarding financing for economic development with the ADB. The bank, he stated, always extended substantial cooperation as a part of its lending  policy in the energy sector and state-owned enterprises reforms.
Citing Pakistan's long partnership with the ADB, Ishaq Dar said the bank extended financial support valuing $1.2b for infrastructure project last year. Besides the bank had made commitments of $ 1.2b for National Disaster Risk Management Fund, out of which $200m had been released by the bank. The government has strategized its measures and arrangements to deal with the flood calamity, since there was no strategy earlier in place to handle flood-stricken situation in the country, he added.
The minister said he had meetings with the presidents of multilateral development institutions, including Asian Development Bank (ADB), Asian Infrastructure Investment Bank of China (AIIB) and Japan International Cooperation Agency (JICA).
Ishaq Dar said that he would have back-to-back engagements during his stay the next three days with regard to annual, bilateral and multilateral meetings on the fringes of Golden Jubilee annual meeting of the Bank's Board of Governors.
He said he was also one of the five panelists at the launch of book on 50 years history of Asian Development Bank . Another meeting with regard to an event on Asian Crisis – twenty years ago was also attended by the minister.