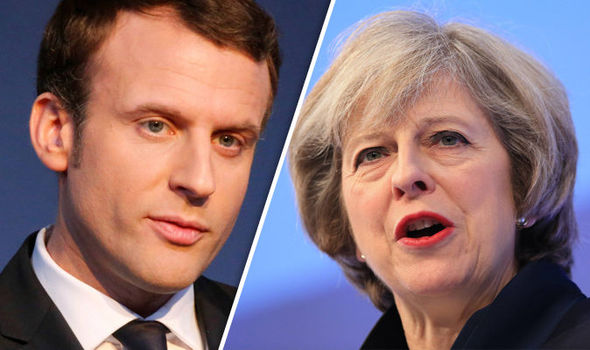 LONDON
A general upward trend was seen in stock markets across the globe on Monday.
European stock markets rose on Monday as traders reacted to a strong victory for President Emmanuel Macron's centrist party in French parliamentary elections, coupled with the beginning of formal Brexit talks.
At around 1000 hours GMT, London's benchmark FTSE 100 index was up around half a per cent compared to the close on Friday.
In the Eurozone, Frankfurt's DAX 30 index climbed 0.7 per cent and the Paris CAC 40 gained 0.9 per cent.
Markets rose, "As traders welcomed another Macron victory in France", said Accendo Markets analyst Mike van Dulken. Adding that, "There is also optimism about a positive start to UK-EU Brexit negotiations which kicked off today in Brussels."
Macron's year-old Republique en Marche party won one of France's biggest post-war majorities, strengthening his hand in implementing his programme of business-friendly reforms.
The Euro edged up after the party and its allies won 351 seats in the 577-seat National Assembly, giving the president a strong mandate to enact his much awaited business-friendly reforms.
However the currency's gains were tempered by the fact that the party did not secure the forecasted landslide.
Britain's Brexit minister David Davis was meanwhile on Monday to meet the EU's chief Brexit negotiator, Michel Barnier, to kick off hugely complex withdrawal negotiations that are expected to conclude within two years.
Earlier, Asian stock markets built on last week's gains following another record close on Wall Street ahead of the weekend.
The Dow in New York closed at a fresh all-time high Friday thanks to a bounce in energy stocks, while a weaker yen also helped Tokyo to rally.
The dollar climbed above 111 yen Monday after Japan posted a surprise trade deficit for May. The Nikkei ended 0.6 per cent higher, although troubled airbag maker Takata plunged 16.5 per cent on reports it plans to file for bankruptcy and sell its assets to a US firm.
Oil prices were up slightly amid lingering glut concerns as US companies' rising production, offset big output cuts agreed by OPEC and Russia.
The Baker Hughes rig count showed another rise last week, Greg McKenna, chief market strategist at AxiTrader, pointed out in a client note.
"That's 22 weeks in a row that oil rigs have been added, a record run," he said, although he pointed out that the rate of new additions was easing.
"Even just a casual observance of the energy news would show that the conversation is turning a little from OPEC and its production cut deal efficacy to US production and its sustainability – or growth – at these levels," he added.