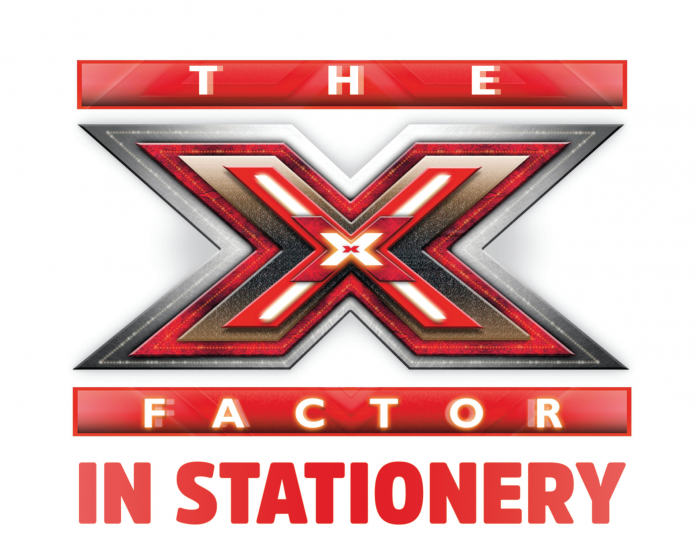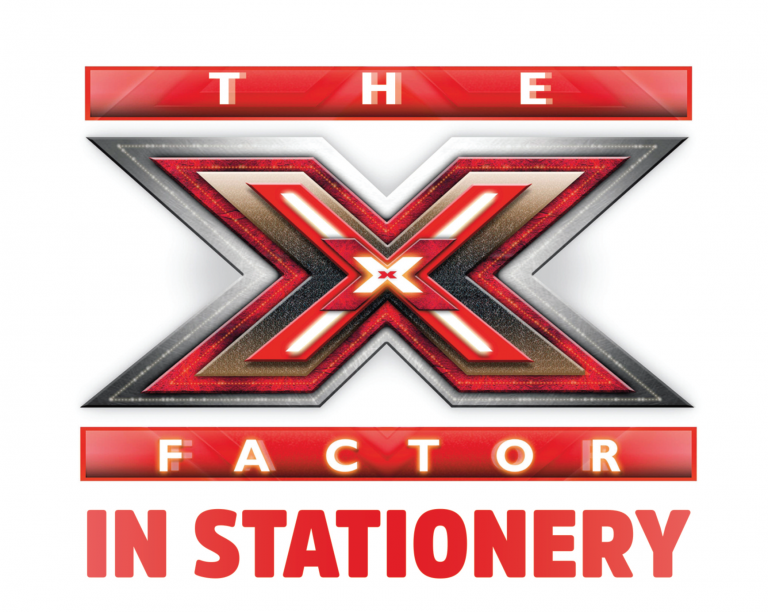 After opening a physical store and receiving a valuation of $1 million for his first startup AutoX – an online portal for automobile accessories – finance graduate cum entrepreneur Mufeez Rana decided to further venture out in a broader market segment.
"With AutoX there is a very small the segment of market: people who have cars and out of those as well very few would go online to purchase a car accessory," says Rana of his startup that he began in February 2016.
He thought of initiating a startup that could reach out to a bigger customer base and while roaming around in Lahore's markets to find his cousin's 'A' level course books, Rana stumbled upon an idea to tap into a potentially huge yet mostly untouched segment in Pakistan's e-commerce: stationery and art products.
With the intention to build Pakistan's largest stationery and art shop online, Rana and his partner Zeshan Afzal, CEO EZ VentureX, launched StationeryX on May 7, 2017.
"While I was looking for my cousin's course books, we were not able to find everything in one shop. We spent hours going from one shop to another, that's where it struck me," says Rana.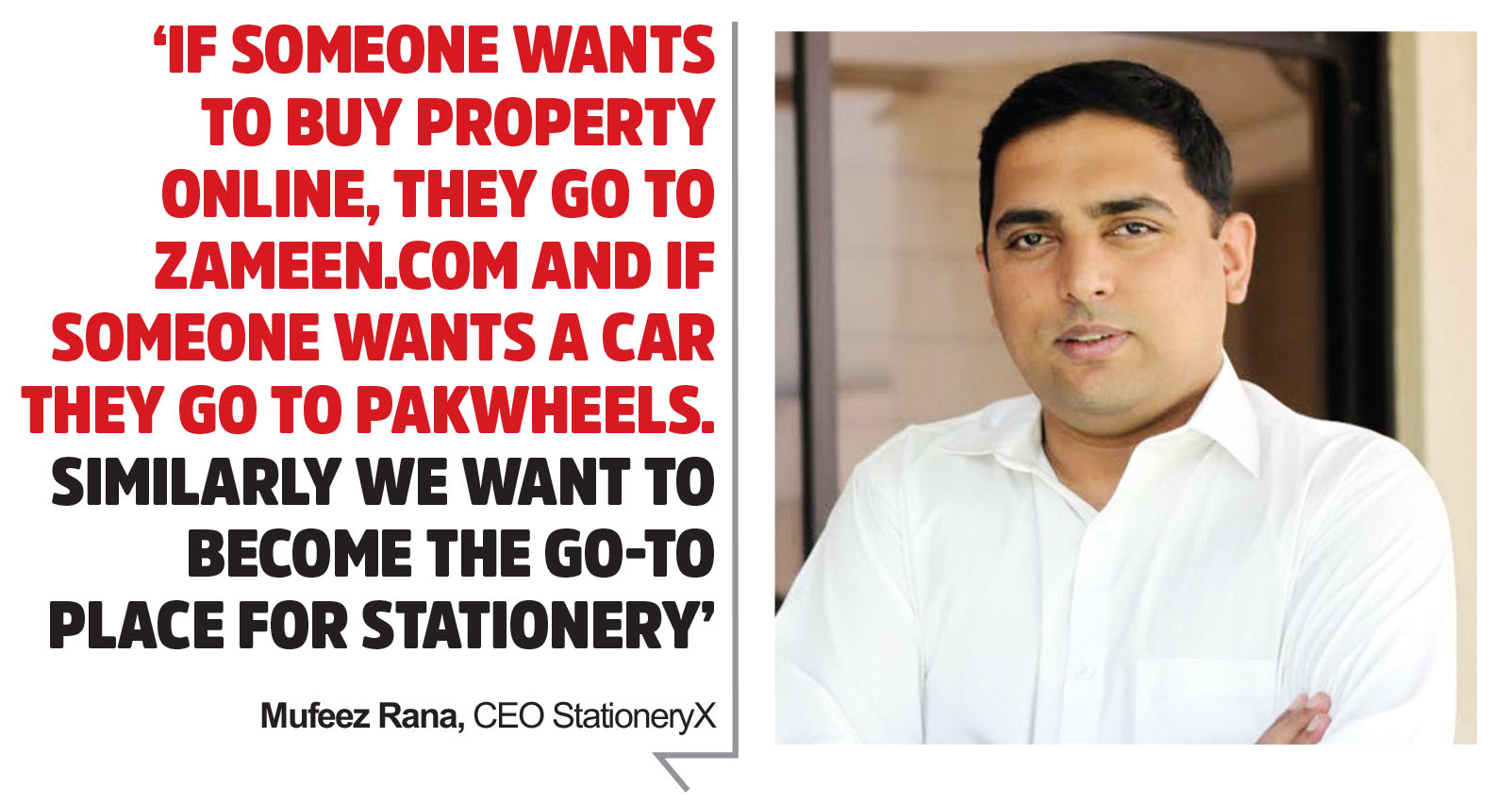 "People do not have time to spend in stationery shops and keep finding their required items, so we decided why not provide them with a complete solution on their doorsteps," the entrepreneur added.
"StationeryX is a complete solution for office stationery, school stationery and art products. I mean whatever it is, you name and we have it," the CEO introduced his venture.
A seasoned businessman himself, Afzal with his contribution in Peshawar Zalmi, JS Global Capital and Sadaqat Group, to name a few, was looking for youth startups to invest in. After meeting Rana and seeing the potential in the 28-year old entrepreneur and his startup, Afzal came on board.
"I don't invest in startups, I invest in people," says the majority shareholder designated as chief visionary of StationeryX, "Good entrepreneurs can make a bad business work and bad entrepreneurs can mess up an otherwise good business."
Launched a month ago, StationeryX was able to raise $100,000 in seed funding from Elahi Group of Companies with a valuation of $500,000.
When asked what motivated EGC to invest in a young startup, Danish Elahi, CEO EGC, in an email response to Profit said, "The business model in the specific field of stationery has a huge niche as Pakistan is a country with more than 50 per cent of its 250 million population under the age of 21; so the target market in addition to the B2B scope of the business is enormous."
In addition to the scope of the business, Elahi said EGC also evaluated the startup team and "the team with the likes of Mufeez as CEO and founder Zeshan Afzal was the easiest and primary sale point."
According to Rana, EGC is not merely bringing $100,000 investment, the conglomerate has a shareholding in over 80 companies and their inclusion can bring business from all those companies as well which is in addition to the seed money.
Whether it was novelty of the idea or the entrepreneurial savvy of the duo, Rana and Afzal were able to convert the idea into a running business in less than five months. However, once in the market StationeryX now relies on its customer base which according to the CEO is 'huge'.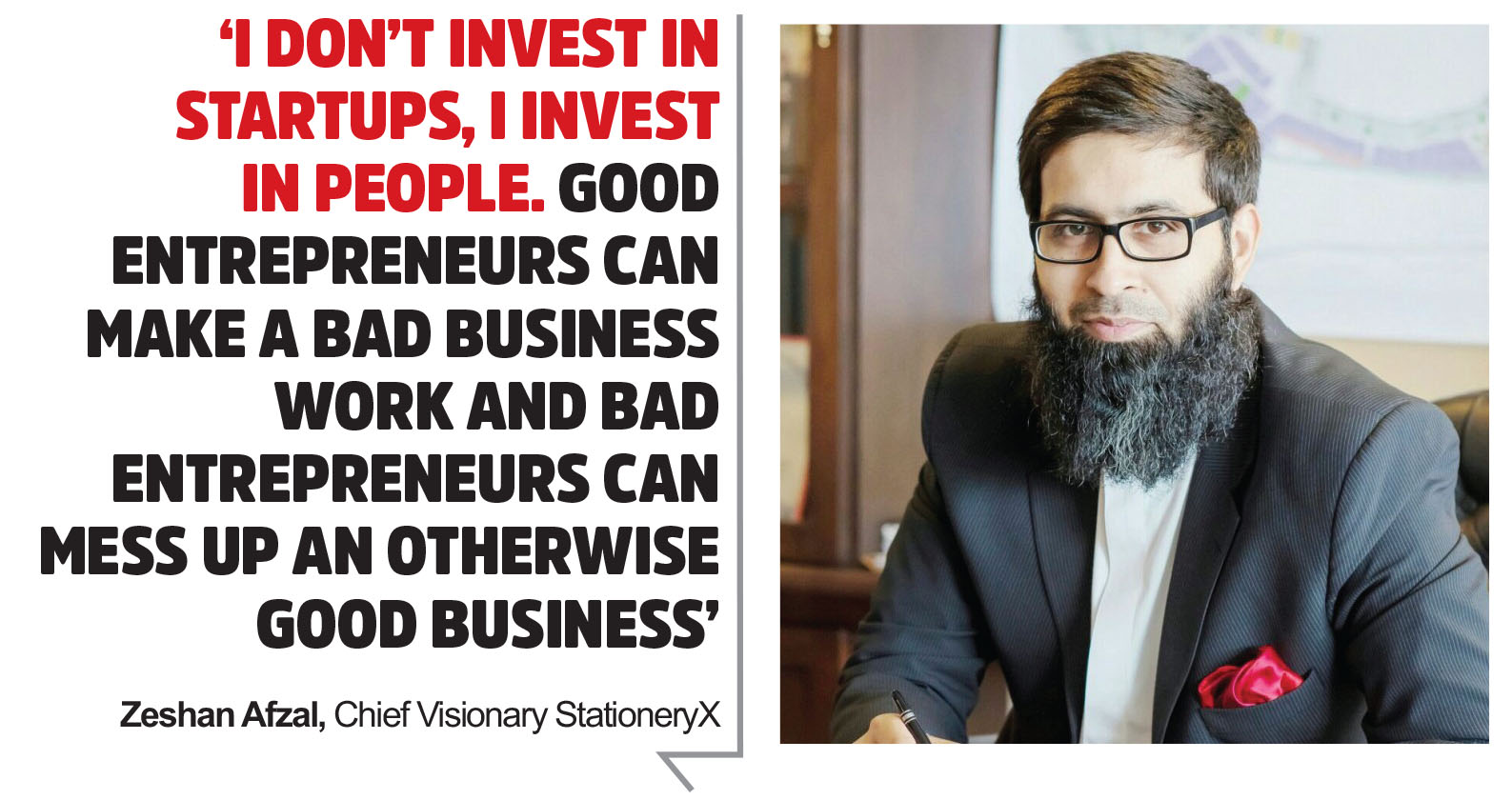 "We are receiving major orders from interior Sindh [and Punjab], Thatta, Badin and Gujrat are the places where we have our reach," says Rana about his newly found startup StationeryX. "People in bigger cities have a lot of options; they can just go and buy, but people in rural area have very limited options even though they have money," he said of his core clientele up till now.
"Schools and local offices from [rural areas] are ordering their stationery in bulk from us, they say that we have provided them with a convenience on their doorsteps, previously they had to travel all the way to Lahore and Karachi but now they can get everything delivered," said the Chief Visionary.
While the entrepreneurs have found a strong market in rural areas, another major chunk of the business will be driven by corporate clients, which Rana aims to add to his portfolio soon.
"Whether it's a property dealer, a startup or an MNC, they all need stationery and they are our target market," said the CEO. "If we are able to get business from a bank or a large multinational, we can further tap the market as people will trust us with big names in our portfolio," he added.
Gaining brand trust among the clientele is what stands as the largest challenge in front of the CEO. Once that is accomplished, he believes, his aim of becoming the largest stationery brand in the country will be fulfilled.
"If someone wants to buy property online, they go to Zameen.com and if someone wants a car they go to Pakwheels. Similarly we want to become the go-to place for stationery," he said.
We asked the 28-years-old CEO as of what would be his strategy to achieve the said goal, oozing confidence, he said, "Market competent price, quality and good customer service."
In order to maintain customer service and personal level communication with the clientele, Rana and Afzal have been sending out personal notes to potential clients, which promise that in case of poor quality or a product against what was committed by company, the company will provide a replacement or refund within 24 hours – this is what the brace say is their effort to maintain quality and customer relationship.

As far as the price is concerned, Rana stated that some people have found his pricing 'better than wholesale rates'. This according to the CEO is because the startup is playing on volume of scales instead of profit margin.
As a reflection of so far, so good, the 12 member team of StationeryX has been sending 15 orders a day on an average. Although Rana says the startup is intending to grow the number of orders but they want the process to be gradual as the team is testing itself at the moment.
In addition to the current wide range of stationery and art products available on the website, StationeryX is also catering customized orders. "If there's a product that is not available on the website, our customers can upload a picture of it and we'll provide them with the desired item," the entrepreneur said of the customized order system.
Rana is also working on to add complete range of school curriculum to the portal. This will also be a part of the corporate social responsibility that the startup is intending to fulfill.
"People often talk about giving back to the society, but nobody knows how. So what we have decided is that on the purchase of 10 curriculum sets, one set will be donated to an underprivileged child," said Rana.
It is also important to mention that the startup is also giving discounts to children with special needs.
"In addition we are also looking forward to sending 10 children back to school, so a certain percentage of our profits will go to this cause and we'll be able to provide education to 10 children from underprivileged background," the Chief Visionary further stated StationeryX aim.
Though the startup is in its infancy, the CEO and the chief visionary are aiming high for StationeryX. Both Rana and Afzal intend to open a physical store of StationeryX a few years down the lane, which Áfzal says would be a "stationery themed store", whereas Rana from there onwards intend to become stationery and art product supplier to Middle East. Together they want to become 'the best and the largest stationery brand in Pakistan'.