Partner in four successful businesses, with two more in the pipeline, he is a family man who makes it a point to see his three year old daughter at least three to four times a day. Born in the UK, and spending his early years in Yorkshire before moving to Lahore, he speaks fluent English and Punjabi with a British accent. An alumnus of Aitchison College and Lahore University of Management Sciences, he believes that it is the parents' and not the schools' responsibility to ensure that students are not conceited.
He doesn't hesitate to blacklist clients who cancel his contracts but is quick to forgive when they apologize without putting them through egotistical rides. He is infuriated at his former business partner for cheating in business, but is meticulous to never mention the name of the company or the person while narrating his story. He makes quarter of a billion rupees a year and shows up to work in jeans and slightly wrinkled t-shirt. His actual designation in one of his businesses is 'Chief Disaster Officer' but he prefers to be called the 'People Manager'.
His name is Arif Jalil Piracha, partner-owner of SmartPrep, Klockwork, MAP, and Naina.
SmartPrep is a standardized test preparation service provider based out of Lahore. According to Arif, it is the lowest priced service available to students, with additional cost advantages to students belonging to certain schools in exclusive contracts with SmartPrep. "My partner still has serious reservations about this but my take is that if you are good to your cause, if your intentions are good, and if you are good at what you are doing then money is always secondary. It's a good business but there is also the aspect of giving back to society." He insists that financial soundness should not be the only determinant for a student's success.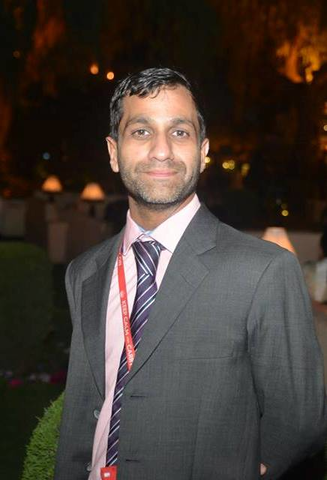 "If someone is from a less privileged background the only thing weaker in them could be their communication skills. But they will be harder working, and they will be more dedicated and they will grow." He laments that students that come out of privileged schools go abroad and create brain drain but such students are less likely to leave the country. "If we are able to educate them, they will remain in the country and these are the people who will make this country the success that it should be."
In addition to the claims of being the lowest priced, Arif is also convinced that he is the market leader. "Firstly it's obviously the gut feeling. Secondly, our presence in institutions is higher than anyone else. We have exclusive contracts with most of the schools in Lahore here which means that those schools will not go to any other organization and finally, we also have basic benchmark for the volumes that people are doing and our volumes are much higher than them."
He, however, has no empirical evidence about his market share.
"It is difficult to estimate that because there is no proper data available." He also thinks SmartPrep is better because it is designed in a way to live irrespectively of its owners. "In other test prep organizations, owners are also the teachers. Our main competitor was LEADS academy, and when unfortunately its owner [Mehmood] passed away, the company also went to the dogs. In our case, I don't teach even though I can. We have proper staff and we have been able to build a brand where we continuously hire teachers, train them, and constantly rehire to replace those who have left. If I teach, it's only because it is a passion, not because I have to."
Elaborating on his role as the owner and manager of this business, he said, "I would introduce myself as a people manager. I manage our clients, vendors, staff, products, services etc."
He said cheekily that in Pakistan people give themselves fancy titles even though these do not fit or explain their actual jobs. "At my wife's company [Naina – a bridal clothing manufacturer] my designation is Chief Disaster Officer, and many people get upset about it. But it fits me very well because whenever there is a problem, I am there to solve it."
Elaborating on his business practices, he said "There are limited seats for students, and we operate with the idea that we are not hungry for money, but we are hungry to teach. So in every batch when the number of students reach let's say 16 or 17, we stop taking more children."
Despite this restriction, the fees that he charges, also lower than many of his competitors, are enough to cover his primary cost of teacher's salaries, overheads and still leave enough to be added to his profit. There is no uniform measure of deciding fees in SmartPrep. For students coming from affiliated schools, that include Aitchison College, Grammar Schools, Learning Alliance, SICAS etc. the fees are lower, while students from any other institution have to pay higher. On average for an SAT prep course, he charges Rs 15,000. This model seems to be working well for Arif as he noted, "No one in the industry is going to share their profit margins with you, but we make about 300-400 percent. 10 percent of our revenues cover our primary costs, 10 to 15 percent goes into overheads."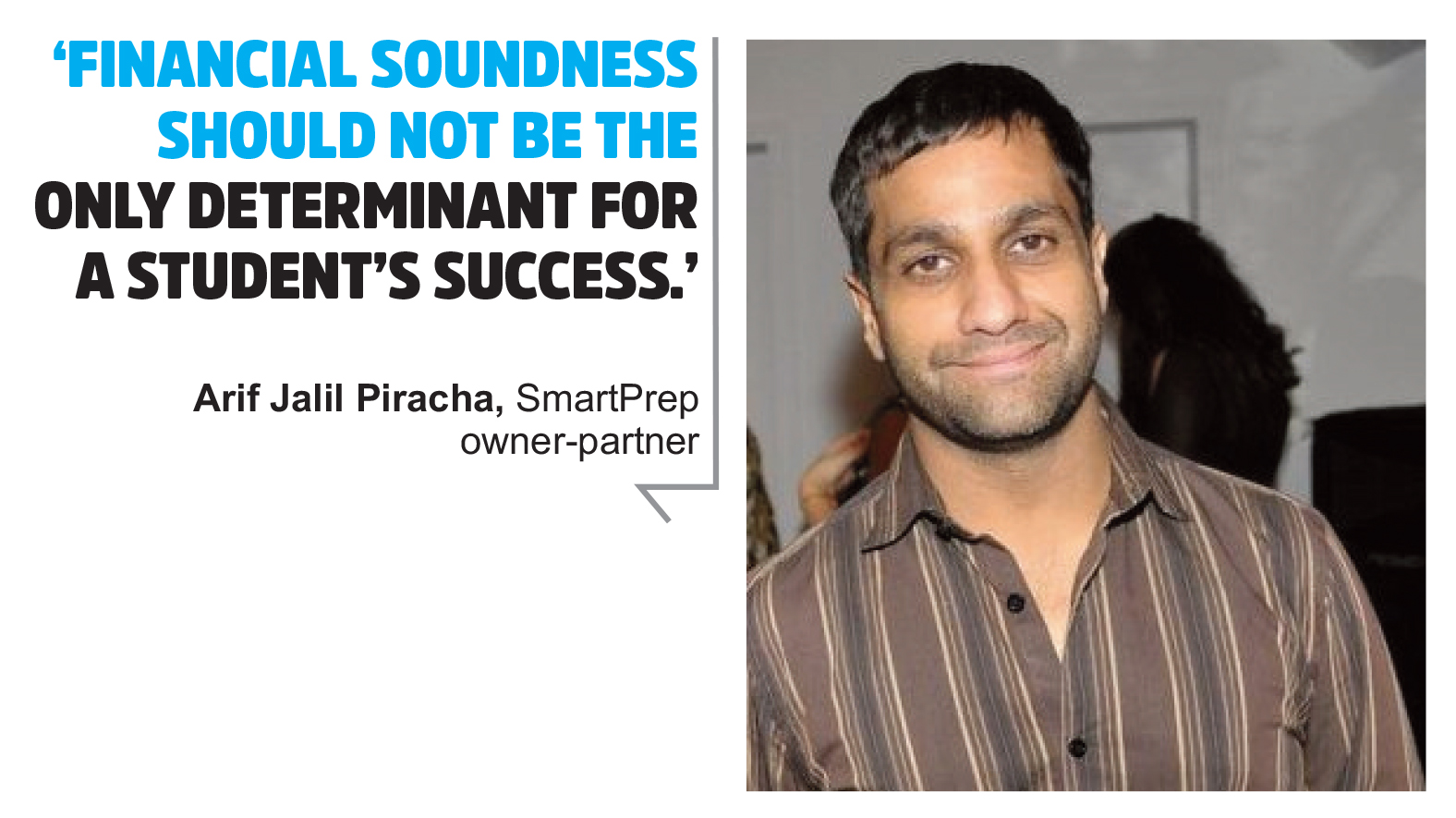 SmartPrep is not the only initiative Arif has taken for education. He is also in the process of opening up a state of the art school with technological integration, whose name he has not decided yet. "It is going to be a very big school and we won't be competing with Learning Alliance or grammar schools etc. We will have heavy integration of technology and provide students with tablets and everything. We will also be catering to under-privileged children if they clear our assessment test, which would be based on international standards and would not be entirely written."
He wouldn't share the name of his partner but his choice of words let out as much that it's a woman. He, however, said that his partner is a person of means, enough to fulfill the financing needs for this "3 to 4 billion rupees project." The leadership team for the school has already been put in place, but the school is expected to become operational by 2020 and will offer Class 1 to A-Levels.
He believes that there is an inherent flaw in the country's education system and he aims to bring an institution rectifying those shortcomings. "The reason we are doing that is because we feel that there is a need in the market for good education and the need to integrate technology in the education system. The school we will be launching will use artificial intelligence and a lot of high-tech stuff to pinpoint where students' weaknesses are, and regardless of caste, creed or affordability if a student is good, he or she deserves the chance to at least try and make it along with other others. And the reason why we have decided to take this initiative is because there are definitely certain inherent flaws in the current education systems."

Elaborating on what he counts as flaws, he said, "Parents are being ripped off. Let's say if I am paying Rs90,000 per semester, I should at least get good education, sense of security, integration of technology to see where I am lacking and also, what most schools ignore – extra-curricular activities."
Pleased with his alma mater, he said, "The only school that has managed to do that in Lahore is the Aitchison. There is no other school like such in Lahore operating on that level; there are some more in the country like Sadiq Public, but then again who is going to send their kids to school in Bahawalpur just for the extra-curricular activities. There is a need for private educational institutions to realize that everything is not about money. That's how SmartPrep also started and that is why we are still the market leaders in the country by the grace of God, but we are still the lowest priced company in the country."
He also said that in his experience with SmartPrep he has come across several parents who are ready to blame the schools for punishing their children but are not willing to consider their own responsibilities.
"We don't allow students to enter classrooms if they are more than 15 minutes late. One time a student was not allowed to attend and his father called me and started shouting at me. I mean when the parents are so irresponsible that they could not count for their children's punctuality and they had the cheek to blame us instead. This behavior has
become part of our DNA and needs to be fixed."