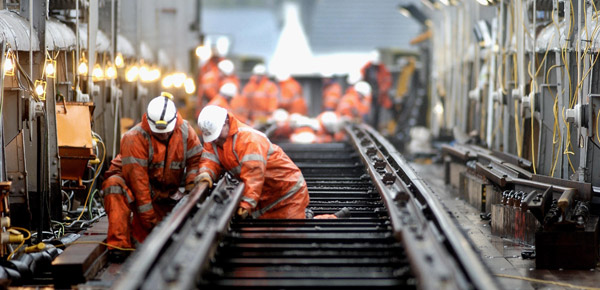 ISLAMABAD: Pakistan Railways has finalised arrangements for upgradation and construction of more than 50,000km long tracks across the country on the basis of Build Operate Transfer (BoT).
In this regard, the ministry has invited Expression of Interest (EoI) for prequalification of contractors in which as many as ten companies' consortium were selected through a bidding process, the sources told APP.
The tracks include; around 900km long construction of new track from Gwadar-Talar Pass-Turbat- Hoshab-Panjgur- Besima Surab Mastung and  300km long track from Jacobabad-Besima, laying of railway track from  Bostan-Zhob-D.I Khan-Kotla Jam (560 km), laying of track from Havelian-Khunjrab (682 km), upgradation of existing Main Line-II  (ML-II) from Kotri to Attock city (1254km), upgradation of railway track from Quetta-Taftan (680 km), laying of new track from  Islamabad to Muzaffarabad via Murree (107 km), upgradation of  Wazirabad-Sialkot-Narowal-Shahdara (234 km), construction of double line from Shahdara to Faisalabad via Sangla Hill and up-gradation of existing line (135 km), construction of double line from Khanewal to Faisalabad and Sangla Hill to Wazirabad (280 km) and upgradation of existing line, on BOT basis.
They said the rehabilitation and improvement of the existing track will be carried out to achieve higher speeds of up to 160 km per hour for which feasibility studies of some of the sections are being conducted.
The sources said that BOT resolves financing issue, which has remained one of the main hurdles in implementation of various projects.
They said that in the plan more emphasis is on new tracks and their upgradation in Balochistan, which is going to play a crucial role in the success of China-Pakistan Economic Corridor (CPEC).
Balochistan's share would be 1,760 km out of around 3000-km of new track that is going to be laid. The new lines would inter-connect Gwadar with different parts of the country, they added.
They said that upgradation of ML-I and ML-II would enable running of fast trains, reducing travel time significantly. The plan will also link Gilgit-Baltistan and Azad Kashmir with Pakistan.
In order to enhance the capacity of the system, the sectional speed is proposed to be raised to 120/160 KMPH by rehabilitation of complete infrastructure including track profile with flatter grades and easy curves along with the latest signalling system.
Currently, the maximum speed of trains on most railway lines is 110 KMPH while broad gauge track axle load limit is 22.86 ton, they added.