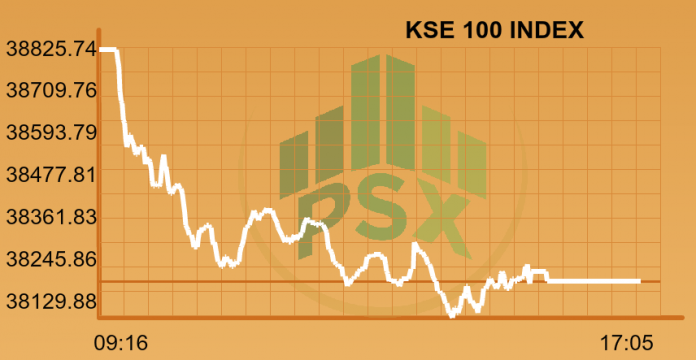 LAHORE: It seems like all who turned towards the Pakistan Stock Exchange (PSX) today came to sell! With volumes as low as 92.95 million and ever-rising political temperatures, the indices dropped again. Indices opened to decline and no matter what the name, the price and the market capitalization, scripts plunged.
Relentless selling by the investors caused the market to close at 38,223, down 1.5 per cent, which is the lowest closing for the calendar year 2017. Participation decreased as volumes were down 21 per cent day on day while traded value shed 24 per cent. The KMI 30 index crumbled by 1.95 per cent to 65,460.53. The KSE All Share Index drip 352.36 points as 261 scripts fell and only 59 advanced.
The market volumes fell from 117.66 million to 92.95 million, a clear indication of low confidence in the market.
Today the market exhibited negative behavior from the start and remained in red throughout the day as National Assembly (NA) Speaker Ayaz Sadiq's (affiliated with ruling party Pakistan Muslim League N) statement that he feared that assemblies might not complete their term, and a  greater plan  was in the offing, unsettled the already nervous investors.
Top index point decliners were HUBC (-2.6 per cent), DGKC (-5 per cent), MCB (-1.6 per cent), PSO (-3.3 per cent) & ENGRO (-1.7 per cent) withheld 150 points while stocks including ABOT (+3.1 per cent), INDU (+1.7 per cent), COLG (+2.4 per cent), SHFA (+3.9 per cent) & CSAP (+5 per cent), added 32 points.
TRG Pakistan Limited (TRG -5.00 per cent) at its lower lock managed to lead the volume chart with 10.31 million shares exchanged. K-Electric Limited (KEL -4.69 per cent), not very far from its lower lock too, followed with a volume of 8.35 million. Pakistan Elektron Limited (PAEL -4.99 per cent), also floored, was next with 6.38 million.
On the sector front; Cement, Commercial Banks, and E&P sector cumulatively took away 248 points. On the flip side, Chemical and miscellaneous sectors added a total of 10 points.
DG Khan Cement Company Limited (DGKC -5.00 per cent) in a notification to the bourse termed a document circulating on the social media as "fake and fabricated". The document claimed a Chinese cement company expressed interest in acquiring 40 per cent stake in the company. It also stated that the company has allowed permission of due diligence to Anhui Conch Cement Company Limited.