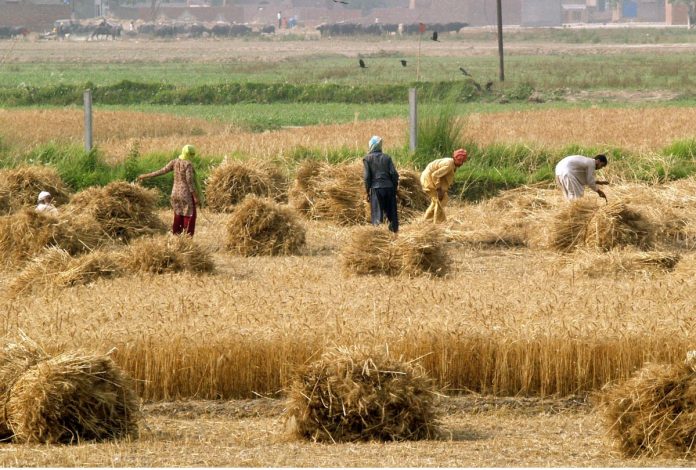 ISLAMABAD: To rein in current account deficit, the government on Friday allowed exports of two million tons of wheat and 300,000 tons of sugar to appease agriculturists ahead of general elections next year.
A meeting of Economic Coordination Committee (ECC) meeting on Friday took these key decisions besides allowing duty and tax exemptions for Sukkur-Multan motorway, reported an English daily.
ECC also approved raising of Rs70 billion loan for clearing hydropower payments of provinces and providing tax breaks to universities and companies.
Ministry of National Food Security and Research suggestion to permit provincial governments of Sindh and Punjab to export 0.5 million tons and 1.5 million tons before end of financial year 2017-18 was also given go-ahead by ECC.
During the meeting, participants were informed the country had a bumper wheat crop this year and possessed carry-over stocks which needed to be sold in global market to facilitate farmers and generate valuable foreign exchange, which would translate into increase in prices of wheat for domestic consumers.
Also, ECC gave approval of procuring 0.3 million tons of sugar from surplus stock of mills through tendering process and to export the commodity.
This decision came amidst vociferous resistance by sugar mills to initiate crushing and pay the approved sugarcane prices to farmers. This decision according to the government would permit mills to buy cane from farmers at a given rate and ensure prompt payments to them.
Sugar mills demand for increasing freight rebate on sugar export from Rs10.70 to Rs20 per kg has been continuously rejected by the government but Sindh allowed additional subsidy of Rs9.30 per kg on sugar export respectively.
Trading Corporation of Pakistan (TCP) was given orders by federal government on directives of Prime Minister Shahid Khaqan Abbasi to procure 0.3 million tons of sugar from the mills. TCP informed the government it had over Rs6 billion funds in its kitty on account of commodity operation finance, but this amount would be inadequate to enable 1.5 tons of sugar export.
ECC also allowed Wapda to raise Rs70 billion funds from banks to make payments to provinces on account of Net Hydel Profits (NHP) of Khyber-Pakhtunkhwa and Punjab as per a CCI decision.
These loans will be raised by Wapda against sovereign guarantee of government and would also result in a rise of electricity consumer tariff.