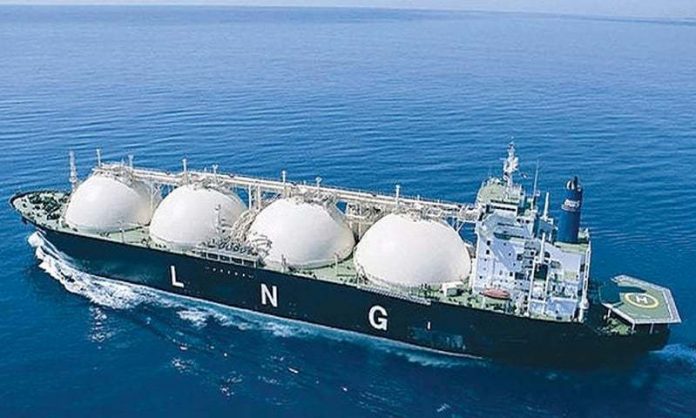 ISLAMABAD: A joint audit special study has unearthed several irregularities and raised serious questions over the purchase of Liquefied Natural Gas (LNG) from Qatar by Pakistan Muslim League-Nawaz government at higher rates without exploring opportunities for most economical deals.
Raising questions over the purchase of RLNG (re-gasified Liquefied Natural Gas) at high rate without exploring opportunities for most economical deal, audit is of the view that the price negotiated with Qatar was a higher rate as Qatar was the source supplier of LNG whereas trading companies in open market were offering average rates less than the one finalised with Qatar.
The joint audit special study of LNG for 2015-16 has also raised that "Had open competition been followed and complete facts of open market and other LNG producing countries submitted to ECC, for consideration the government would have been able to procure LNG at appreciably lesser rates, saving public money."
Available copy of a joint audit special study on import of Liquefied Natural Gas (LNG) with Pakistan Today discloses that the Economic Coordination Committee of the Federal Cabinet (ECC) had constituted a Price Negotiation Committee (PNC) vides case No. ECC-110/17/204 dated August 15, 2014, with the task of negotiating LNG import price from Qatar which was notified by MP&NR vide No. NG-(II) 12 (59)14-LNG-MoU dated September 03, 2014.
The PNC in its 13th meeting dated October 30, 2015, recommended a rate of 13.9 per cent of Brent for purchase LNG from Qatar to the ECC for approval. Meanwhile, in order to avoid loss of fixed capacity charges against the FSRU, which has become operational at Port Qasim w.e.f. March 26, 2015, PSO, a member of the PNC engaged in open tendering for the purchase of LNG separately. Resultantly, LNG was purchased on Brent slope of 12.8580 per cent, 12.7264 per cent, 12.9500 per cent, 12.2700 per cent, 11.8669 per cent, 11.9163 per cent.
Similarly, in November 2015 as a result of tender PSO entered into a contract to acquire 60 ships in 05 years from M/s Gunvor, a trading company, at 13.37 per cent of Brent. PNC after considering the cheaper rates available from open market re-negotiated the price of LNG with Qatar at a rate of 13.37 per cent of Brent. The contract made was for acquiring 400 mmcfd LNG through approximately 496 ships in 15 years.
Furthermore, there are no records regarding the price and quantity offered by other countries and suppliers provided to the audit neither was it clarified if ECC had been informed about all the prevailing market rates facilitating it in making a well-informed decision.
On finding no sound reply from the authorities concerned, the audit has sought the detailed analysis on the basis of which the project could not be finalised with other countries and reasons for not communicating the open market rates to ECC enabling it to make the well-informed decision.
It is relevant to mention that the ECC in October 2012 initially decided to observe PP rules 2004 for execution of LNG project and ensure open competition. However, in July 2013, the ECC authorised Government to Government (G2G) negotiation with Qatar for importing LNG up to 500mmcfd. Later on, in February 2015 and December 2015, the Cabinet Committee on Energy decided to engage with other governments in addition to Qatar for the proposed subject deal.
However, other than Qatar no agreement has so far been finalised by incumbent Pakistan Muslim League-Nawaz (PML-N) government to bring the LNG to the country for meeting burgeoning energy needs.
The joint audit special study further transpires that as per the Prime Ministerial directive, the Ministry of Petroleum and Natural Resources was required to expedite final approval of subject agreement from the cabinet which was not done.
The audit raised serious questions over the absence of cabinet's approval on LNG import agreement and reported the matter to management in May 2016.
According to the joint audit special study on LNG import, the reply was not tenable as no documentary evidence regarding submission of the case for consideration of the cabinet and subsequent approval was produced.
"Audit would suggest to obtain and provide the approval of the Cabinet as required in Prime Minister Office vide letter No. 804/SPM/2015 dated March 19, 2015," said the joint audit special study on LNG import.
During special study of LNG for 2015-16, it was observed that timely payment by CPPA-G/IPPs to SNGPL as per the above agreement had not been made as result of which SNGPL had not been able to clear its dues with PSO (the import agency of LNG) to the tune of Rs 8,965 million as on November 23, 2015.
The audit was of the view that non-following of payment mechanism may ultimately result into the failure of PSO in advance payment of LNG imports which may cause losses to the government of Pakistan due to a breach of international commitments.
The audit has recommended timely clearance of PSO dues besides intimating the updated liability of SNGPL to PSO against RLNG.
The joint audit special study also pointed out non-utilisation of GIDC funds of Rs 101,000 million for development of LNG infrastructure.
As per Section 3(1) of the Gas Infrastructure Cess Ordinance 2014, the cess shall be levied and charged by the federal government from gas consumers, other than domestic sector consumers, or the company at the rates as provided in the second schedule to this ordinance.
Further, as per section4(1) of the Gas Infrastructure Cess Ordinance 2014, the cess shall be utilised by the federal government for or in connection with infrastructure development of Iran Pakistan Pipeline Project, Turkmenistan-Afghanistan-Pakistan-India (TAPI) pipeline project etc.