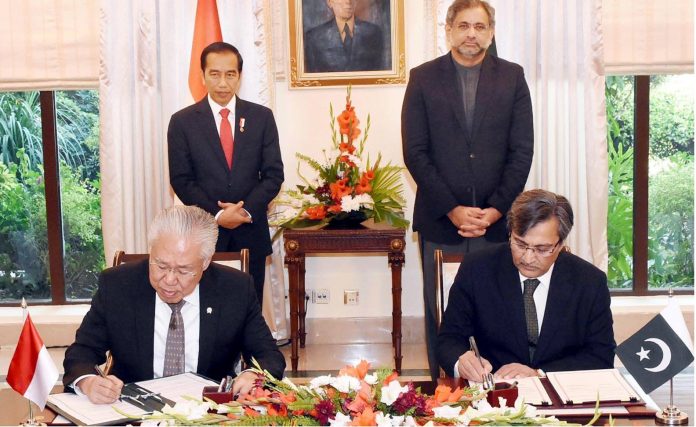 ISLAMABAD: Pakistan and Indonesia have agreed to strengthen cooperation in diverse fields including defence, security and economy.
The understanding came at a meeting between Prime Minister Shahid Khaqan Abbassi and Indonesian President Joko Widodo during talks in Islamabad on Saturday.
The two leaders recognised that the people of Pakistan and Indonesia share deep political, cultural and religious ties and respect for democratic values. Being the largest countries in the Islamic world, they stand together for their progress, prosperity, stability, security and territorial integrity.
It was agreed to establish a joint committee under the bilateral agreement on defence cooperation. The two leaders agreed to intensify counter-terrorism cooperation besides also agreeing to support each other in building their respective anti-terrorism capabilities.
The two leaders noted that bilateral trade had crossed $2 billion in last three years, but there is a need to improve the trade imbalance. They also agreed that there is a need to increase two-way investments to diversify and expand economic ties.
The two sides acknowledged that there is a considerable untapped potential to expand trade, taking advantage of the Preferential Trade Agreement (PTA). It was also noted that three rounds of PTA review have taken up matters successfully and efforts are being made to narrow the trade deficit.
The two sides agreed to maintain close high-level exchanges, which would provide guidance to the sustainable development of bilateral relations. The two sides also agreed to further enhance strategic communication and coordination to safeguard common interests.
Prime Minister Abbasi briefed President Widodo on Pakistan's efforts to enhance regional connectivity and development including through China-Pakistan Economic Corridor (CPEC). He underscored that CPEC and other mega infrastructural projects offer vast opportunities.
President Widodo welcomed this initiative.
Pakistan and Indonesia also signed four MOUs for cooperation in energy, trade and training and education.
The first agreement deals with the import of LNG and POL products from Indonesia. Minister for Energy Sardar Awais Khan Leghari and Indonesian minister for energy and mineral development signed the agreement.
The second agreement is the additional protocol on PTA for twenty new tariff lines. Minister for Commerce and Textile Muhammad Pervaiz Malik and his Indonesian counterpart signed the agreement.
The third MOU is related to trade facilitation which was signed by Trade Development Authority of Pakistan secretary and DG for National Export Development of Indonesia.
The fourth MOU was signed between foreign services academy and centre for training and education of Indonesia in the field of training.
PM Abbasi and President Widodo witnessed the signing ceremonies.