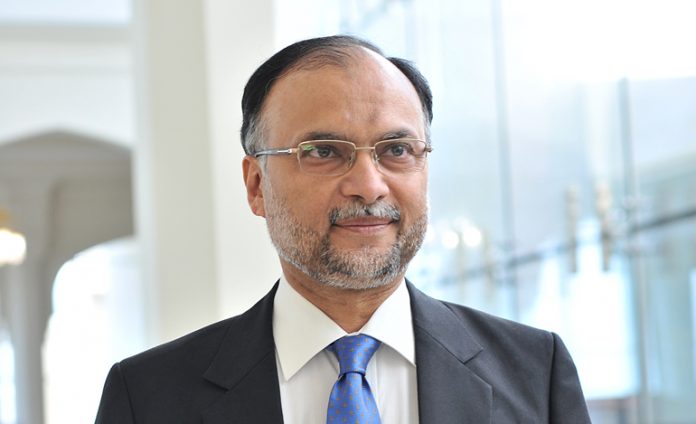 KARACHI: There was a time when business community in Karachi was relocating their businesses to other countries but now the phenomenon has been reversed, said, Interior, Planning, Development and Reforms Minister Ahsan Iqbal.
"We are living in 2018 and there is hope. When I used to visit Karachi in 2012-13, most of the business persons were pondering over to relocate their businesses to other countries like Canada, Dubai etc and poorest of them tried to move to Lahore. Now there's not a single person who's planning to move. In fact, now people are returning to Karachi," said Iqbal, who was in Karachi on Sunday and also attended the unveiling ceremony of Daehan Shahzore, a 1.5-tonne commercial vehicle re-launched by Yousuf Dewan Companies.
He also quoted several international publications including Wall Street Journal, which have included Pakistan as one of the fastest growing economies in the world.
"There was a time when there used to be widespread terrorist activities. Now the terrorist activities have largely been reduced. It is all due to contributions of our brave soldiers, police and LEAs," he said.
He further said that the improving law and order situation in the country has paved the way for economic growth. He added that Pakistan achieved 5 per cent GDP growth last year and would now be achieving near to 6 per cent GDP growth this year.
The World Bank (WB), in its biannual publication Pakistan Development Update in November last year, had also projected Pakistan's GDP growth rate at 5.5 per cent for 2017-18 and 5.8 per cent for 2018-19.
Iqbal said that reduction in load shedding under the present government has also played its part in reviving a conducive environment for businesses.
The veteran politician further said that the 21st century is of economic development while the 20th century belonged to politics and reforms.
"Now wherever you go to attend international conferences, people would not ask you what type of government you have or what you believe in. They would ask you what is the size of your economy or what is your GDP?"
Meanwhile, he said that by 2019, Pakistan will have 1,600 kilometres of motorway in the country. "When we started in 2013, there was only 550 kilometres of motorway in the country."
He also said that Pakistan's economy will improve significantly due to CPEC related trade and economic activities as it would put Pakistan at the centre stage of South Asia and the Middle East.
He further said that Pakistan has been predicted to become one of the top 25 economies of the world by 2025.
"There are very few countries and nations as gifted as Pakistan. We all need to contribute to make Pakistan a developed nation," he concluded.