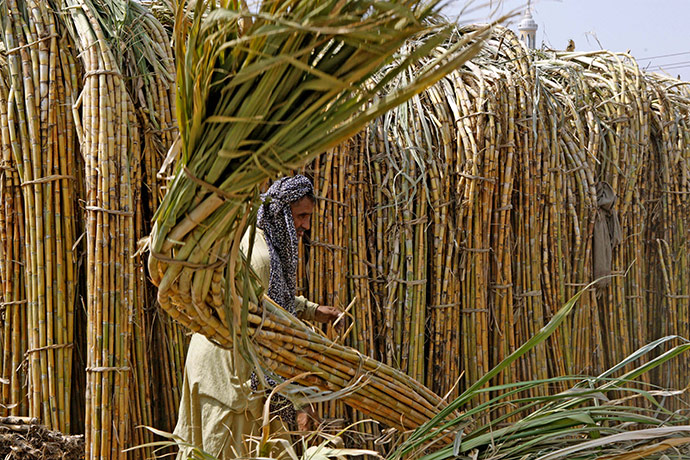 ISLAMABAD: The government has decided to completely abolish the support price system for sugarcane crop and devise a new pricing mechanism which would be tied to sugar's wholesale price.
This decision to abolish the existing sugarcane price system was taken in a recently held cabinet meeting to satisfy the protesting farming community which has been up in arms due to their exploitation by sugar millers, reported Express Tribune.
The cabinet meeting held on 6th March took the constituted committee's proposals into consideration which was setup to resolve the issues being faced by the farmers.
The committee proposed excessive incentives on offer to farmers currently be streamlined by replacing the present pricing system with a new one that would tie sugarcane price with wholesale price of sugar.
According to the committee, this would enable to establish a level playing field for all commodities and sugarcane constitutes 80 percent of the wholesale price of sugar.
A senior govt official suggested sugar mill owners should provide for 75 percent price of sugarcane in advance and 5 percent after a year, taking average wholesale price of the commodity into consideration.
The previous government in 2012 had given go-ahead to Cane Purchase Receipt system, which could be converted into bank cheques, which would have ended the system of manipulation of the farmers.
But the present PML-N led government failed in implementing this policy.
A summary forwarded by Ministry of Industries and Production also wasn't given go-ahead by the cabinet in this regard.
The CPR introduced by the previous government, would have enabled the documentation of agriculture sector and protected the interests of farmers.
However, members of the cabinet directed the sponsoring division to re-inspect the recommendations considering the federal government's role.
This CPR proposal much to the surprise of the cabinet members was endorsed by the State Bank of Pakistan, Federal Board of Revenue, Ministry of Finance, Ministry of National Food Security and Research, cane commissioners of Punjab, Sindh, Khyber Pakhtunkhwa and even the provinces.