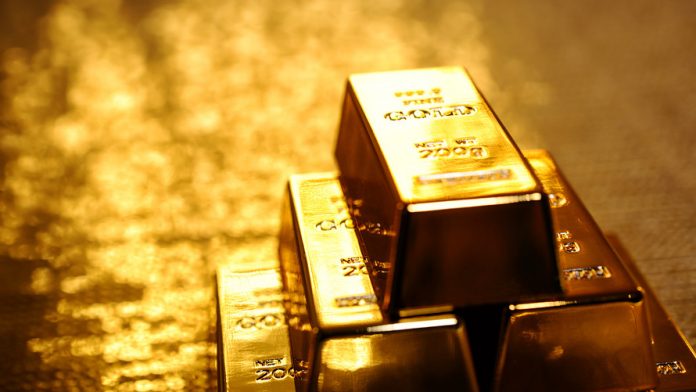 BENGALURU: Gold prices inched up on Thursday as the euro rose to 2-week highs against the U.S dollar, with investors waiting for meetings of key central banks and the U.S.-North Korea summit all due next week.
Spot gold was up 0.1 percent at $1,297.46 per ounce by 0703 GMT, while U.S. gold futures for August delivery were largely unchanged at $1,301.50 per ounce.
The dollar index, which measures the greenback against a basket of six major currencies, fell 0.3 percent to 93.388.
The euro climbed to two-week highs against many of its rivals on Thursday, on rising bets the European Central Bank (ECB) may announce it will wind down its stimulus programme by year-end as early as next week.
A Federal Reserve policy meeting and U.S.-North Korea summit are both due next week, while a G7 summit begins this Friday in Quebec.
Expectations of higher interest rates and a surge in equities have capped gains in non-interest-paying bullion, which is priced in dollars.
Asian shares rose to a fresh 11-week high on Thursday, supported by sound economic fundamentals.
Outflows of North American gold-backed exchange traded funds (ETFs) rose in May, as volatility in the gold market dragged prices lower, the World Gold Council said on Wednesday.
Holdings of SPDR Gold Trust, the world's largest gold-backed exchange-traded fund, fell 0.42 percent to 832.59 tonnes on Wednesday, the lowest in over three-months.
Meanwhile, silver rose 0.3 percent to $16.69 per ounce.
Platinum was up 0.3 percent to $905.50 an ounce and palladium was 0.1 percent higher at $1,016.80.