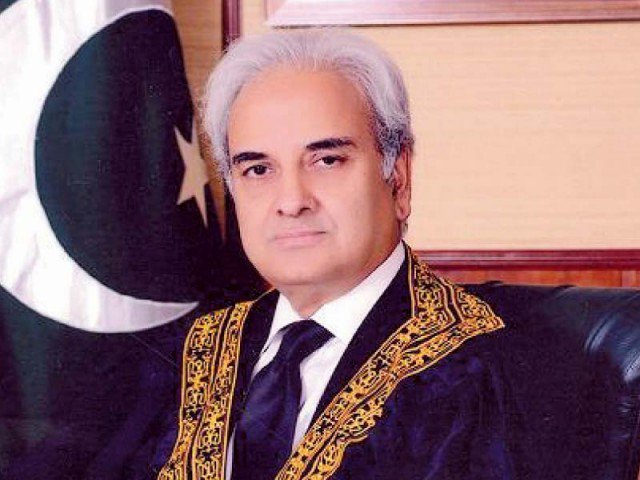 ISLAMABAD: The caretaker Prime Minister Justice (Retired) Nasir-ul-Mulk on Thursday directed the petroleum ministry to come up with an inclusive strategy to assist the next elected government for meeting rising demand of gas that constitutes 40 percent of the energy mix.
A meeting was being chaired by the PM on petroleum at his office on Thursday and Minister for Energy Barrister Syed Ali Zafar, Secretary to PM Suhail Aamir, Secretary Petroleum Sikander Sultan Raja and senior officials were also part of the briefing.
The officials were instructed by the caretaker prime minister to ensure their attendance to any emergent crisis as per the authority of the interim government.
Also, caretaker PM Mr Mulk asked the officials to formulate an extensive strategy during the period of the interim government in cases of petroleum linked problems for consideration of the next elected government.
A briefing was provided about the petroleum by the petroleum sector with special emphasis on production and sector-wise usage of gas and petroleum products in Pakistan.
The meeting was apprised Pakistan's present energy requirements of 79.58 million tons of oil equivalent were being fed 34 percent via oil, 38 percent gas, 6 percent liquefied natural gas (LNG) and other resources which include liquefied petroleum (LPG), hydro and coal resources.
Also, the petroleum secretary shared information about the available oil and gas reserves in Pakistan and provided stats of province-wise production and its utilization.
Roughly 0.5 million consumers were being added on a yearly basis to the fold of the already existing 8.8 million gas consumers in Pakistan.
As local gas production dwindles, LNG requirement which presently is recorded at 1,000 million metric cubic per day (mmcfd) is forecast to touch 3,600 mmcfd by 2030.
And the country currently has two LNG terminals having a combined re-gasification capacity of 1.2 billion cubic feet per day.
Avid interest has also been shown in Pakistan's energy sector by global energy producers like ExxonMobil and traders like Vitol as the gas shortage is projected to grow as the number of gas consumers increase.