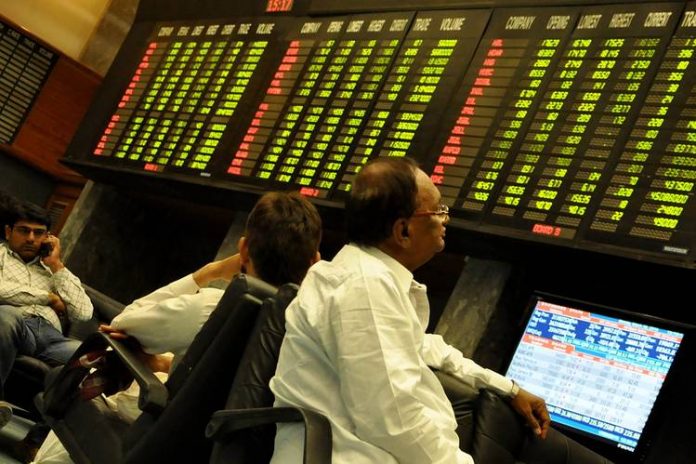 LAHORE: The Pakistan Stock Exchange (PSX) continued its winning streak as the equity market stretched Wednesday's rally, gaining 898 points (2.19 per cent) to close the day at 41,796. This takes last 3 trading sessions rally to a whopping 2,130 points. It seems as if the market has recovered from a sluggish trend during the last week after Nawaz's arrest.
The KSE 100 index touched an intraday high of 41,896.08 after gaining 998.18 points early morning. The index later settled at 41,781.28 after gathering 883.38 points. The KMI 30 index managed to collect 1,799.11 points and ended the day at 69,862.18. While the KSE All share index appreciated by 1.81 per cent and settled at 30,268.81.
The market turned bullish, as investors took part in the pre-election rally. Market Participation was recorded as the highest in more than 3 months as volume grew 36 per cent over Wednesday to 337 million. Similarly, value touched its highest point since April, growing by 52 per cent to reach a level of $102 million.
Commercial Banks (adding 232 points) continued to post gains as expectations of higher policy rates kept investors bullish on the sector. Similarly, cement sector (adding 127 points) extended Wednesday's gains with recent price increase being the main catalyst.
The market volume increased by 35.9 per cent daily basis and was recorded at 337.08 million. K-Electric Limited (KEL 6.03 per cent) led the market on Thursday with 22.77 million shares traded. Lotte Chemical Pakistan Limited (LOTCHEM +8.42 per cent) was next with 21.06 million shares exchanged. The Bank of Punjab (BOP +3.78 per cent), Pak Elektron Limited (PAEL +4.97 per cent) and Fauji Cement Company Limited (FCCL +4.92 per cent) were also among the top volume leaders for the day. The scripts had 20.11 million, 13.67 million and 11.99 million shares traded respectively.
The engineering sector gained 4.64 per cent in its cumulative market capitalisation. Big names clinched handsome gains, Mughal Iron and Steel Industries Limited (MUGHAL) jumped 4.99 per cent, Amreli Steels Limited (ASTL) appreciated 5.76 per cent and Aisha Steel Mills Limited (ASL) was up 4.99 per cent. Whereas, International Steels Limited (ISL +5.00 per cent) and International Industries Limited (INIL +5.00 per cent) also ended the day in green. Moreover, following the recent round of devaluation, the steel sector is expected to raise its prices.
The cement sector clinched 3.98 per cent in its total market capitalisation. D. G. Khan Cement Company Limited (DGKC +4.99 per cent), Lucky Cement Limited (LUCK +4.06 per cent) and Maple Leaf Cement Factory Limited (MLCF +4.98 per cent) managed to make decent gains in their share price. Bestway Cement Limited (BWCL +2.70 per cent) and Fauji Cement Company Limited (FCCL +4.92 per cent) also ended the day positive.
Moreover, Power Cement (POWER) has informed the exchange about the progress of its ongoing expansion. As per the notice, 62 per cent of the shipments have been received and other shipments will be coming during the tenor of the LCs established for the supply of engineering and equipment of complete cement plant. Furthermore, the design phase of the grid station is complete and civil work has started upon completion of which the erection of plant will start. So far 52 per cent of the civil work has been completed.
As per a notice, the board of Directors of Agro Allianz (formerly Karim Cotton Mills; KACM) has decided to increase the authorised capital of the company from Rs250 million to Rs8 billion.
Further, as per a notice to the PSX, Baluchistan Glass (BGL) has informed that BMR at its Unit I has completed and the company successfully fired its furnace having the capacity to produce pharmaceutical products of 125 M tonnes per day. The management also intends to improve operational/technical facilities at Unit II and Unit III.
The State bank of Pakistan (SBP) said it aims to bolster the mortgage book of financial institutions from current Rs83 billion to Rs250 billion by June 2021, along with increasing the number of borrowers with access to the home loans to 200,000 from the current 68,000. The central bank published a draft policy on low-cost housing finance to ease the housing shortage in the country.
Large-scale manufacturing (LSM) grew 2.76 per cent YoY in May 2018 as compared to the corresponding month a year earlier as retail sector thrived on growing consumer demand, while construction boom kept fuelling steel production, official data showed on Wednesday.
Pakistan Bureau of Statistics (PBS) data showed that food, beverages and tobacco production grew 16.28 per cent with year-on-year growth impact of 2.43 per cent in May. Coke and petroleum products had the growth impact of 1.22 per cent, followed by non-metallic mineral products (0.87 per cent), iron and steel products (0.54 per cent) and automobiles (0.39 per cent).
Technically speaking, the KSE 100 index extended gains from the previous session and tested resistance at 50EMA (41,957). Next resistance is at 42,136 (intraday high from July 2nd) and 42,400 (falling trend line resistance), meanwhile, immediate support at 41,435.