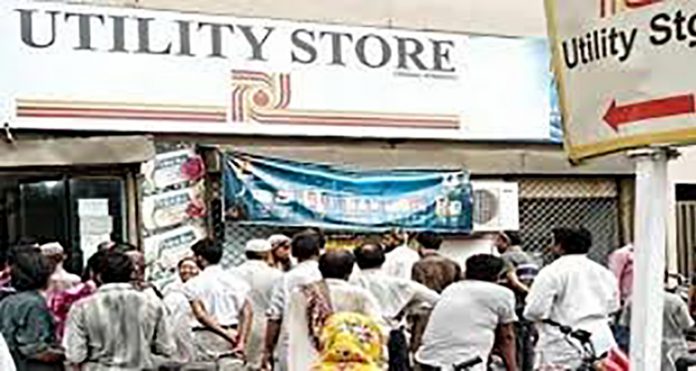 The utility was a profit-making enterprise under PPP, but subsequently, under the PML-N government, it started running losses.
According to the official order issued by the USC management, under directions by the joint secretary ministry of industries and production, the minister and secretary have stopped all sorts of 'procurement at the regional and head offices immediately until further orders'.
The USC, established in the early 1970s, provided everyday provisions to the low-income group at discounted rates. Its countrywide retail outlets have by now swelled to 5,500, with 14,500 employees.
The decision to stop procurement was issued by Adviser to Prime Minister on Industries and Production Abdul Razzaq Dawood and Ministry of Industries and Production secretary as the utility is in the throes of a financial crisis.
The directive from the top pointedly brushed aside the USC's board of directors.
At present, the USC's inventory is worth Rs4.5 billion while its monthly revenue is around Rs1 billion. Officials said that Adviser to Prime Minister on Industries and Production had been thwarted in his attempt to close the USC in his previous avatar, as Gen. Musharraf's advisor.
The USC was in the black during the Pakistan Peoples Party's (PPP) tenure. However, since the Pakistan Muslim League-Nawaz (PML-N) government, the corporation's fortune took a turn for the worse. For the uninitiated, the national carrier, Pakistan International Airlines (PIA) and also Pakistan Steel Mills (PSM) are the major bleeding entities, only surviving through several bailout packages year in, year out.
The USC faced a loss of Rs1.36 billion during the first quarter of the previous fiscal, 2017-18, with negative equity of Rs1.808 billion and outstanding payments to vendors amounting to Rs5.6 billion – forcing the vendors to stop supplying stocks to the USC.
In 2010-11, with the PPP government in power, USC made a profit of Rs843.19 million while the subsidy was a hefty Rs8.9 billion. Its profit dropped to Rs775.28 million in 2011-12, as subsidy increased to Rs12.4 billion. In 2012-13, USC's profit jumped to Rs1.399 billion while the subsidy also saw a steep rise to Rs18.53 billion.
With PML-N in power, the profit of the utility evaporated, turning into a loss of Rs202.32 million in 2013-14, with subsidy also declining to Rs12.544 billion.
Posting losses to the tune of Rs3.94 billion in 2016-17, the overall sales of the utility also came down from Rs68.91 billion to Rs57.91 billion in 2016-17. The Ministry of Industries and Production blamed this rapid deterioration on the nomination of a private board of directors by the PML-N.