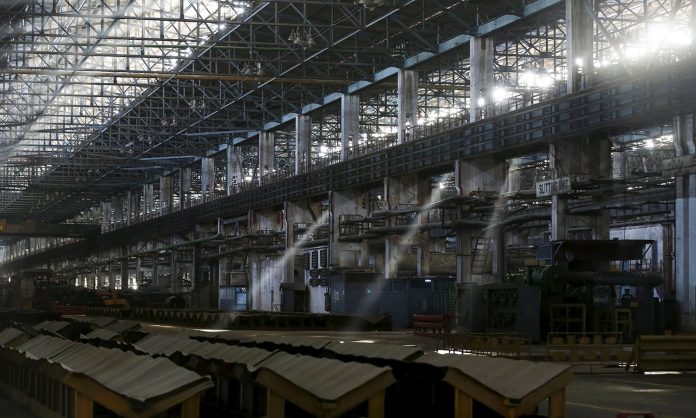 ISLAMABAD: The Pakistan Tehreek-e-Insaf (PTI) government has been requested by Pakistan Steel Mills (PSM) stakeholders to appoint a professional management team for restarting the mill which has been closed for over three years.
PSM is said to be incurring Rs5 million per hour of financial losses and in a letter forwarded to the Prime Minister Imran Khan, the stakeholder's group of PSM pensioners, suppliers, employees, contractors and dealers blamed the previous PML-N administration of criminal negligence for its closure in June 2015, reports Dawn.
The stakeholders said that the losses and liabilities had swelled to over Rs465 billion, alongside $2.5 billion foreign exchange loss per year to the national exchequer due to steel imports.
The convener of the PSM Stakeholders Group (PSG) Mumrez Khan in the letter to the PM mentioned the steel mill had been completely dysfunctional since June 2015 due to the incompetence and unprofessional policies of the previous government.
Consequently, the employees, retired and serving ones suffered and the suppliers, dealers and those possessing a share in the successful operation of the mill were suffering greatly.
The stakeholder group has put forward a claim of Rs70 billion on the mill and offered to turn around PSM by resuscitating its existing plant and enhancing its capacity by three times to 3 million tons to end its losses, decrease foreign exchange loss and assist the local economy and industry.
Moreover, it said they had submitted 'workable proposals' between September 2017 and August 2018 which hadn't been entertained by the federal government.
It added requests for transparent accountability and process, an appointment of professional management alongside the injection of funds needed for the mill's revival wasn't entertained.
According to the letter, the current state of PSM was due to "due to unchecked corruption, inefficiencies, over-employment and lukewarm attitude of the governments to its revival."
This had been reported in a summary sent to the Economic Coordination Committee (ECC) of the cabinet which solicited a Rs28 billion package for PSM's revival in August 2013 but was rebuffed by the then finance minister Ishaq Dar.
The stakeholder's group said whilst rejecting the summary, Mr Dar had called for a "workable proposal" which never surfaced about in those five years but cost Rs265 billion to the public exchequer from June 2013 to August 2018.
According to the stakeholders' group, the total debt and liabilities of PSM had swelled to Rs465 billion at the end of August 2018 and a performance audit was desired.
Furthermore, they stated no management structure currently existed at the PSM and the posts of its CEO, eight directors and twenty-four general managers were lying unoccupied.