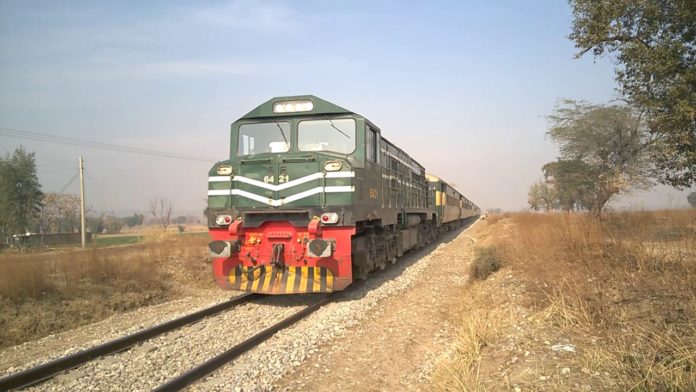 Railways minister says decision to convert Railways Walton Academy into a university has been made
LAHORE: Railways Minister Sheikh Rasheed Ahmad on Saturday said that Prime Minister Imran Khan would inaugurate Hyderabad Express train on November 15.
Addressing a press conference at the Railways headquarters, he said China would be given priority regarding the decision taken about the Karachi-Peshawar Mainline-1 (ML-1).
"Pakistan received great response and hospitality in China. The great friend of Pakistan has offered to gift us the primary feasibility report of ML-2 and ML-3," the minister said, adding that the deputy minister of China railways would soon come to Pakistan in order to help Pakistan Railways in its efforts to achieve unprecedented growth.
On a query, he said that approval of 86,000 vacancies had been secured and 10,000 of them had been advertised. A request would be made to the prime minister for regularizing the contract employees under the PM package, he added.
The minister said, "Our basic work is to improve the railway tracks and provide facilities to passenger and the freight sector."
Dhabeji Express was facing problems and the Karachi divisional superintendent had been directed to change its timing to facilitate the workers, he said.
The railways' minister further informed the media that catering service had been restored in Green Line Train while a tender would be floated in 10 days to provide catering facility to Karachi Express as well as Tezgam trains.
Sheikh Rasheed said that Pakistan Railways Freight Transportation Company (PRFTC) had been given the approval to run two freight trains.
He said that retired employees, who were inducted again on a contract basis, would be relieved from duties after one year so that the youth could be given a chance.
The minister said that vigilance department in railways was being abolished and a decision had been made to convert Railways Walton Academy into a university.
He said the railways' chairman and the chief executive officer would take decisions regarding transfer of officers and other staff working in the vigilance cell to other departments of railways.
All project directors were present in their respective fields for the supervision of their projects and to ensure the timely completion of the projects, he added.
The minister said that under the 100 days agenda, railways' schools and hospitals would be given to private sector and tenders in this regard would be issued this month and all schools and hospitals would be operated in private-public partnership.
Every station master would give his gross report after one month and the DS would be responsible for any sort of negligence in his respective division, he added.
He said the nonstop train, which runs between Lahore and Faisalabad, will run up to Multan and the schedule in this regard will be announced soon."
Responding to a question, the minister said that politics of the corrupt politicians in the country would end and new faces would emerge.
To another question, he said if Pakistan Tehreek-e-Insaf government delivers even 15-20 per cent in the first 100 days, it will be a great success.