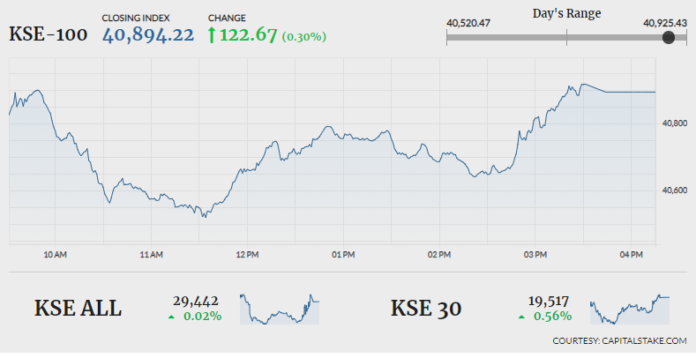 KARACHI: The Pakistan Stock Exchange (PSX) on Tuesday witnessed another dull session where volumes remained flat while indices, after trading in red for the most part of the day, changed their path to end in green.  Foreign investors continued off-loading on Monday with a net sale of $2.75 million.
On the economic front, the State Bank of Pakistan said the Pakistani Rupee depreciated to Rs133.93/Rs134.11 against the US dollar in the inter-bank market on Monday as compared to Friday's close of Rs133.88/Rs134.07.
According to media reports, Pakistan has received $1.50 billion of foreign loans during the first four months of the Financial Year 2018-19 (FY19) as compared to $2.30 billion in the same period last year.
The KSE 100 index traded in red during the initial hours of trading and recorded an intraday low of 40,520.47 after losing 251.08 points. It then changed its course and touched an intraday high of 40,925.43 after gathering 153.88 points. The index closed higher by 122.67 points at 40,894.22. The KMI 30 index ended the session on the upper side at 69,585.69 after gaining 123.26 points, while the KSE All Share Index appreciated by 5.28 points to end at 29,442.35.
Trading volumes declined slightly from 135.32 million in the previous session to 132.33 million. Lotte Chemical Pakistan Limited (LOTCHEM +4.75 per cent), Pak Elektron Limited (PAEL -0.84 per cent) and United Bank Limited (UBL +3.85 per cent) were volume leaders of the day. The scripts had traded 21.47 million shares, 11.70 million shares and 7.01 million shares respectively.
Hinopak Motors Limited (HINO -5.00 per cent) touched its lower lock after the company declared its financial results for the second quarter of Financial Year 2018-19 (2QFY19). Sales declined by 30pc YoY while the earnings per share depreciated from Rs31.79 in the same period last year to Rs-1.97 in the current year.
Engro Polymer and Chemicals Limited (EPCL -0.25pc) in a notification sent to the exchange made an announcement that the company is making an investment of $9 million to install fuel and cost-efficient technology at its Karachi plant. The directors approved the expenditure to shift towards oxygen-based vinyl chloride monomer technology which is expected to reduce the raw material consumption by 2pc.