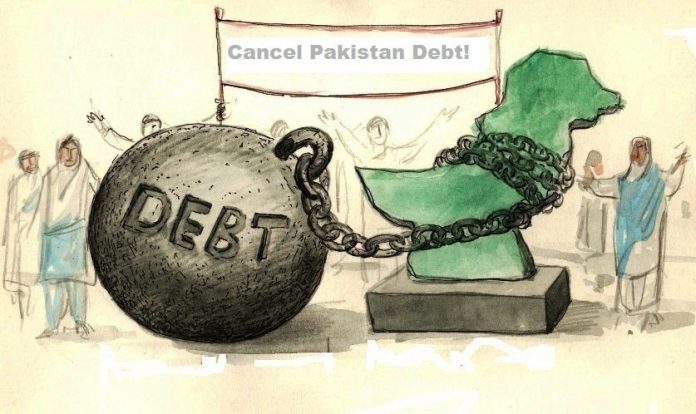 KARACHI: The country's external debt and liabilities soared up by $1.394 billion or 13% during the first quarter of the financial year 2018-19, touching $96.735 billion by end of September.
Statistics released by the State Bank of Pakistan (SBP) on Tuesday revealed that the country's external debt and liabilities in the corresponding period of last year stood at $85.642 billion, reports The News.
At end of FY18 in June this year, the external debt and liabilities stood at $95.342 billion. Consequently, the debt and liabilities constituted 31.2% of Pakistan's gross domestic product in the period under review.
Most of this rise emanated from an increase in public debt, which soared 14% to $76.340 billion.
According to the central bank's data, long-term foreign debt was recorded at $64 billion by end of September 2018 compared to $56.3 billion from the corresponding period last year.
Pakistan's foreign debt increased due to higher financing in the shape of borrowings received from Chinese disbursements, bilateral and commercial loans including Eurobond/Sukuk proceeds.
The SBP data revealed Eurobond and Sukuk debt obligations rose to $7.300 billion from $4.800 billion in the same period last year (SPLY).
However, debt contracted via commercial loans was recorded at $5.962 billion against $4.687 billion in the previous year.
And debt received via the International Monetary Fund (IMF) amounted to $6.209 billion during the period under review and loans from multilateral donors was nearly static at $28 billion.
Moreover, the figures show Pakistan's external debt servicing decreased to $2.542 billion in the 1st quarter (July-September) of FY19 against $7.490 billion in the corresponding period of last year.
The decrease in external debt servicing was attributable to a deceleration in principle and interest repayments.
The central bank expects servicing of the external public may rise in the future as repayment of rescheduled Paris Club debt and IMF's EFF has begun to rise from FY19.
Furthermore, commercial loans and five-year sovereign bonds issued in FY14 and FY15 would be maturing in FY19 and F20 respectively.
Due to the recent rupee devaluation, at current exchange rate analysts projected around Rs300 billion would be added to the pile of foreign debt.