KARACHI: Optimistic sentiments prevailed at the Pakistan Stock Exchange (PSX) for the second consecutive session on Tuesday. Indices which opened positive continued to trade in green all day long.
According to news reports, Planning and Statistics Minister Makhdum Khusro Bakhtiar chaired a meeting to review the preparations for Pakistan's 12th Five-Year Plan (2018-23). The Planning Ministry projected an annual economic growth rate at 7pc (previously 4.2pc) by the end of its five-year term.
Moreover, according to the latest data published by the Ministry of Planning, the government has decreased development expenditure significantly as it approved Rs225.4 billion in the first half of the current fiscal year, which is lower by 32pc as compared to the disbursements made in the same period last year.
On the economic front, the rupee on Monday strengthened against the US Dollar at Rs138.67/Rs139.03 in the interbank market as compared to Friday's close of Rs138.69/Rs139.03.
Article continues after this advertisement
The KSE 100 index benchmark, which started the day slow, reached its intraday high of 39,148.92 after gaining 586.52 points by midday. It finally closed on the upper end at 39,052.50 after gaining 490.10 points. The KMI 30 index appreciated by 1,402.87 points or 2.18pc to end at 65,839.70, while KSE All Share index was up by 246.96 points, settling at 28,776.08 points. Out of 346 traded shares, 216 advanced, 105 declined while prices of 25 remained unchanged.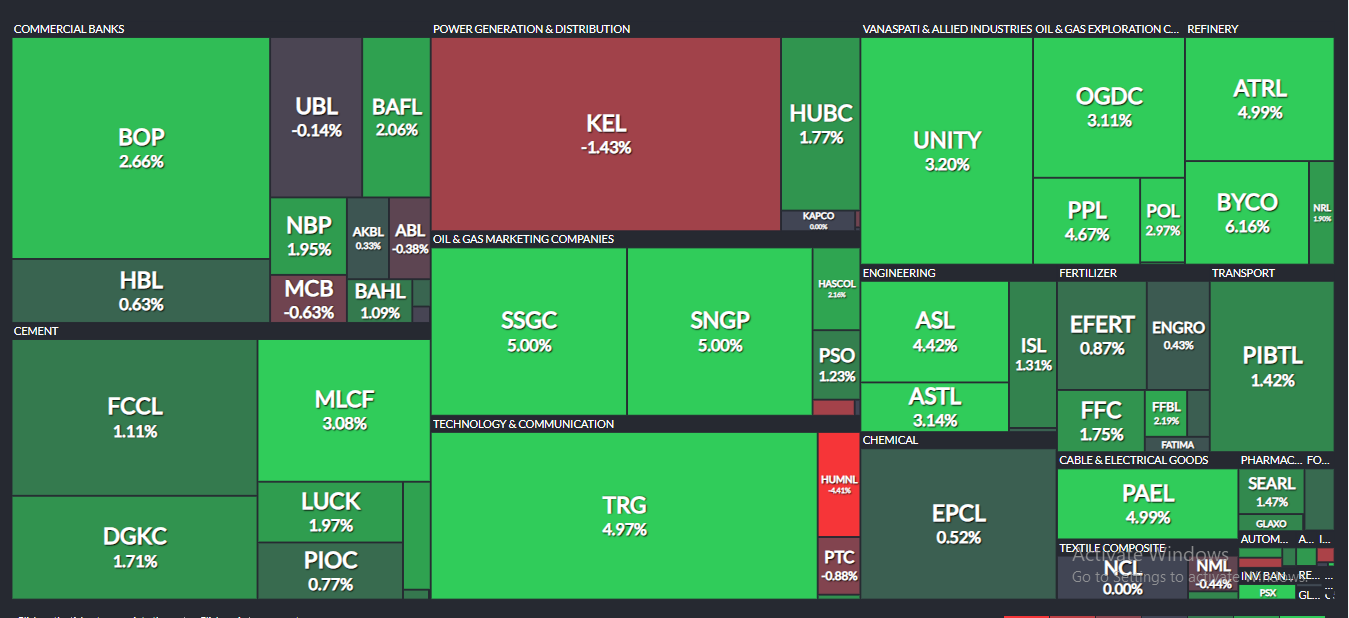 Volumes surged from 157.10 million in the previous session to 166.79 million. Maintaining its position among the most traded scripts for second consecutive session, K-Electric Limited (KEL -1.11pc) topped the volume chart with 10.12 million shares exchanging hands, followed by TRG Pakistan Limited (TRG +4.88pc) and The Bank of Punjab (BOP +2.66pc). The scripts had traded 9.77 million and 8.33 million shares respectively.
Major gainers included close-end mutual funds sector (+3.97pc), refinery sector (+3.92pc), oil and gas exploration sector (+3.53pc), miscellaneous sector (+2.93pc) and textile weaving sector (+2.60pc). On the other hand, woolen sector (-2.62pc), jute sector (-1.70pc) and tobacco sector (-1.41pc) ended the session as losers.