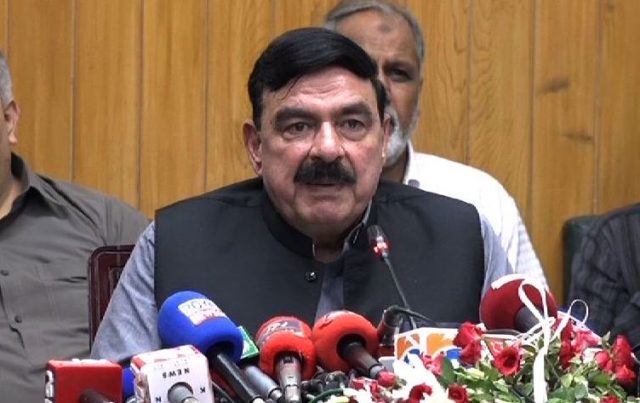 Sh Rasheed says the railway system will be extended up to Iran, Afghanistan, Turkey, and Russia soon
LAHORE: Pakistan Railways Minister Sheikh Rasheed Ahmad has said that the railway system will be extended up to Iran, Afghanistan, Turkey and Russia soon.
Addressing a railway workers gathering at the Mughulpura Carriage Shop on Saturday, he said that Turkey and Iran had assured of their cooperation regarding the expansion of the rail system.
He assured the workers that he would struggle for their grades' upgradation in the next budget, and also announced of Rs3,000 for each railway worker on behalf of Prime Minister Imran Khan.
He said that fare for the new VIP train, Jinnah Express, would be Rs7,000, but the fare for the second VIP train, Sir Syed Express, would not be fixed less than Rs10,000 even if the railway officers oppose it.
The minister said that it was only the Pakistan Railways wherein 10,000 vacancies had been announced, adding that no vacancies had been announced in other departments.
He alleged that the previous governments neglected the railway labourers, asserting that violation of merit in recruitment would not be tolerated.
The minister assured that TLA employees would also get their share in the new recruitment. He said that billions of rupees had been spent in the past on renovation of some railway stations which were useless as there was not so much income at these railway stations.
"Lahore, Karachi and other big railway stations are needed to be upgraded," he added.
He announced that Lahore Railway Station would be made a model railway station as it was the heart of the railways.
He said that corruption was the main reason behind the destruction of the country, adding that railways would be made a corruption-free department under the leadership of Prime Minister Imran Khan.
"The upcoming times will be a golden period for the railways," he hoped.
Earlier, the minister inspected the tracks for Jinnah Express while Railways Chairman Sultan Sikander Raja, CEO M Aftab Akbar and other senior officers accompanied him.