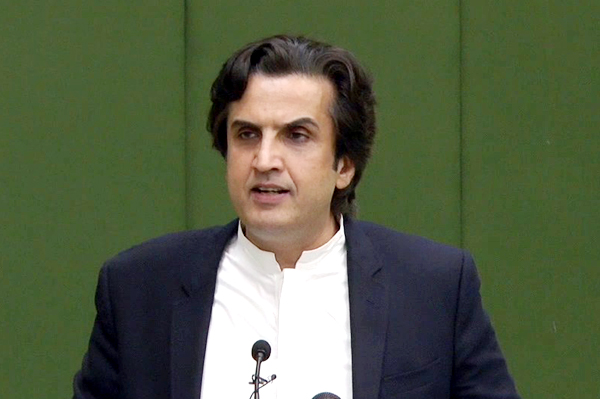 ISLAMABAD: Planning, Development and Reform Minister Makhdoom Khusro Bakhtiar has reiterated the government's commitment to fulfilling the vision of Economic Cooperation Organization (ECO), underlining the need for creating a mechanism to enhance regional trade and identify new areas for future cooperation.
Addressing a session on 'ECO: Achievements and Challenges', organised by Pakistan Planning and Management Institute (PPMI), the minister highlighted the need for an effective monitoring system to ensure the acquisition of ECO goals.
He said that ECO offers its member states a great potential to enhance regional integration and connectivity, adding that 'ECO Vision-2025' is an excellent framework and the impetus provided to it by Islamabad Declaration in 2017 would help translate and realise its objectives.
Talking about the potential of China Pakistan Economic Corridor (CPEC) in regional connectivity, the minister said that CPEC provided a lot of opportunities with regard to enhancing trade between the regional countries.
The minister informed that the government's new five-year plan is in the final stages and "one of the major pillars of this plan is regional trade and intraregional connectivity".
He termed the development of infrastructure, including roads and railways, important to promote regional trade, saying that in order to ensure the availability of capital required, ECO needs to establish partnerships with different banks and development institutions.
Addressing the ceremony, ECO Secretary General Hadi Soleimanpour lauded the role and efforts of Pakistan with regard to regional integration, saying that Pakistan is a vibrant member of the organisation which offers potential to enhance trade and commerce activities among member states.
He emphasized that the potential among member states needs to be exploited by overcoming trade barriers.
"In order to promote the trade-related activities and to attain all the objectives of ECO, all member states need to provide ease in their respective visa regimes," he asserted, underlining the need for building road and railway corridors between the ECO member countries.
He said that the start of the Islamabad-Tehran-Istanbul train, which has been launched with the support of ECO, is an important initiative by Pakistan, Iran and Turkey to foster trade through railway link among them.
Soleimanpour said that the initiative would not only open a new era of socio-economic development and prosperity in the region but also bring the people closer to each other.