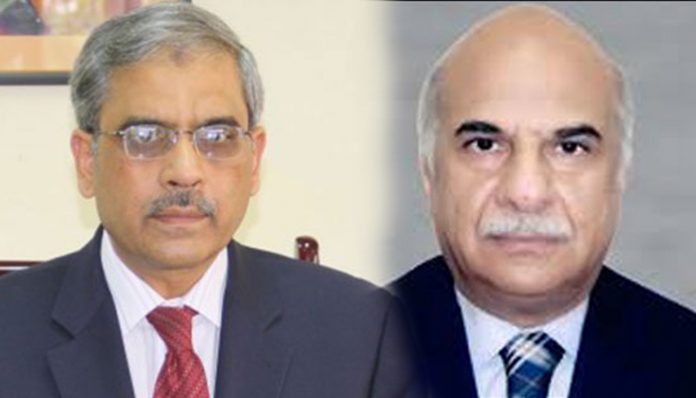 In a late night move, the federal government on Friday removed State Bank of Pakistan (SBP) Governor Tariq Bajwa and Federal Board of Revenue (FBR) Chairman Dr Jahanzeb Khan from their posts in a bid to revamp its financial team.
According to informed sources, the government had already decided to remove the two senior officials some months ago but it had kept the move pending till the removal of finance minister Asad Umar from office due to his poor performance in reviving Pakistan's economy.
Sources said that both men had been told to submit their resignations to the Prime Minister's Office, which they promptly did.
According to reports, the former FBR chief had opposed the proposed asset declaration amnesty scheme and refused to take its ownership. "Jahanzeb Khan believed that the scheme was prepared by the FBR on the instructions of the prime minister," the sources added.
They said that the FBR chief's stance had angered Prime Minister Imran Khan and he had decided to remove him from the post during finance minister Asad Umar's term in office.
Earlier, Asad Umar announced that he was stepping down from his post of finance minister because the prime minister had asked him to take the energy portfolio, which was not acceptable to him.
In a statement on Twitter, Asad Umar broke the news by saying, "As part of a cabinet reshuffle PM desired that I take the energy minister portfolio instead of finance."
"However, I have obtained his consent to not take any cabinet position. I strongly believe PM Imran Khan is the best hope for Pakistan and inshallah will make a naya pakistan," the former minister added.