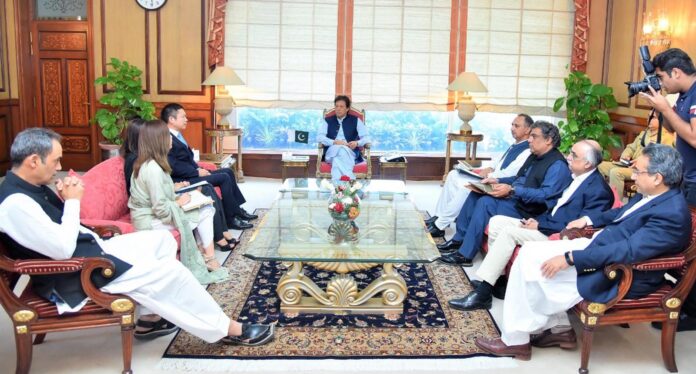 ISLAMABAD: Prime Minister Imran Khan has reiterated his commitment to providing all possible facilities to the investors in undertaking profitable business ventures in Pakistan.
Talking to a delegation of the China Power Hub Generation Company, led by its Chief Executive Officer Zhao Yonggang, the PM said that the government's new energy policy focuses on the promotion of alternative and renewable energy sources.
He also encouraged the Chinese company to set up a waste-to-energy plant in Pakistan.
On the occasion, the CPHGC chief executive officer apprised the prime minister about the progress made so far on an important CPEC project; the installation of a 1,320 megawatts power plant in Hub, Balochistan.
He was informed that the project's first state-of-the-art and environment-friendly unit has successfully been synchronized with the national grid.
The CPHGC chief acknowledged the facilitation provided by the Pakistani government that led to the timely commissioning of the project.
It is pertinent to mention that the government, ever since coming into power, has been focused on facilitating the investors by improving the country's 'ease of doing business' ranking.
Among 190 economies, Pakistan ranks at 136, according to the World Bank report on ease of doing business.
However, despite the efforts, the total foreign investment plunged by 22 per cent in the first month of this fiscal year (July FY20).
The total investment fell to $107.2 million during July, as compared to $136.8 million recorded in same month of the previous year.
According to analysts, this could possibly be a worrying sign for the government which has been met with a severe shortage of dollars since coming into power, thanks to the massive current account deficit.
Meanwhile, the net foreign direct investment (FDI) of $73.4 million during the period under review was 57.79pc less than $173.9 million recorded on the July FY19. On the other hand, portfolio investment was down 19.66pc to $33.9 million, as against a net outflow of $42.2 million in July last year.
FY19 proved to be a dismal year for inflows, as annual FDI dipped 61pc to a modest $1.251 billion, down from $3.23 billion in FY18.