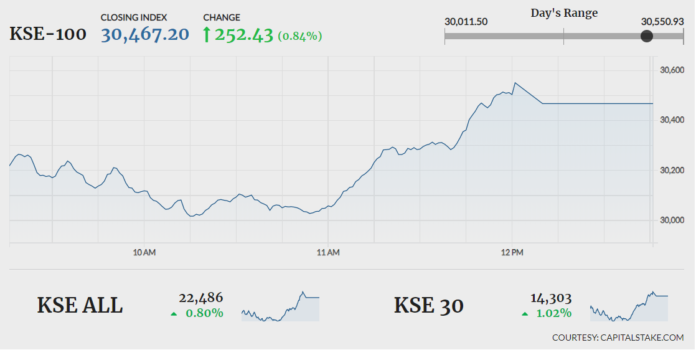 ISLAMABAD: It was a short but eventful session at the Pakistan Stock Exchange (PSX) on Friday, as the indices swung in both directions before ending in the positive zone.
Foreign investors remained net sellers for the second consecutive session on Thursday with a net outflow of $0.576 million recorded.
On the economic front, the State Bank of Pakistan, in its 'Financial Stability Review' for 2018, has reported that Pakistan's stabilization measures may further slow down the economic activity while external account imbalances and related uncertainties may affect the financial markets.
The KSE-100 Index started the session on a negative note, losing 203 points to reach an intraday low of 30,011.50. However, it soon managed to recover the lost territory, ending 252.43 points higher at 30,467.20.
The KMI-30 Index gained 268.13 points to close at 47,795.40, while the KSE All Share Index gained 179.41 points, settling at 22,485.76. Out of the total traded shares, 139 advanced, 98 declined while the value of 24 remained unchanged.
The cement sector (-14.02 points), textile composite sector (-5.20 points) and fertilizer sector (-4.29 points) remained the top negative contributors to the index. On the other hand, the banking sector (+108.28 points), oil and gas exploration sector (+72.32 points) and power generation sector (+48.04 points) helped the index close in the green.
The overall volumes remained low on account of Defence Day and Kashmir Solidarity Day and were recorded at 48.21 million ( KSE-100: 38.1 million).
Maple Leaf Cement Factory Limited (MLCF -2.82pc) managed to maintain its position as the volume leader with 7.17 million shares exchanging hands. Next in line were Worldcall Telecom (WTL +3.49pc) and Oil and Gas Development Company Limited (OGDC +2.94pc). The scripts had exchanged 4.58 million shares and 4.22 million shares respectively.
Trading shall resume on Wednesday (Sept 11), after Ashura holidays.