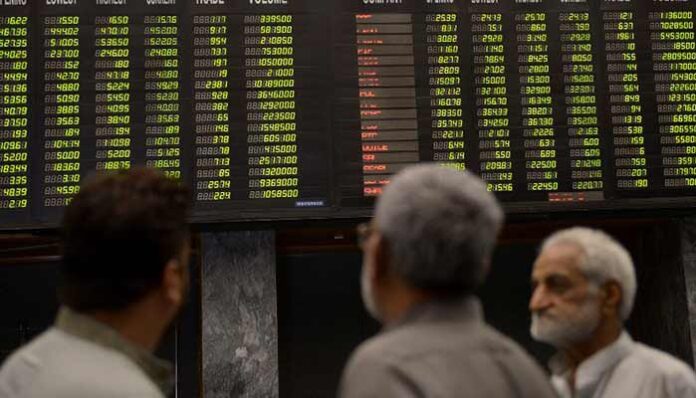 KARACHI: It was a slow day at the Pakistan Stock Exchange (PSX) where indices traded within a narrow range throughout the session amid low volumes. Foreign investors remained net buyers for the third consecutive session on Monday, buying shares worth $1.06 million.
The KSE-100 Index fell by 124.08 points to mark its intraday low at 32,960.65. After trading in both zones, the index then managed to recover its losses and after gaining 155.37 points, recorded its intraday high at 33,240.10. It finally closed higher by 114.23 points at 33,198.96. The KMI-30 Index appreciated by 228.23 points to end at 53,502.87, while the KSE All Share Index improved by 109.97 points, settling at 24,094.48. Out of the total traded scripts, 165 advanced and 132 declined.
The overall market volumes remained thin and were recorded at 83.59 million (down by 36pc on a daily basis). Lotte Chemical Pakistan Limited (LOTCHEM +2.07pc), TRG Pakistan Limited (TRG +0.40pc) and Fauji Fertilizer Bin Qasim Limited (FFBL -4.88pc) led the volume chart. The scripts had traded 10.81 million, 4.13 million and 3.35 million shares respectively.
Sectors that pulled the index lower included fertiliser (-10.10 points), cement (-4.07 points) and insurance sector (-2.47 points). On the other hand, the sectors that helped the index close in green included banking (+37.66 points), power generation and distribution (+19.40 points) and oil and gas exploration (+14.55 points).
Akzo Nobel Pakistan Limited (AKZO +2.48pc) announced its financial performance for the third quarter of FY19. The company's sales declined by 7.25pc as compared to the same period last year. However, the company managed to post earnings per share of Rs1.94 for 3QFY19 (Rs1.18 in 3QFY18), as it remained successful in reducing its cost of sales by 14.5pc YoY.
Shell Pakistan Limited (SHEL -1.24pc) also declared its financial results for 3QFY19. The company is back in profits after registering a loss per share of Rs15.93 in the last quarter. the nine-month profit of the company stood at Rs877.51 million.
Meanwhile, Mari Petroleum Company Limited (MARI +1.44pc) released its financials for the 1st quarter of 2020. The company's profit surged by 20pc with a 9pc increase in sales. Finance income expanded from Rs175.91 million in 1QFY19 to Rs1.18 billion in 1QFY20.