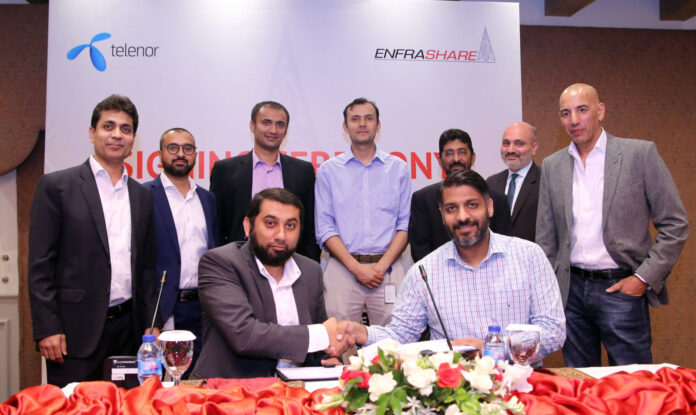 ISLAMABAD: Enfrashare Pakistan Private Limited, a connectivity infrastructure company, and Telenor Pakistan have entered into a long-term partnership for the development of connectivity infrastructure.
Telenor has already signed a memorandum of understanding with Edotco, another infrastructure company, for its operations in Pakistan.
According to the press release issued by Enfrashare, the company will help develop connectivity infrastructure and provide key services to Telenor, thereby upscaling connectivity and enabling the telecom to focus on core business functions.
"This partnership aims to enhance Pakistan's critical communication infrastructure network while allowing Telenor to meet its coverage and capacity requirements for rapidly growing data demands," read the statement.
Enfrashare is owned by one of the largest groups in Pakistan – Engro Corporation Limited – and was formed as a digital connectivity firm. At the time of its formation, Engro announced that the company plans to invest Rs7.5 billion in the telecommunication sector of Pakistan. While its expertise and investment in connectivity infrastructure allow mobile operators to reduce the cost of access to consumers, Enfrashare aims to engage with all stakeholders in the telecom ecosystem in order to realise a larger goal of digitising Pakistan.
On behalf of Engro, company spokesman Amanul Haque stated, "Engro firmly believes that connectivity is a basic human need and is the conduit that enables social and financial inclusion. This agreement will allow Enfrashare to work with one of the most respected operators in the country to provide enhanced solutions. Enfrashare envisions enabling broader connectivity and encompasses all necessary components including towers, fibre, energy, and more."
Telenor Pakistan Deputy CEO and Chief Technology Officer Khurrum Ashfaque said, "We, at Telenor Pakistan, are driven by our vision of empowering Pakistan through enhanced connectivity and believe that telecom technology is a true driver towards bridging the socio-economic divide. We look forward to working with Enfrashare to provide innovative and advanced solutions, including fibre and energy optimization, which will be instrumental for network enhancement in years to come."
Telenor Pakistan Manager Corporate Communications Saad Warraich told Pakistan Today that Telenor has varied operations in vast areas all over the country, so the fact that the company has entered into partnership with both Edotco and Enfrashare does not have any bearing on its individual projects, and will not be overlapping over each other.
He added that Telenor believes that tower sharing is the right way ahead and progress on that front is also underway.