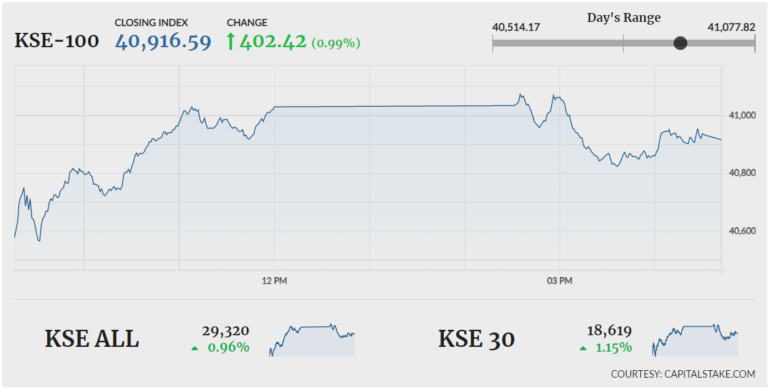 KARACHI: Bullish sentiments prevailed at the Pakistan Stock Exchange (PSX) on Friday, as the indices remained positive throughout the session, helping the benchmark KSE-100 Index crossing 41,000-mark intraday.
Foreign investors continued offloading equities for the third consecutive session on Thursday. A net outflow of $1.94 million was recorded with major selling witnessed in the oil and gas exploration sector.
On the economic front, the country's total liquid foreign exchange reserves held by the State Bank of Pakistan inched up 0.34pc on a weekly basis and were recorded at $16,048 million (Dec 6). The reserves previously stood at $ 15,993 million (Nov 29).
Crossing the 41,000-mark, the KSE-100 Index recorded its intraday high at 41,077.82 after gaining 563.65 points. It settled higher by 402.42 points at 40,916.59. The KMI-30 Index appreciated by 937.90 points to end at 65,149.89, while the KSE All Share Index increased by 278.41 points, closing at 29,320.16.
The overall trading volumes improved from 227.02 million shares in the previous session to 270.43 million shares (+19pc). Shares worth Rs11.64 bn were traded on Friday. Unity Foods Limited (UNITY +3.09pc), The Bank of Punjab (BOP +1.27pc) and Fauji Foods Limited (FFL +1.93pc) led the volume chart, exchanging 28.23 million, 14.83 million and 13.58 million shares, respectively.
Sectors that helped the index accumulate gains included oil and gas exploration (+167.93 points), banking (+76.57 points) and oil and gas marketing (+54.66 points). Among the companies, Pak Petroleum Limited (PPL +92.24 points), Oil and Gas Development Company Limited (OGDC +76.70 points) and Habib Bank Limited (HBL +33.80 points) remained the top contributors to the index.
The oil and gas exploration sector added 3.26pc to its cumulative market capitalization. Oil and Gas Development Company Limited (OGDC +4.11pc), Pak Petroleum Limited (PPL +5.00pc) and Pakistan Oilfields Limited (POL +0.31pc) closed with decent gains.