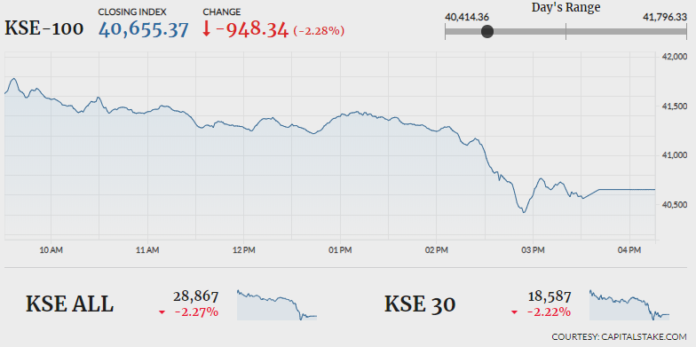 KARACHI: Bears ruled the Pakistan Stock Exchange (PSX) on Thursday, as profit-taking was witnessed across all major sectors in the early trading hours. But major dent came in the afternoon after the news that came from the judicial end.
Over 50 scripts ended at their lower circuit breakers.
On the political front, the detailed verdict in the high treason case against former military ruler retired Gen Pervez Musharraf was released today, two days after the special court found the former president guilty of treason and handed him a death sentence. The bench was headed by Peshawar High Court Chief Justice Waqar Ahmad Seth and comprised Justice Nazar Akbar of Sindh High Court and Justice Shahid Karim of the Lahore High Court (LHC).
The verdict, 167-page long, was authored by Justice Seth. Justice Karim and Justice Seth agreed – on the basis of the evidence presented – that Musharraf had committed a crime. However, Justice Akbar wrote a dissenting note. The verdict was split 2-1.
The KSE-100 Index slipped over 2.94pc or 1,189 points to touch its intraday low at 40,414.36. It ended lower by 948.34 points at 40,655.37. The KMI-30 Index failed to sustain gains and flushed 2.64pc to reach 65,409.33. The KSE All Share Index showed a similar pattern, falling by 2.32pc. Only 34 companies managed to stand their ground while 310 declined.
The overall market volumes contracted by 6.15pc to 260.07 million, while the total traded value was recorded at $73.20 million, well below its five-day average of $86.19 million. Unity Foods Limited (UNITY -2.97pc) was the top pick of the day, followed by Right Shares of Hascol Petroleum Limited (HASCOLR1 -8.22pc) and Fauji Foods Limited (FFL -5.97pc). The scripts had exchanged 26.40 million, 13.22 million and 12.57 million shares, respectively.
The refinery sector lost 5.16pc in its cumulative market capitalization, while the engineering sector lost 4.00pc, cement 2.84pc, oil & gas exploration 2.75pc and commercial bank by 1.97pc.
On the economic front, the country's large-scale manufacturing contracted 6.50pc in July-October 2019 compared to the same period last year. The decline came due to low demand, which was adversely affected by the rising cost of production and working capital. A constant increase in the cost of energy, raw material and working capital due to the doubling of interest rate to 13.25pc affected the production cost as well as the profits of firms.