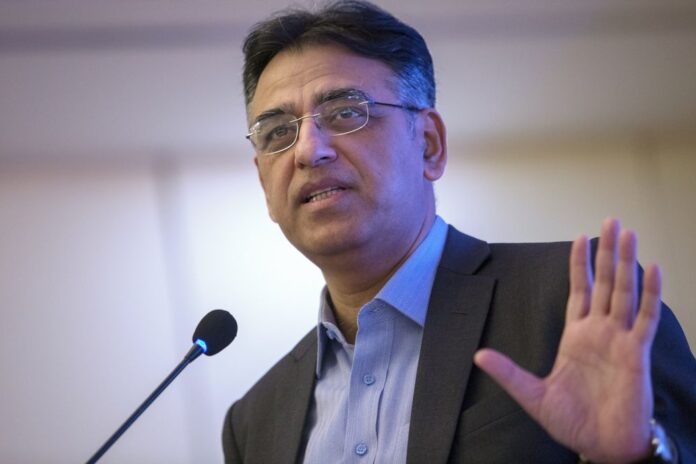 –Asad Umar stresses need for intraregional trade, says Pakistan committed to timely completion of CPEC projects
–Chinese envoy says most of the CPEC projects were investments by Chinese companies 'and not loans to Pakistani govt'
ISLAMABAD: Planning and Development Minister Asad Umar has said that there was "nothing to hide about the China-Pakistan Economic Corridor (CPEC)", adding that neighbouring countries were welcome to reap the benefits of the mega project.
"Pakistan has a serious debt problem and the issue can be tackled through an increase in exports. China gave Pakistan loans worth $4.9 billion under the CPEC," he said while speaking at a seminar on the 'Role of Parliaments in Cementing Regional Integration'.
Chinese Ambassador to Pakistan Yao Jing also participated in the seminar, which was organized by the Pakistan Institute of Parliamentary Services.
Asad Umar said intraregional trade was important for economic growth and that at present, the East Asian countries have an intraregional trade of 27pc of their gross domestic product (GDP).
He said Pakistan was committed to completing the CPEC projects on time and was willing to accommodate neighbouring countries.
National Assembly Speaker Asad Qaiser, who presided over the seminar, noted that economic, trade and cultural ties among the countries in the region were spread over centuries. "Immense opportunities are available to promote cooperation among regional countries in trade and other sectors," he added.
The NA speaker said that Pakistan was in a war-like situation for the last 30 years, adding that the country's economy suffered a lot due to Afghan war and the war against terrorism.
"Regional economy can be improved with the completion of CPEC," Asad Qaiser said. "I wish that Central Asian states are included in CPEC, which is a guarantee for future generations."
He assured of complete cooperation to regional countries for the success of CPEC, saying that the parliament could play a vital role in strengthening bilateral ties between the countries.
Speaking on the occasion, Chinese Ambassador to Pakistan Yao Jing said special economic zones would be established in Pakistan under the next phase of CPEC. "China will now invest in building vocational and training centres, besides investing in the research for agriculture in and livestock sectors," he added.
The Chinese envoy noted that most of the CPEC projects were investments by Chinese companies "and not loans to the Pakistan government".
CPEC was launched because of the friendship between Pakistan and China, he asserted, adding that China wanted development across Pakistan.
Parliamentary Committee on CPEC Chairman Sher Ali Arbab said Pakistani population was huge and it was a challenge as well as an opportunity.
"We have to take a lead in achieving prosperity for people of Pakistan and for the region. Pakistan cannot develop without gender empowerment and equality," he added.