It is truly mind boggling when you think about just how much of our world is made out of plastic. Take a look around wherever you are reading this, something or the other is definitely plastic. Whether it is the cup you are drinking from, the toilet seat you are sitting on, the case protecting your phone (because print is dead and you are most probably reading a digital copy) or just the bottles that contain your shampoo or soft drink or God knows what else.
And to think, if someone from just last century were to show up, they would not recognise so much of what we have surrounding us. Plastic was first discovered in some capacity in the 17th century, and again made appearances during the industrial age. 
But it was only after the First World War that improvements in chemical technology led to an explosion in new forms of plastics, with mass production beginning in the 1940s and 1950s. In 2018, the world celebrated the centenary of the end of the Great War (as World War I was originally known), and in the 100 years since, plastic has taken over and may be brimming to destroy us.
Let us not kid ourselves. This is a global problem, and one that is reflected in Pakistan as well. The government at the center, and to some extent the provinces, has been trying to fade out plastic bags at the very least.
Try out our new feature: Listen to the full article below
According to the Pakistan Plastic Manufacturers Association (PPMA), there are nearly 8,000 industries and units that make products related to plastic.The largest among this group of manufacturers are those that produce polyethylene bags. 
Representatives of the PPMA have said that the exact significance of the plastic bag manufacturing industry cannot be determined, because Pakistan churns out thousands of tons if this product every single day. Large chains of fast food and shopping malls often require up to 80 tons of shopping bags every single month. 
In this feature, you will see the same problem, the same complication (which is not really all that complicated), the same defenders of plastic, and the same common sense solutions that are being shouted by environmentalists from dusk till dawn only to fall on deaf ears.
The P in Pakistan stands for .. Plastic? 
First things first: if there is an association for an industry, there is something it needs to defend itself from. One defense is always universal, if the industry is threatened, then all those associated with it also have a sword hanging above their heads. 
But occasionally, other associations of different industries often have valid points, such as the government not coming through or sudden imposition of regulations. In the case of plastic, everyone knows it really is not doing anyone any good. It is, if anything, still here today because of a rich industry and the mindless lethargy of the consumer. The only thing they have going for them in Pakistan, is the size of the industry, and how many people's livelihoods it provides. 

A member of the PPMA, Zeeshan Zahid Malik, told Profit that even the smallest of plastic factories has at least 20 people working there, while larger factories often have hundreds of employees. The PPMA's estimates hold that there are 63,000 shopkeepers selling shopping bags in bulk across Pakistan. Meanwhile, the amount of people working in factories and industries is estimated in the hundreds of thousands. If the government does not review its decision on the plastic bag ban, they warn, nearly 300,000 families will be out of commission. 
The cost is devastating. The problem, however, is that the environmental cost outweighs this one by miles. But things are more sticky when money is involved, and makes even governments slow down in their boots. And with an industry as large as plastic, there is a lot of tax involved. 
The money
The PPMA has also claimed (with the flimsiest of evidence that relies on the ignorance of their audience) that the plastic industry is one of the five largest industries in Pakistan. By what measure, we are not told.
This is an industry that gives billions of rupees in taxes to the national exchequer every year, presumably in the form of taxes, though given the fact that a significant proportion of them are small, informal sector producers, that stretches credulity. 
The industry's lobby believes that the government collects an estimated Rs60 billion because of imports by the plastic industry, while more than Rs70 billion are collected in other forms of taxation. 
In Lahore's Shah Alam Market, Muhammad Arsalan Sheikh is a plastic grain trader, Muhammad. He is worried about the current moves to ban plastic bags or make them more environmentally friendly. According to him, people from all over Pakistan involved in the plastic industry have invested Rs150 billion in the form of machinery, market, and buildings. 
Because plastic grain is imported from Dubai, Iran, KSA and other countries, the industry already has a lot of this grain imported and stored. Just like this, new plastic machines and printing machines have been established by a number of traders. Traders like Muhammad Arsalan Sheikh fears that the ban on shopping bags will break the back of this industry.
Yes, you read that correctly: the country should not move forward to new technologies because the incumbent industry's owners cannot be bothered to upgrade. 
But despite all of Arsalan's concerns, the reality is that the environmental consequences of continuing to use plastic have been devastating and may soon overwhelm natural resources. Environmental, ecological and infrastructural damages are rife because of them, and it is estimated that nearly 70% of produced bags are currently lying around in the form of garbage, of which a lot if burnt, causing serious air pollution and the release of carcinogens and other harmful substances.
According to another study, these bags will account for 12 billion tons of non degradable waste that will be polluting the planet by 2050. The problem is bad enough that associations like the PPMA or the Plastic Bag Association (PBA) do admit it, but what do they propose we do about it?
Plan of action? 
The environmental concerns caused by shopping bags is an international phenomenon, which is why Oxo Biodegradable technology was introduced. The industry at first thought they had a saviour. Two or three other technologies had been introduced before this, but this proved to be the most successful and feasible one yet. 
With the help of this tech, the hundreds of years that plastic takes to degrade was brought down to a matter of a few months. This is why it is called controlled life plastic technology. The way it works is that it is also made in the shape of plastic grain, and during the process of making plastic, a specific amount of this material is added, which makes the plastic environmentally friendly.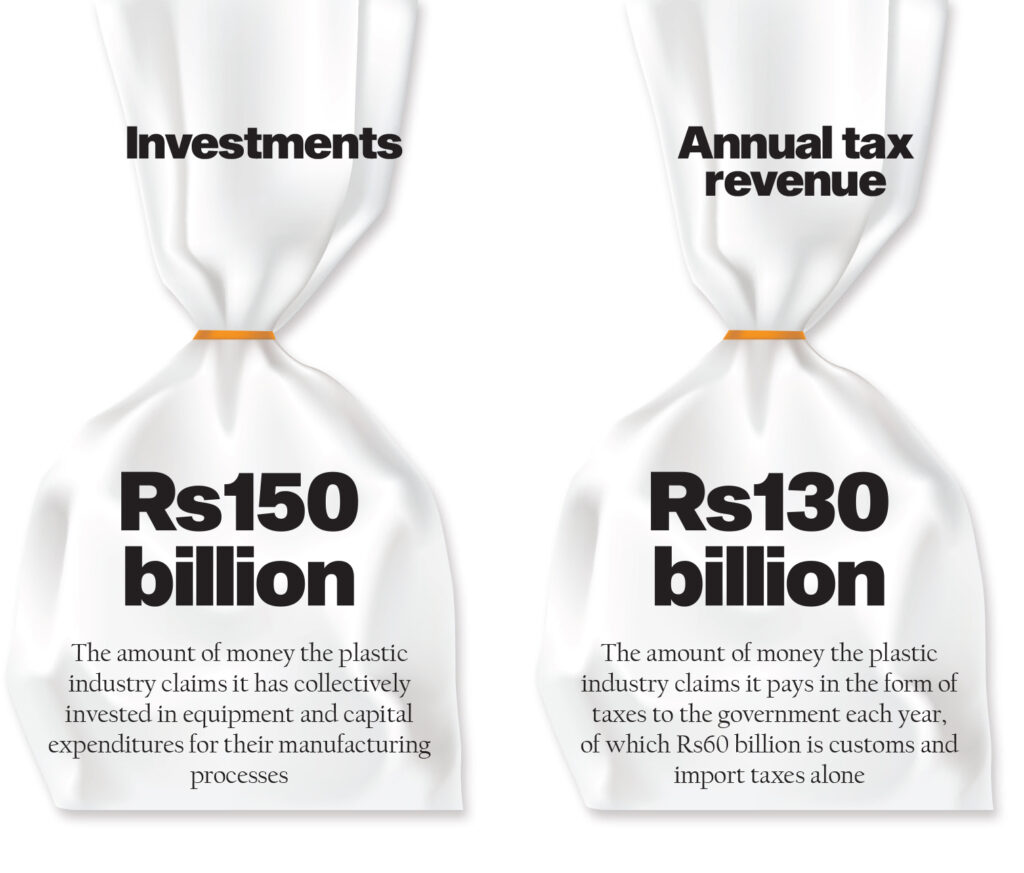 In Pakistan, it was introduced on 1 April 2014, and other than Punjab and Islamabad, using this technology was made mandatory under law in the rest of the country. Meanwhile, this technique started being used in the preparation of plastic bags in Lahore and other cities of the Punjab. But the problem was once again the market, and how it responded.
The distributor of this technology in Pakistan, Amir Yusuf, told Profit that this innovation was a godsend in making plastic bags environmentally friendly. In Pakistan, large multinationals and exporters of plastic bags are using this technology, and hundreds of tons have already been made.
On the other hand, Khalid Zuberi – a plastic factory owner on Sheikhupura Road in Lahore – said that this technology is useful, but using it in plastic means a hike in price of plastic products. "Because of this, people look for cheap plastic instead of responsible plastic. Until legislation is made to make this kind of plastic mandatory, it simply is not competitive on the market. In the provinces where there is legislation, even fruit sellers use degradable bags" he said.
The unfortunate situation, however, is that these laws were most needed in the already smog-trodden Punjab, but the provincial government has still not managed to make any laws in this regard.
Enter the government? 
In the previous year, the government tried to gradually phase out plastic bags beginning from Islamabad. This ban was also placed in high-income neighbourhoods of Lahore, such as Model Town and Gulberg. The argument was that plastic shopping bags were causing environmental, ecological and infrastructural damage in the form of hurting animals and the sewage system. Naseemur Rehman, the director of the Punjab Environment Protection Department, has said since that the greatest reason for environmental problems are small and low grade plastic bags. 
"Not only are they very cheap, and thus used without thinking, but it also has no recycle value. You can collect them all day and they will not amount to more than 1KG in weight but it will cause great harm to the environment," he told Profit. "The percentage of plastic in shopping bags being lessened decreases the environmental impact and this is the good practice as established globally." 
The PPMA, on the other hand, has a different take. They tell Profit that the plastic bags industry is the backbone of small business in the country. They also point to their own responsibility in the matter, pointing out the standing committee on environment that the PBA has set up.
"This committee has given many suggestions to the government to tackle the problem together and responsibly. In a recent meeting with govt stakeholders, it was also decided that plastic bags would be as thick as 45-50 microns, while their size would be 12×15 inches. We are doing this despite the fact that polyethene bags were used all over the world as an FDA approved product, including US, Europe, Canada have not banned plastic bags. In fact, they used similar suggestions to what we at the PBA are saying to the govt." 
"Other than Kenya, no country has imposed an outright ban on shopping bags. This has caused a fall in revenue, unemployment and shutdown of industry in Kenya," they say. "Because of their many jungles, they have been able to use paper bags. We hope that the govt will listen to the concerns of the PBA.
What is to be done?  
Plastic bag manufacturers think that recycling is the way to go instead of banning. Countries including Singapore are making electricity through used plastic trash, they argue. Just like this, the other solution is the Oxo Biodegradable technology already being used in some places. However, this causes a hike in prices which the industry does not like at all. 
One factory owner has said that if the populace is told about these issues through a robust public outreach campaign, then the problem could be tackled because consumers could be convinced to buy the more expensive bags.
But what do the environmentalists say? Local activist and researcher Ehtisham Sohail Khan suggests that  plastic bags should ideally be banned, but at the very least, the government should incentivise paper bags.
"Since it is a free market, you can keep selling plastic bags, but make them expensive so cloth tote bags or paper bags are cheaper and better options." 
The suggestions are not new one, or even radical ones at that. But if the suggestions are constant and continuing, so is the inaction, and the planet is dying as a consequence.