You can almost hear the sneers. The smiles are sadistic and self-assured because they know they sort of, kind of have a point. As conversation ensues in drawing rooms across the nation, people continue to holler, howl, and hang their head in shame over an old issue, women doctors not practicing medicine after graduation.
All these women become doctors only because they want to get good rishtas and not because they actually want to practice medicine. Nevermind that it is our drawing-room warriors that would be the first to raise their eyebrows if their own daughter-in-law asked them to babysit while they go run off on an emergency. The government should set up a quota for boys so that resources are not wasted, they continue. Who cares that the pool of husbands in Pakistan refuse to share the regular responsibilities that come with marriage?
Dr Sara Saeed says she cares, and the medical doctor turned entrepreneur claims the company she has set up after completing her education is extending an olive branch to doctor brides that still want to practice despite the difficulty of it.   
Smart, confident and polished , Dr Sara Saeed is the CEO of telehealth provider 'Sehat Kahani,' an all-female home-based health provider network that bills itself as providing healthcare solutions to marginalised communities that face discrimination in the already inadequate healthcare system of Pakistan. 
On many levels, Dr Sara's story is inspiring. She stood up to challenge the culturally conservative social norms that dictate the lives of many young women in Pakistan. Born to a middle-class family, Sara did her Bachelor of Medicine, Bachelor of Surgery (MBBS) from Agha Khan University, but did not then meekly submit to life. In fact, she abandoned the practice of medicine to start her entrepreneurial journey. For Sara, the decision to start Sehat Kahani was not just to deal with the patient end of the problem, but also the doctors' end, by providing some sliver of opportunity to the long browbeaten and derided doctor wives. 
A lot of women, she says, become doctors simply to achieve that higher status in society and on the marriage market. It is not the feminist or even politically correct position to take, but Dr Sara likes calling a spade a spade. And in her mission to bring doctor brides back into the fold, she also holds an interesting possibility into fixing the issue of limited access to primary level healthcare.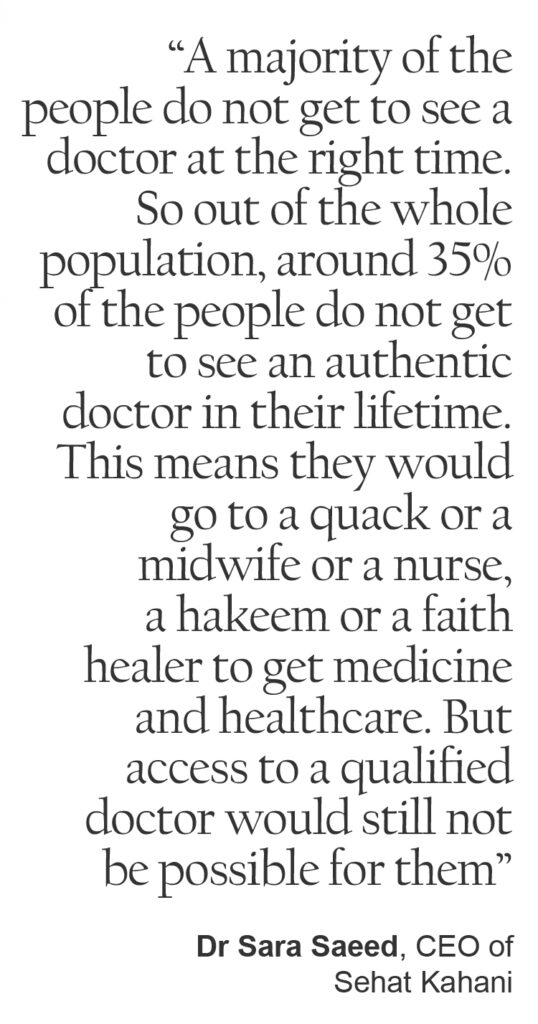 "A majority of the people do not get to see a doctor at the right time. So out of the whole population, around 35% of the people do not get to see an authentic doctor in their lifetime," she explains to Profit. "This means they would go to a quack or a midwife or a nurse,  a Hakeem or a faith healer to get medicine and healthcare. But access to a qualified doctor would still not be possible for them."
Once again on the disproportionate receiving end of this statistic are women and children. The way Sehat Kahani works is essentially, and this is an oversimplification, as Careem but for doctors.
If a female doctor cannot be out in a field, her patients will be connected to her not in person but over the phone. This also means that remote communities and inaccessible villages also finally gain access to doctors that can treat them on video or audio calls. The company has established 26 clinics all across the country where trained nurses connect patients to doctors. Sehat Kahani has already seen 123,000 patients walk in over a three year period.
Initially, in 2017, the project started as a social impact focused company to provide healthcare in low income communities. Since then, other than operating these telemedicine clinics by partnering up with nurses and upgrading their existing clinic infrastructure, Sehat Kahani is also involved in providing health, education, and other promotional activities in these communities. 
The concept of telemedicine is not a new one, and despite the discomfort, one may feel, it is better than quackery overrunning so many households in Pakistan. But all is not sunshine and rainbows. A deeper look into the workings of Sehat Kahani reveal a dark, twisted tale of dubious actions.
At the center of this murky situation is Sehat Kahani's mobile application. The online portal is supposed to connect patients with doctors, the app was launched in the third quarter of 2019. In its very short operational duration, it stands accused of connecting desperate patients to doctors with expired licenses, or ones falsely claiming to be specialists. 
Surrounding these allegations are questions about ethics and the laws governing unethical practice and the intentions of Sehat Kahani being a 'for-profit' social impact enterprise, as Sara likes to call it, providing healthcare services to marginalized communities.
As it stands, Sehat Kahani's online platform is still a modest one, with only 70 doctors appearing on it, most of whom simply have an MBBS degree. The problem is that a lot of them are listed as specialists in different fields of medicine. So doctors that are simply qualified to be general physicians (GPs) will be taking money from patients on this app claiming to be cardiologists or rheumatologists. And then there are doctors practicing on expired licenses. 
Dr Sara's response to the accusations was in the form of indignation and outright denial. But despite her refutations, the day after the interview, Profit noticed that many of the doctors on the platform were nowhere to be seen. In the case of others, their qualifications had been changed and specialities removed, and their rates decreased.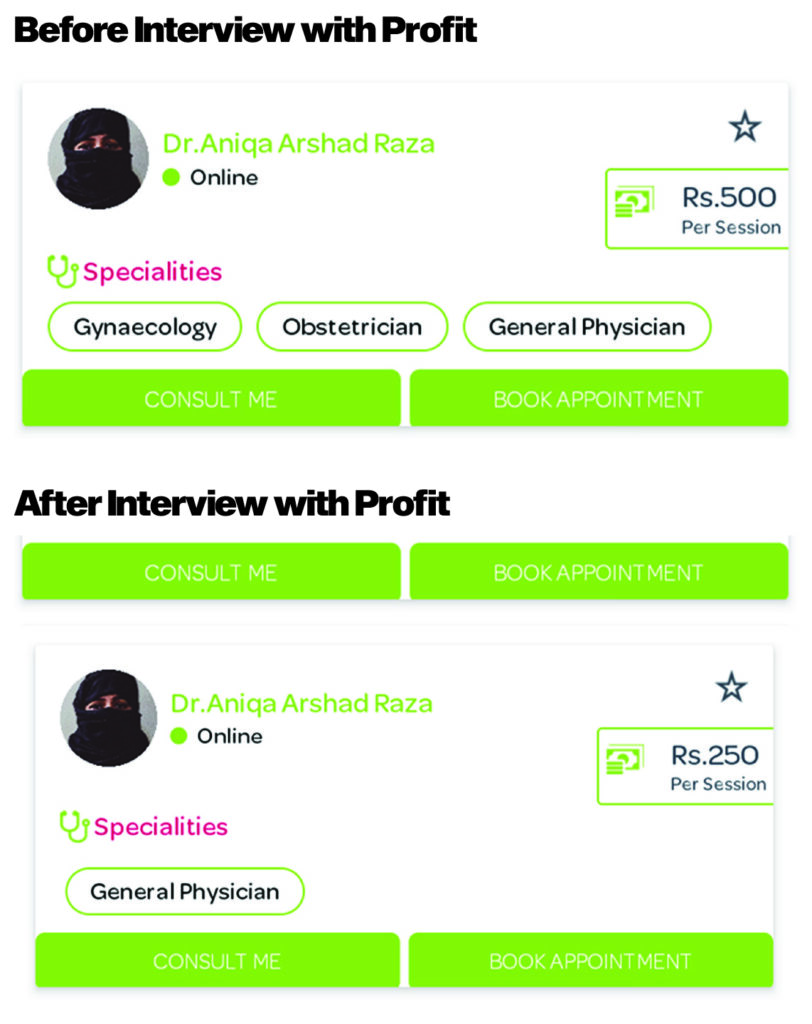 "When I say specialist, I see someone who has done a postgraduate degree, for example, they have done their practice in MD or FCPS or MCPS or an MRCGP or MRCOP. So for example there is a doctor in our app whose name is Hina Ghole, she has actually worked 12 years. She has worked as a GP in Agha Khan for 2 years, she has the experience, when she went on with her residency in gynecology and obstetrics and then she did her diploma in paediatrics also. So you can have multiple specialities," Dr Sara explains to us. 
What she says makes sense. Since the app is meant for primary care, it is known that the doctors will all be GPs, and it will be their duty to forward the case to a specialist if it comes to it. 
Nowhere on the app is it claimed that the doctors have a degree that they do not have. But is this just a clever misrepresentation? Or is Sehat Kahani luring patients by using the word 'specialist' irresponsibly?
The sanctity of human life and medical practice
"I will not give poison to anyone though asked to do so, nor will I suggest such a plan," reads an excerpt from Hippocratic Oath, an oath of ethics historically taken by doctors around the western world. "But in purity and in holiness I will guard my life and my art."
"Now if I keep this oath and break it not, may I enjoy honour, in my life and art, among all men for all time; but if I transgress and forswear myself, may the opposite befall me." 
The Hippocratic oath of medical ethics enshrines respect for the sanctity of all human life, combined with a medical duty of care, and a duty to act according to the sole interests of the patient. In short, medical ethics define that the fundamental role of the doctor is to preserve and protect life. 
The Pakistan Medical and Dental Council (PMDC), the body that has been regulating medical practice in Pakistan until recently, has its own code of ethics which upholds preservation of human life as the cornerstone of medical practice.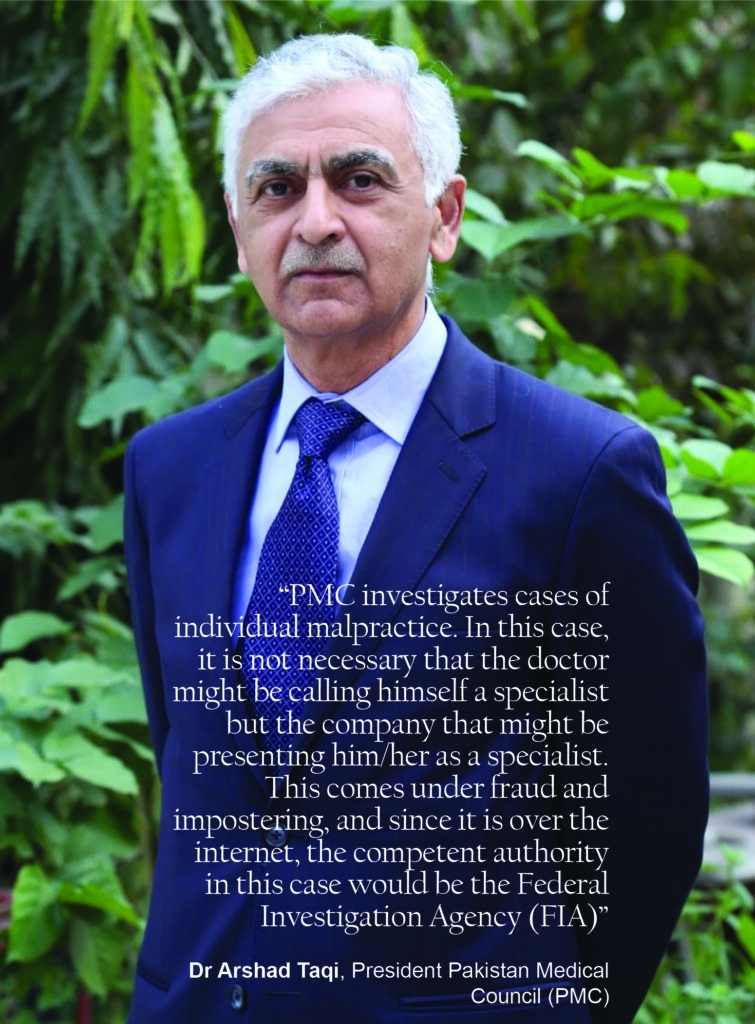 The healthcare system that is followed in Pakistan is a three-tier referral based system comprising primary, secondary and tertiary level health care whereby a doctor, instead of just going on with his treatment, refer a patient to a specialist. At the primary care level are the general physicians who are the first point of contact for a patient for an illness. It is only the work at primary care level that an MBBS doctor is qualified to do.
A specialist doctor can only practice in his respective domain of specialisation after acquiring a specialist degree, requisite years of training and then obtaining a license from the Pakistan Medical and Dental Council (PMDC). 
One might say that a doctor claiming expertise is simply giving the patient more trust in themselves, especially at the primary level, but doctors masquerading as specialists can actually put a patient's life in danger. 
Dr Arshad Taqi, a specialist in the field of Anaesthesia and the President of the now dissolved Pakistan Medical Commission (PMC), the successor organisation to the PMDC, agrees on the unethical nature of such practice and its consequences in the form of danger to the life of a patient. 
"An MBBS doctor can never be a specialist without a degree, even if he has 20 years of experience in a specialist domain," said Dr Javed Akram, Chancellor of University of Health Sciences (UHS). 
"It is an unethical practice that can endanger a patient's life," a Lahore-based psychiatrist said, affirming the dangers of such practice. 

And not only that, it also undermines the status of a qualified specialist, who,  being a specialist, actually understands the delicacies associated with the profession. 
And as far as the expired licenses are concerned, it is a legal requirement in absence of which doctors can run into serious trouble if something undesirable happens to a patient under their care. This, however, does not invalidate a doctor's status as a doctor, be it MBBS only or a specialist. Nor does it question the authenticity of a doctor. After all, he/she had a license once. It would not be incorrect to say that having an expired license is better than having no license, but it is certainly not desirable. 
There is, till now, no reported case of malpractice through Sehat Kahani's online platform or the physical clinics that it operates. But there is also no proof that something of that sort has never happened or is not just waiting to happen. Malpractice happens even when all the boxes are checked, what could possibly happen when things are murky as well? 
Part of the problem can be blamed on the lack of patient awareness as well. For instance, a patient in a down-trodden community who lacks access to healthcare – the market that Sehat Kahani primarily serves – would most likely be unaware of the fact that laws exist to protect patients against medical negligence or malpractice. And, he is most likely not going to be able to call out a doctor who is not a specialist.
As of now, there is no government body to regulate medical practice in Pakistan. The Pakistan Tehreek-e-Insaaf (PTI) government dissolved the PMDC on October 21, 2019, and promulgated an ordinance to create the Pakistan Medical Commission (PMC). PMDC's dissolution was challenged in the Islamabad High Court (IHC) and the IHC on February 12, 2020 restored the PMDC. Sources, however, tell Profit that instead of restoring the PMDC, the federal government has sealed the building that housed PMC, against court orders. That effectively puts the governance of medical practice in limbo.
But for the duration PMC was in commission, a letter, available with Profit, was sent to the Commission by an individual (who chose to remain anonymous) outlining details of some of the doctors on the app and the status of their licenses.
The text of the letter reads: "This [Sehat Kahani] is a paid service and I noticed that a lot of their doctors are claiming to be specialists such as cardiologists, neurologists, etc. I have used many services like call centers and apps, both free and paid. When I checked to see their profiles on the PMC site to verify, it seems they are only M.B.B.S graduates and have no further education to claim to be specialists. I think this is an injustice to people who are talking to these doctors on the face value of what the service provider Sehat Kahani is claiming, especially since this is a paid service."
"No medical institution should support doctors who claim to be a specialist when they are not," it read, requesting the PMC to investigate the matter.
Profit took the matter up with PMC President Dr Arshad Taqi, who, although agrees that Sehat Kahani's case was unethical, contended that it might not, however, fall under the purview of PMC.
"The Commission investigates cases of individual malpractice. In this case, it is not necessary that the doctor might be calling himself a specialist but the company that might be presenting him/her as one," said Dr Taqi, agreeing to investigate the case nonetheless. 
"This comes under fraud and impostering, and since it is over the internet, the competent authority, in this case, would be the Federal Investigation Agency (FIA)."
Dr Taqi was right. Authorities at the FIA Lahore's cybercrime wing confirmed to Profit that if somebody is masquerading as someone he or she is not on an internet-based service, it comes under fraud and impersonation under various clauses of the Prevention of Electronic Crimes Act of 2016, with the onus falling on the company instead of the doctor.  The agency also promised to investigate the case diligently.
In response to the allegations in the letter, Sehat Kahani provided Profit details of doctors in question. However, the evidence provided was not found to be substantial and fails to exonerate the company of any possible wrongdoing. According to the details provided bt Sehat Kahani, out of the total 21 doctors that the original letter mentioned, 14 doctors still work with the company including 4 psychologists. But in some cases, the details have been provided very vaguely. For instance, for one of the doctors, which the company claimed was an obstetrician, gynaecologist and general physician, there was no documentary evidence provided to show that the doctor was a qualified specialist and there was only a mention that the doctor had an MCPS degree and some training.
However, the more problematic part was with the 7 doctors that are either not working with them anymore, as earlier pointed out by Profit, or were on leave. Sehat Kahani did provide documentary evidence of these doctors as well to justify their credentials as specialists, however, the evidence, in this case, could not substantiate Sehat Kahani's claims that these doctors were actually specialists. In fact, it reinforces the assertion made in the complaint letter that the company might have been doing it all intentionally because all these doctors were working with the company when the letter to the PMC surfaced. 
For instance, for an MBBS doctor claiming to be a specialist in Emergency Medicine (EM), Sehat Kahani only provided her experience letter issued by a hospital where the said doctor only gained experience as a medical officer – the most common work designation for an MBBS graduate at a hospital – which is not enough to call oneself a specialist in Emergency Medicine. To put it in a different context, a 2018 report by The News estimated that the total number of qualified Emergency Medicine specialists in Pakistan were not more than 9 in number. So if we assume that Sehat Kahani's doctors as per the letter are authentic specialists, you would surprisingly find 4 out of the total 9 of these specialists on Sehat Kahani's application.
Moreover, another doctor that is not working with them anymore and was listed as a specialist was only an FCPS trainee and does not qualify to call herself a specialist. For another doctor that had been listed as a specialist in Urology and Cardiology, the documents provided were of her experience during house job in Cardiology and Urology. House job is the mandatory one-year training under supervision after an MBBS to start one's own practice as a general physician. So none of that qualifies to be called a specialist in the respective domains. 
And for the doctors that had expired licenses, the company provided documents that their licenses had been sent for renewal and that these doctors were also not working with the company anymore. It is, however, difficult to verify the status of these licenses since the regulatory body stands defunct at this point in time.
"Medical negligence and malpractice is very rampant in Pakistan because one, we don't have any reservations, we don't have any ethics, we don't have regulations to save patients even at the best of tertiary care hospitals. And if there is malpractice, the patient cannot appeal or he can not win the cases against hospitals" Dr Sara says. 
"That is why when we made the app, because I am a medical doctor myself, it is very very important to me that no medical malpractice happens. This is why I was talking about the cut-off point of care when you recognize that it is not a primary care issue anymore. That it is a secondary or a tertiary care issue, and a patient needs to see a physical doctor." 
From a patient's perspective, the problem with Sara's explanation is that Sehat Kahani is a paid platform, and if a patient consults a doctor on Sehat Kahani app thinking that a doctor is a specialist, the patient would essentially be paying for nothing if that doctor ends up referring that patient to an actual specialist. Though the same can happen offline on physical clinics that MBBS doctors operate, in this case the patient would at least know that the doctor concerned is not a specialist, and, therefore, not fleeced into it. 
Sehat Kahani does provide the PMDC/PMC license numbers of respective doctors on its platform to verify a doctor's credentials and their status with the commission (i.e. active or expired). Whereas other companies operating in the same space enlist qualifications of their doctors on the application to build trust among patients of a doctor. Neither of that is enough, however. For a paid service, a patient should not have to go through the grunt work of researching and verifying a doctor's qualifications. Though some research would always be necessary, enlisting both the license number as well as the qualifications on the app might help save the patient some time and pain.
Sehat Kahani's growth plans
At the end of the day, Sehat Kahani is a business, and a business that makes money. That is why you are reading about it in this publication. And as they make money, they also have ambitious plans to grow and take their business to the next level, despite the apparent mess. 
The company's first line of business, which is an innovation in the telehealth space, are telemedicine clinics, where it provides nurses the training and the the software to upgrade their clinics into a telemedicine center so that when a patient comes to her, a nurse can enter history of the patient into a digital software and connect the patient to an online doctor for consultation.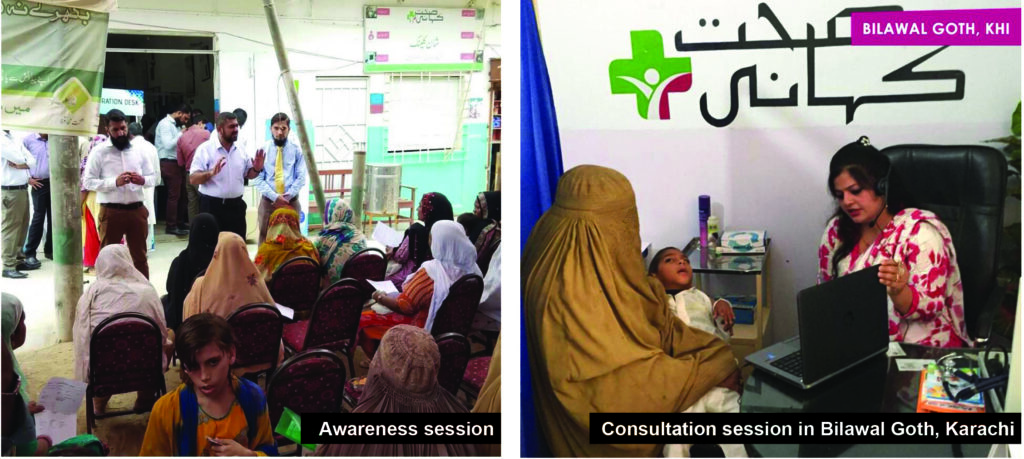 With 26 of these clinics across Pakistan functioning in Sindh, Punjab and and Khyber Pakhtunkhwa (KP) and the first one opening in Balochistan as well, Sehat Kahani charges its clients Rs50-500 based on the range of consultation. The company requires 350 patients per month per clinic to break even and each clinic requires $10,000 per year to remain operational, according to Sara. 
"Our revenue comes from three sources right now. The first one are clinics, which account for around 20% of our revenue, we also hold a lot of health education promotion activities, which is partnering with third parties and providing health education promotion in the community which is part of our clinical activities" she explains.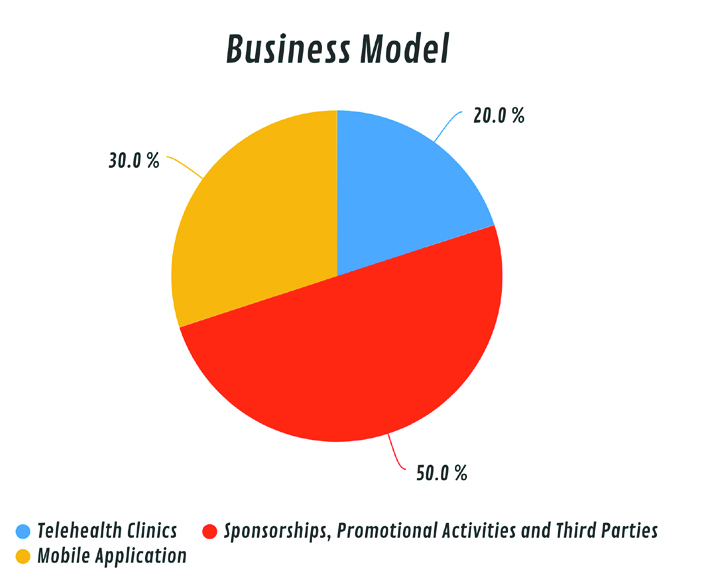 "We have to make the clinics breakeven, which is essentially 350 patients per clinic, per month. We create run rate gradually and slowly through the first year and from second year onward we do not need funding from any external body," Sara says. 
"We can make clinics sustainable on their unit structure, which means that the clinic can break even at unit structure and sustain itself, but it would be very difficult for us to sustain company and our overheads on just clinical revenues because clinical revenues are very cash intensive. Cash flows are very very limited. And the gross margin you are making per consultation is around 40%," she adds. 
The second stream of revenue are promotional activities with third parties, as part of their clinical activities. Together, the clinics and the promotional activities form bulk of the company's revenue and the online healthcare application, the third stream of revenue, contributes 30% to the total revenue of the company, which Sara plans to take to 50%, by shifting focus ahead towards the online application and making it the largest source of revenue for the company. 
"We anticipate in the next 2 years for it [the mobile app] to be over 50% of the revenue. 20% is going to come from our health education vertical and 20% is going to come from clinics." 
In the last three years, through clinics and health education, Sehat Kahani managed to create a revenue of $92,000 dollars in the first year (2018), $159,000 dollars in the second year (2019) when Sehat Kahani application was launched – a 72% increase from the first year. This year, the company expects to make a revenue of $422,000 dollars mainly on the back of its online healthcare app. If Sehat Kahani is able to pull it off, it would be a growth of 165% from the previous year.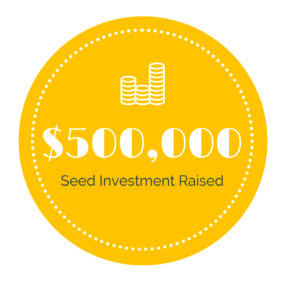 The company also raised $500,000 seed investment in 2018 and plans to raise Pre Series-A round as well. All of this makes sense. For a company as ambitious as Sehat Kahani, more doctors on the platform, regardless of the status of their licenses and higher qualification, means a bigger target market of consumers to serve which is an imperative for growth.  But what it means for them to grow while embroiled in these dubious practices is that the company may be a ticking time bomb, and one that may even put lives at risk.