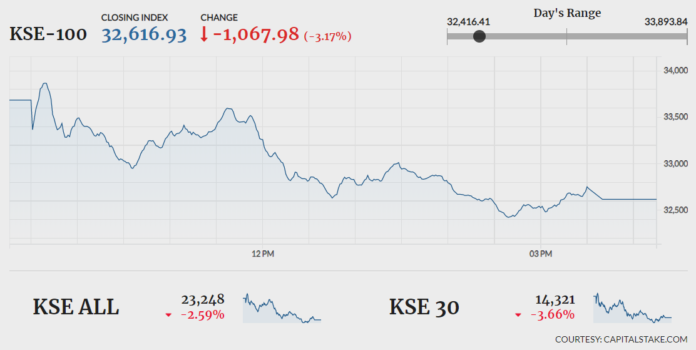 KARACHI: After registering its biggest decline in a decade yesterday, the Pakistan Stock Exchange (PSX) continued with its downward trajectory on Tuesday, with the KSE-100 Index sliding below the 33,000-mark.
Investors remained under selling pressure due to worsening of the situation caused by an increase in the number of coronavirus cases in Pakistan, analysts said, adding that investors also remained cautious ahead of the monetary policy announcement.
On the economic front, the country's net Foreign Direct Investment (FDI) increased by 151pc to $289 million in February 2020 as compared to the same period last year. On a month-on-month basis, the FDI rose by 30pc. Highest investment was once again received from China, followed by Malta, UAE, Hong Kong and the Netherlands. For the third consecutive month, power sector managed to attract the most amount of investment.
Contrary to the recent trend, the KSE-100 Index started the session on a positive note, recording its intraday high at 33,893.84 after accumulating 208.93 points. However, the index failed to sustain the gains and soon collapsed to hit its intraday low at 32,416.41 (-1,268.50 points). It finally closed lower by 1,067.98 points at 32,616.93.
Among other indices, the KMI-30 Index plunged 1,263.49 points to end at 50,753.68, while the KSE All Share Index declined by 618.88 points, settling at 23,248.34. Out of the total traded shares, traded 80 advanced and 228 declined.
The overall market volumes increased from 215.44 million in the last session to 240.38 million. The Bank of Punjab (BOP -6.59pc), Pioneer Cement Limited (PIOC -7.48pc) and Maple Leaf Cement Factory Limited (MLCF -0.71pc) remained the volume leaders of the day, exchanging 24.61 million, 20.08 million and 15.51 million shares, respectively.
Sectors that drove the KSE-100 Index south included banking (-531.28 points), oil & gas exploration (-147.28 points) and cement (-85.49 points). Among the companies, Habib Bank Limited (HBL -156.23 points), United Bank Limited (UBL -106.25 points) and MCB Bank Limited (MCB -102.16 points) dented the index the most.
The banking sector turned out to be the top loser of the day, losing 5.20pc from its cumulative market capitalization. The fall was witnessed ahead of monetary policy announcement as investors remained unclear about the new rate. Habib Bank Limited (HBL -7.50pc) and United Bank Limited (UBL -7.50pc) touched their lower locks, while Meezan Bank Limited (MEBL -7.44pc), Bank AlFalah Limited (BAFL -7.44pc) and Bank AL Habib Limited (BAHL -5.67pc) also closed in the red.