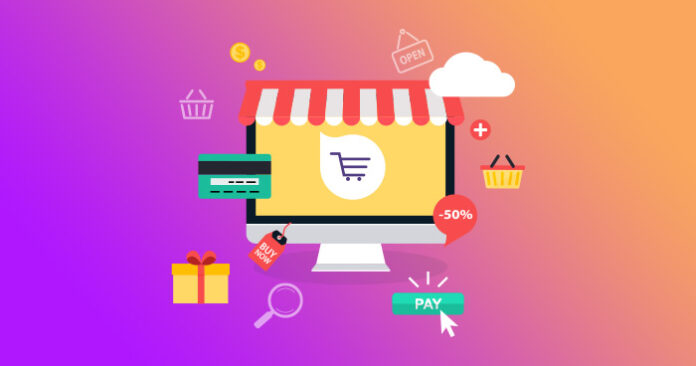 The coronavirus pandemic has lasted just over two months across most of the world and already it has felled some venerable giants of the retail world: in the United States, several large retailers – including luxury retailer Neiman Marcus – have shown signs of strain and even declared bankruptcy. On the other hand, e-commerce giants like Amazon continue to churn out revenue gains. Will the same happen in the Pakistani market? Will the coronavirus accelerate the market penetration rates of e-commerce in the country and get more Pakistanis comfortable with the idea of shopping online?
Everyone has been touting for the longest time that the future is online. Yes, the internet has dominated the past decade, but everything was supposed to go online, from grocery shopping to  education. While it did not happen organically, that is pretty where we are now. Except, the disastrous circumstances in which this change has been forced meant that everyone, from providers to consumers of services, were caught unawares. 
But as the demand for online deliveries increase, and innovations such as contactless delivery become the new norm, companies are not just ramping up their efforts but actually changing the way they operate and picking issues in their structures and business models. 
At the center of this increase in delivery services are Daraz and Cheetay, two companies that deal with different ends of the e-commerce industry – the first being the country's largest e-commerce retailer and the latter being one of the fastest growing delivery and logistics services providers – but are looking to expand their reach into each other's territory.
How will e-commerce businesses shape up in this time, and what precautions will they be taking? More importantly, with how sudden all of this has been, are they prepared to deal with all of this even now? This is a once in a century opportunity for companies in this industry. Just how prepared are they to seize advantage of it, or will then let it slip?
The strangest of times 
Contactless delivery is strange. It is, perhaps, the most dystopian feeling in the pandemic-hit world. Sure, the empty streets, lonely funerals and silent playgrounds are all eerie, but silence sometimes speaks volumes, and speaks to destruction and bad times.
What contactless delivery does is roboticise an otherwise human interaction. There are a few ways to go about it. For example, if you pay by card beforehand, you do not even have to see the rider. They just leave your package of groceries or food or whatever you have purchased lying at your doorstep. 
The other, stranger experience is your rider arriving, putting on a fresh pair of gloves and ringing your doorbell, before standing far away from your gate. When you arrive, they lay your order down and step away from it so you can come collect it. Then you leave the money in the same spot and they collect it, before they leave any change there which you may collect, and then leave any tip you may want to. 
As of now, weird as it is, this kind of delivery is a necessity. But with a second wave of covid-19 in the autumn already on the cards, this is how rituals are born and continue even when they no longer make sense. 
Whether this will become a ritual or not, it is too soon to tell, but contactless delivery is catching on in Pakistan, and according to Cheetay CEO Majid Khan, it was his company that first initiated it in the country. And according to him, it has been paying off.
"Cheetay was the first to introduce 'contactless deliveries' in Pakistan. We have designated pick up and drop off points and our riders maintain a safe distance of at least six feet, both from the customers and vendors," he explains. "Due to the lockdown, we did see a sudden decline, but since then we are on an upward trajectory and have seen a 10% daily increase in orders. We also launched Pantry – a hyperlocal grocery model – at the same time and saw an overwhelming response to it."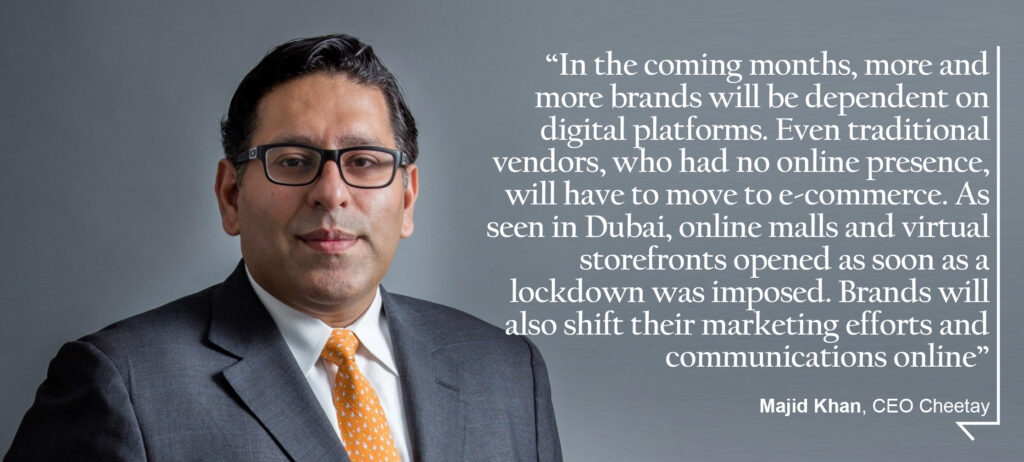 The rise in an increase of orders was going to happen sooner or later as fears about the coronavirus virus pandemic grew in the country. And while e-commerce companies were quick to make their deliveries contactless, they jumped on the idea of delivering groceries quickly as well. Even Foodpanda, which was going to see a rise in demand in any case with people stuck at home and unable to eat out, was fast to create and launch Foodpanda Mart, a contactless grocery delivery service. 
And while some players in the e-commerce sector have been trying their best to innovate quickly, even the most agile companies have sort of been caught off-guard. Growth strategies and plans that they had hoped would phase in over the years, they are having to  implement now.
"COVID took everyone, including ourselves a little bit by surprise. And I think for us the important thing was to ensure that first and foremost, the thing that crossed all of our minds as management was to ensure the safety of our customers, our sellers, and our employees," says Ehsan Saya, managing director of Daraz, Pakistan's largest e-commerce website, and thus at the heart of this equation. 
Saya says that the beginning was chaotic, but as people began to settle down, they realised that people still wanted non-essential items as well as the more staple purchases like groceries. 
"We started focusing on making sure that the customers had what they needed, apart from making sure that there were safe deliveries. Our customers wanted to have hand sanitizers, and grocery items, but they also still wanted to buy phones," he tells us.
But the process was not easy, and as Daraz's CEO, Bjarke Mikkelsen, explains, there was a period of absolute mayhem where the company was trying to meet the challenge of the increasing demand and being responsible both officially and on a private company level. 
"I think we had three weeks where we had a daily two-hour call with all hands on deck every evening from 8 to 10, where we were going through a gigantic project management tool to see what we could do to optimise the supply chain and actually source the products that we need," he tells us. And these were only the beginning of the considerations.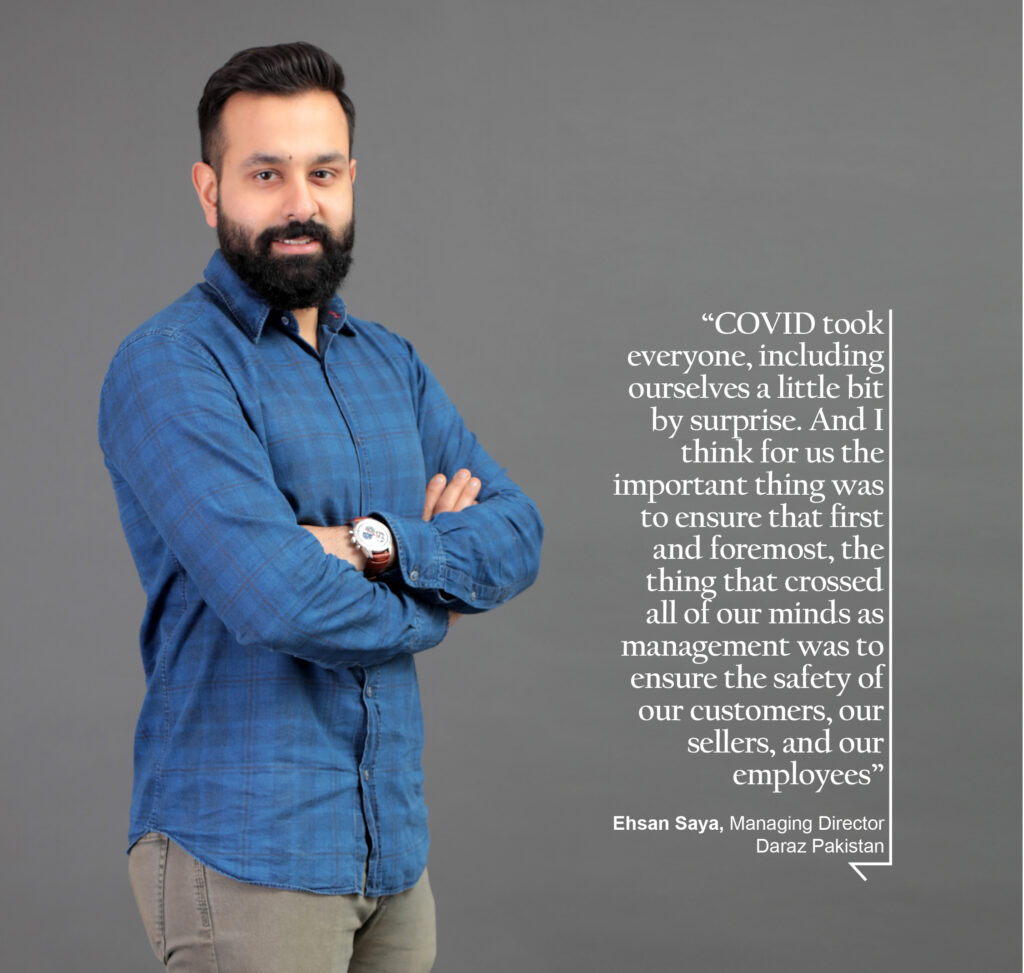 "How can we work with the governments to get the right permits to actually operate in the streets? How can we ensure our operation staff safety both for them and their families, but also when they interact with, with customers. How do we redefine our HR processes so that people can work from home or they can work in AB shifts and that we can limit the risk of contagion in the office?"
How to manage in times of crisis    
These were all pertinent questions of course. For starters, while it is the responsible thing to do to take care of employees and customers, it is also what is good for business. Imagine one rider turns out to be infected with Covid-19. That means all warehouse employees and all other riders having come in contact with him would have to be isolated and get tested. If the virus spreads among company ranks, that is a death sentence, so better to keep as safe as possible. 
But then there is the fact that this is also the time for e-commerce to thrive. It has its greatest opportunities at a time when all work and physical interaction brings with it great risks. In their case, however, there are also great rewards. 
Cheetay tells us that there is definitely an increase in demand in these times, but they are balancing this with rigorous checks. "To ease the burden and improve the safety of our customers, we have rapidly expanded our services to include Pantry (local grocery alternative) and Pharma (to order medicines from your local pharmacies). We are also introducing basic Errand services and extending our business hours to help in times of emergency," their CEO tells us.
According to Majid Khan, not only are they taking precautions such as encouraging digital payments and accepting credit cards, Mastercard QR, SimSim and JazzCash, they have started an initiative offering 50% cashback on Mastercard QR in partnership with Bank Alfalah.
But this and temperature checks are not the only ways in which the nature of the business of e-commerce is changing. "I think there's a lot of processes that have made us rethink how we operate. For example, working from home. We actually saw in the beginning productivity went up because people don't need to spend two hours per day in traffic and they don't need to sit in an office with too much noise and distractions," the Daraz CEO tells us.
Of course, while they may want to maintain some of the practices they find useful now, not everything has changed because of the pandemic. "Search trends still show that non-essentials are still in demand, which is a, which is a positive sign that people are still, you know, at they are still looking for these items, whether it's on online and online, we can measure it, but it's a positive behavior that they're still looking to purchase these things," says Ehsan Saya.
Somehow the demand for non-essential items continues to be high. People have just been forced to search and shop for things online rather than go out to markets. 
And with essential items, Saya tells us that they have seen a 35-40% surge in demand, which it has often been difficult to keep up with. He also hinted at people buying in bigger quantities, bulk buying to minimise the number of times they have to order, something that can only be a help to the company. But it also points towards a dangerous trend of bulk buying, something Pakistan has not really had to face yet where the shelves are empty not because of a shortage, but because of people buying much much more than they need. 
Of course, that can easily be controlled online, but what cannot be controlled is how to boost supply when there is greater demand on such short notice? Daraz has been trying to expand during these time, creating the 'D-Mart channel' feature which allows customers to buy fresh fruits and vegetables, but this has been a little overwhelming, and by Saya's own admission, they "were not able to cope up with the demand ourselves at certain times because it's just spiked up, very quickly."
And it is not all great for the e-commerce industry. Cheetay did not say outrightly that supply is ever an issue, especially since they are just a delivery company, but they did say that the government should ensure some way that hoarding does not become a problem and people do not overorder. Ehsan Saya over at Daraz was more candid about the situation. 
"I think you know that a supply shortage is definitely a problem. I was talking to one of the large FMCGs [fast-moving consumer goods companies] and they said one of their products, which usually takes six months to sell, sold in three days," says the Daraz MD. "However, what we are doing in order to ensure that we address this inventory shortage is that we have to focus on expanding the universe of small, medium businesses. There is still inventory with a lot of sellers and we want to ensure that the platform that we really have at their odds is one that includes, that essentially allows and small medium business to sell to the customers."
Is this the post-Covid-19 future? 
We have talked about this plenty. Will the trends that settle in now be the trends of the future, even when we are out of this vicious pandemic? E-commerce companies definitely see the silver lining. According to Cheetay CEO Majid Khan, his figures show that Pakistan has adapted quickly to online commerce. 
"We've noticed that people who feared online ordering in the past are now making multiple online orders on our platform. Grocery orders are on the rise as people don't want to step out of their homes," he tells Profit. "Most of the departmental stores quickly signed up with us under Pantry and other last-mile logistics companies to fulfill increased surge in home deliveries."
"In the coming months, more and more brands will be dependent on digital platforms. Even traditional vendors, who had no online presence, will have to move to e-commerce. According to the PTA, internet usage has increased by 15% since the lockdown. This trend will continue to rise as more and more people practice social distancing. As seen in Dubai, online malls and virtual storefronts opened as soon as a lockdown was imposed. Brands will also shift their marketing efforts and communications online."
However, the team over at Daraz seem to be a little more cautious. They have a natural concern, sure, they are essential and can capitalise on the current situation, but if the economy continues to tank, will that not mean they will be in dire straits too? After all, spending power, infrastructure and buying capacity are all important factors in this business.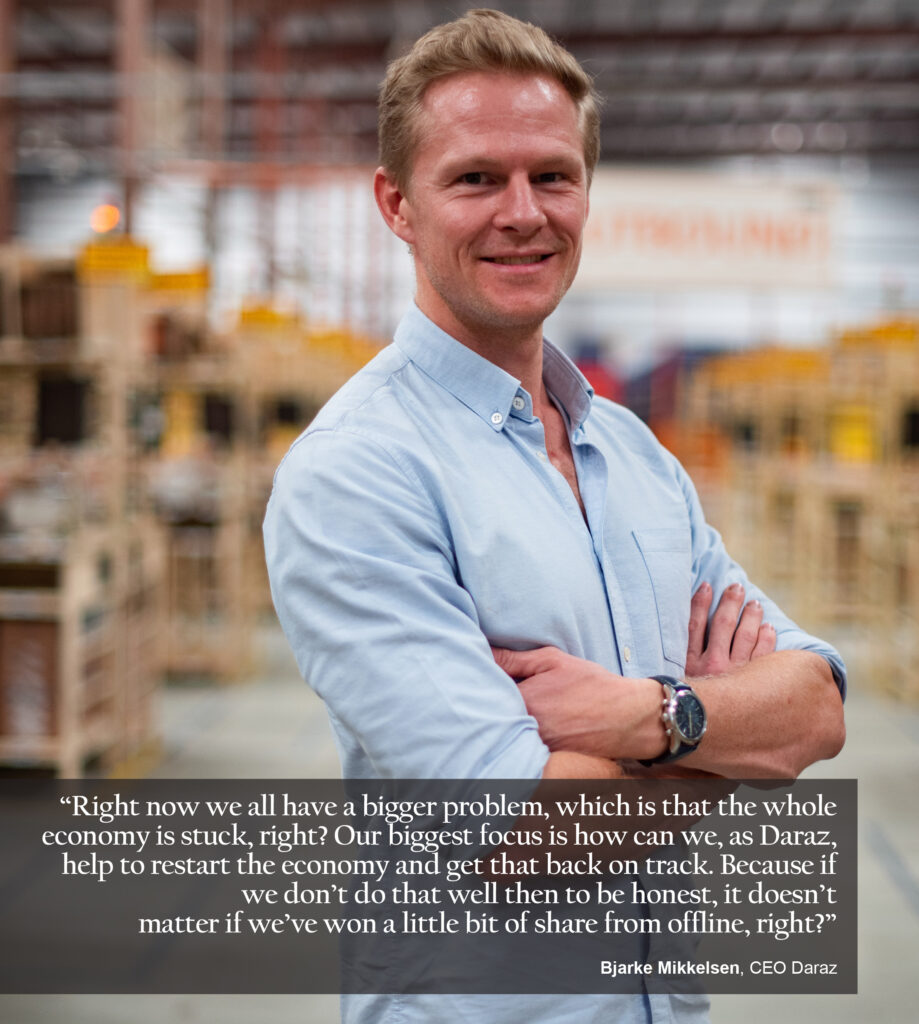 Currently, Daraz says they are focused on working closely with the federal and provincial governments to make their operations as smooth as possible in these unprecedented times, but they stand aware of the dangers of the future. 
"It really hit us after the shut down, and to some degree we started to think about how people were going to earn money, especially the small, medium businesses, because they at the end of the day create a large majority of the jobs. And that is how our thought process evolved and we knew we had to be on the side of the small and medium businesses" Saya tells us. 
"I hope that we build more trust with customers by providing essential services through this difficult time. And that's great in the long term, but right now we all have a bigger problem, which is that the whole economy is stuck, right?" says their CEO, Mikkelsen. 
He is candid about why Daraz wants to play the role it is trying to play. "Our biggest focus is how can we, as Daraz, help to restart the economy and get that back on track. Because if we don't do that well then to be honest, it doesn't matter if we've won a little bit of share from offline, right? And then the whole pie is so small that everybody will lose both of us and offline sellers as well." 
There are, however, some good signs at least. While the pandemic may continue to ravage, e-commerce may still boom. But it will be important for companies to be on the right side of history for this one. And it is also important for them to continue to hope. 
"I would just like to make it very clear that we're still very optimistic about the future of e-commerce in Pakistan. And I think, if anything, this whole situation will, in the long term, probably accelerate the shift from offline to online," says Mikkelsen. "One thing in particular we're seeing right now is the supply side. There's a huge amount of sellers that are signing up under us, right? And this is both small retailers and large brands who before thought that, you know, offline is still more important and we're not ready to really fully commit to e-commerce. This is our chance to win them over.