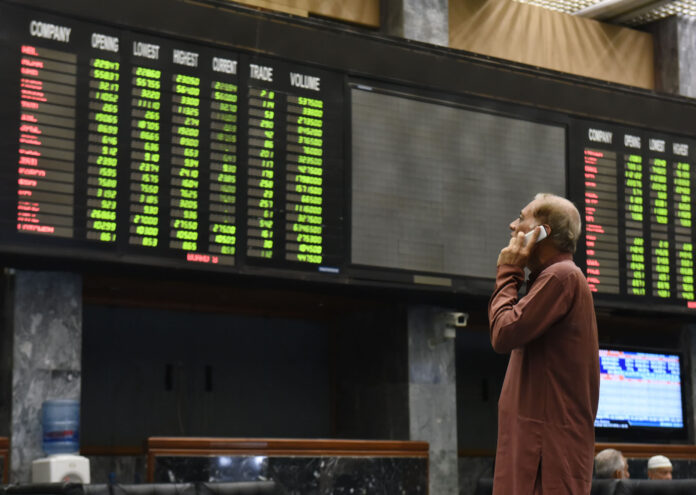 KARACHI: Bullish trend prevailed at the Pakistan Stock Exchange (PSX) on Monday, with the benchmark KSE-100 accumulating over 400 points intraday amid improved investor sentiment.
According to analysts, today's surge in market optimism was mainly due to the ease in lockdown and opening of various businesses around the country. In addition, expectations of a cut in duties and taxes related to raw material resulted in increased volumes in cement, steel, and pharmaceutical sectors.
Global equities also displayed a positive trend, with global crude prices moving up from the last close; WTI Crude Oil price rose 0.71pc to $39.83 while Brent Crude Oil price increased by 0.87pc to $42.67.
Foreign investors closed the outgoing week as net sellers, registering a net outflow of $15.27 million (June 1-5, 2020).
The KSE-100 Index remained in the green zone throughout the session, recording its intraday at 34,769.44 after gaining 419.02 points. It finally closed higher by 399.2 points at 34,749.57.
Among other indices, the KMI-30 Index appreciated 1.13pc to end at 55,797.31, while the KSE All Share Index accumulated 237.93 points, settling at 24,851.95. Of the total traded scrips, 205 advanced and 102 declined.
The overall market volumes jumped from 89.07 million in the previous session to 222.14 million, with TRG Pakistan Limited (TRG +4.84pc), Pakistan Refinery Limited Right Shares (PRLR1 -13.41pc) and Hascol Petroleum Limited (HASCOL +2.93pc) led the volume chart, exchanging 19.50 million, 18.84 million and 13.14 million shares, respectively.
Sectors that painted the index green included oil & gas exploration sector (+133.06 points), Banking sector (+85.18 points) and Cement sector (+52.10 points). Among the companies, MCB Bank Limited (MCB +52.40 points), Pakistan Oilfields Limited (POL +51.20 points) and United Bank Limited (UBL +36.10 points) remained the top contributors.
Adding 3.06pc in its cumulative market capitalization, the technology & communication sector remained the top gainer of the session, with TRG Pakistan Limited (TRG +4.84pc), Systems Limited (SYS +7.50pc), NetSol Technologies Limited (NETSOL +1.91pc) and Hum Network Limited (HUMNL +8.79pc) ending with decent gains.
Meanwhile, in a notification to the exchange, BankIslami Pakistan Limited (BIPL +1.17pc) announced that it would discontinue the sale of 8,000,000 shares of BankIslami Modaraba Investments Limited (BMIL) to BRR Investment (Pvt) Limited for failing to secure necessary regulatory approvals.