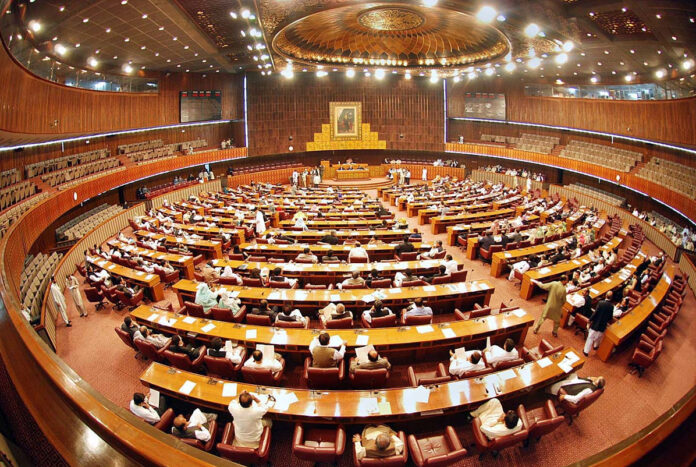 ISLAMABAD: The National Assembly's Standing Committee on Finance was informed on Thursday that the formulation of the Zarai Taraqiati Bank Ltd's Board was being delayed as the proposed nominations were sent to the State Bank of Pakistan (SBP) for security clearance.
The committee expressed displeasure over the procedural delay by SBP and directed the finance special secretary to intervene into the matter and present a summary in this regard to the prime minister at the earliest.
The meeting was held under the chairmanship of MNA Faizullah.
Meanwhile, Federal Board of Revenue (FBR) Member (Inland Revenue) Dr Muhammad Ashfaq Ahmed briefed the committee about refunds issued by the FBR with regard to income and sales tax. The committee expressed satisfaction on the presentation given by the member, directing the FBR to expedite refund procedures so that the business community could be facilitated.
The committee also sought the details of pending refunds before 2014.
Moreover, Member (IR Policy) Dr Hamid Attique briefed the committee regarding the expected collection of revenues in the budget 2020-21. He said that FBR would achieve the target without imposing any new taxes during the year.
The committee recommended that a special package should be provided to the families of 31 martyrs of FBR who recently died on duty. It directed the FBR chairman to provide incentives to those FBR employees who have worked hard during budget 2020-21.
Special Assistant to the Prime Minister on Poverty Alleviation and Social Protection Dr Sania Nishter on the occasion briefed the committee about the Ehsaas Programme launched by the government for distribution of funds to vulnerable families in Pakistan. She explained the procedure of Ehsaas Emergency Cash Project, wherein 16.9 million families would be provided with Rs1,2000 each (one time). 
She also shared the international practices with regard to the cash transfer programmes, saying that unconditional cash transfer programmes have much lower cost per beneficiary than in food distribution.
The committee highly appreciated and admired the role played by Dr Sania Nishter and assured her of complete cooperation in this regard.