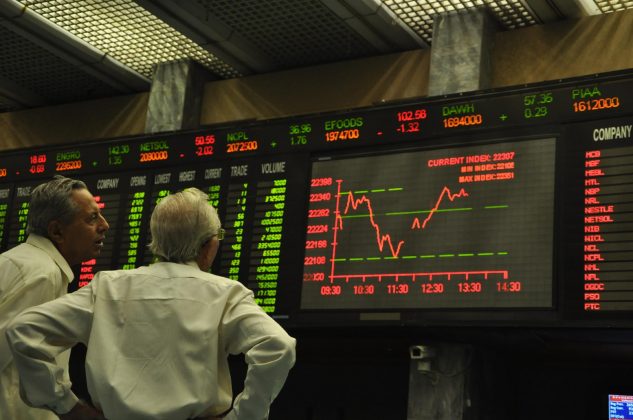 KARACHI: After a positive start to the day, the Pakistan Stock Exchange (PSX) witnessed a spell of profit-taking near the close of the session, resulting in the benchmark ending in the red zone. 
Global equity markets, on the other hand, remained bullish on Friday, whereas crude oil prices moved south from the last close; WTI crude price fell 1.36pc to $41.39, while Brent crude price dropped 1.20pc to $44.56.
"The stock market traded range-bound today, with an upside of 300 points in early trade and loss of around 200 points post-Jumma break," said a report issued by AHL Ltd. "Selling activity was observed across the board, mainly contributed by banking, exploration & production and cement sectors."
MARKET SUMMARY
The KSE-100 Index witnessed volatile activity throughout the day, registering its intraday high at 40,465.95 (+299.83 points) and intraday low at 39,971.11 (-195.01 points). It closed lower by 136.43 points at 40,029.69. 
Among other indices, the KMI-30 Index lost 249.69 points to end at 64,060.43, while the KSE All Share Index dropped 30.76 points, settling at 28,042.92.
The overall market volumes contracted from 826.77 million shares in the previous session to 727.90 million shares (-12pc). Average traded value also declined by 5pc, from $144.8 million to $136.8 million. Worldcall Telecom (WTL +2.10pc) once again led the volume chart, followed by Pakistan International Bulk Terminal Ltd (PIBTL +6.85pc) and Unity Foods Ltd (UNITY +8.17pc). The scrips had exchanged 144.02 million, 52.42 million and 50.41 million shares, respectively.
Sectors that dragged the benchmark index lower included banking (67.17 points), oil & gas exploration (33.47 points) and cement (30.31 points). Among the companies, United Bank Ltd (UBL 34.33 points), Habib Bank Ltd (HBL 33.06 points) and Hub Power Company Ltd (HUBC 22.30 points) dented the index the most.
Shedding 1.11pc from its total market capitalization, the oil & gas marketing sector turned out the session's biggest loser, with Pakistan State Oil Company Ltd (PSO 1.11pc), Sui Northern Gas Pipeline Ltd (SNGPL 1.02pc), Sui Southern Gas Company Ltd (SSGC 1.99pc), Shell Pakistan Ltd (SHEL 2.23pc) closing in the red.
Meanwhile, in a notification to the exchange, TRG Pakistan Ltd (TRG -2.34pc) shared the details of the IPO of its indirect portfolio company, IBEX Limited. "The underwriters have been granted a 30-day option. Shares are expected to begin trading on Nasdaq on Aug 7, 2020, and the offering is expected to close on August 11, 2020," the company stated.
On the financial side, Engro Polymer and Chemicals Ltd (EPCL -3.12pc) declared its financial performance for the second quarter of FY20. The company's sales witnessed a decline of 37pc YoY, while financial cost jumped by 30pc. Its earnings per share fell from Rs0.49 in 2QFY19 to Rs0.01.