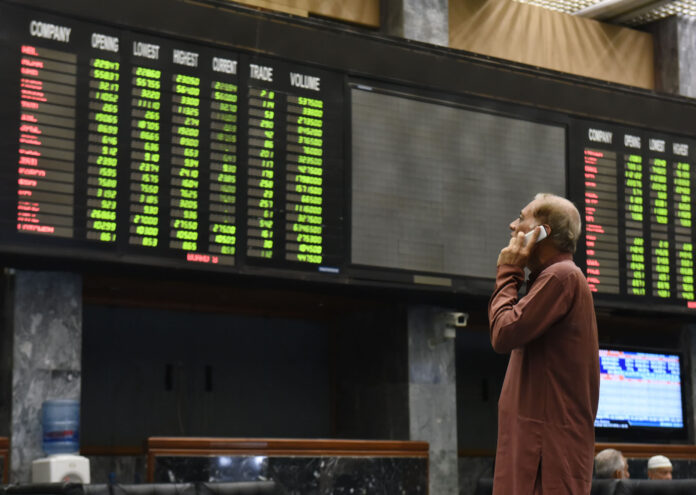 KARACHI: The Pakistan Stock Exchange (PSX) witnessed volatile activity on Monday, with the benchmark index swaying in both directions before settling in the green. 
Meanwhile, the number of market participants continued to narrow down despite the State Bank of Pakistan's announcement of a current account surplus for the month of July 2020.
"Despite shedding most of the early morning gains, the benchmark index managed to rebound towards the end and closed in the positive territory, mainly on the back of cement, pharma, steel and oil & gas marketing sectors, with the latter two reacting to expectations of an increase in underlying product prices," said a report issued by AHL Ltd. "The exploration & production sector remained under pressure due to news of privatisation of Oil and Gas Development Company and Pakistan Petroleum Ltd by the government, whereas banking sector stocks followed the recent trend and remained under selling pressure."
MARKET SUMMARY
The benchmark KSE-100 Index remained volatile throughout the day, registering its intraday low at 39,473.11 (-148.48 points) and intraday high at 39,824.56 (+202.97 points). It ended higher by 181 points at 39,802.60.
Among other indices, the KMI-30 Index added 277.84 points to close at 64,002.61, while the KSE All Share Index gathered 72.25 points, settling at 27,930.89. Of the total traded scrips, 190 registered gains, while 119 lower than the previous close.
The overall market volumes declined from 400.5 million shares in the previous session to 371.3 million shares (-7pc). Average traded value, on the contrary, increased by 9pc, from $81.7 million to $88.6 million. TRG Pakistan Ltd (TRG +7.50pc) Dewan Cement Ltd (DCL +9.98pc) and Pace Pakistan Limited (PACE +9.37pc) led the volume chart, exchanging 29.88 million, 23.46 million and 23.45 million, respectively.
Although oil & gas exploration (-74.39 points) and fertiliser (-18.91 points) sectors, with minor contributions from 12 other sectors, tried hard to pull the index lower, cement (+73.11 points) with technology & communication (+47.15 points) stood their ground and rescued the index. Among the companies, major contributions came from Lucky Cement Ltd (LUCK +38.56 points), TRG Pakistan Ltd (TRG +37.99 points) and Dawood Hercules Corp Ltd DAWH (+27.33 points).