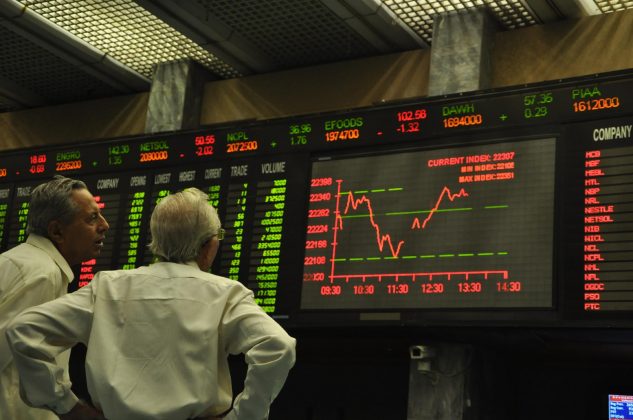 KARACHI: Breaking its winning streak, the Pakistan Stock Exchange (PSX) closed the last session of the week in the red, with the indices accumulating losses amid narrow range trading. 
Global stock markets also showed a negative trend, whereas crude oil prices moved north from the previous close; WTI crude price rising 0.63pc to $41.67 while Brent crude price increasing 0.41pc to $44.25.
Despite a lacklustre close to the session on Friday, the benchmark KSE-100 Index managed to gain 2.35pc during the outgoing week.
"The market traded in a narrow range following the onslaught in international markets that saw stocks markets in developed countries plummeting overnight. Local investors probably thought it was best to book profit rather than carry positions over the weekend," said a report issued by AHL Ltd. "Selling pressure was observed in cement, fertiliser, exploration & production and banking stocks, while a rally was witnessed in some steel and tech stocks."
MARKET SUMMARY
The KSE-100 started the day on a negative note, losing 264.43 points to touch its intraday low at 41,923.68. It, however, managed to recover the lost ground later in the day, marking its intraday high at 42,291.92 (+103.81 points). Regardless, the index failed to hold on to its gains and closed lower by 165.11 points at 42,023.00.
Among other indices, the KMI-30 Index lost 11.32 points to end at 67,522.28, while the KSE All Share Index dropped 31.60 points, settling the day at 29,748.90.
The overall market volumes fell from 919.45 million shares in the previous session to 758.08 million shares (-18pc). Average traded value also declined by 7pc, from $160.1 million to $149.4 million. Hascol Petroleum Limited (HASCOL +7.49pc), Fauji Foods Limited (FFL +7.48pc) and Unity Foods Limited (UNTIY +2.54pc) led the volume chart, exchanging 73.16 million, 51.66 million and 41.35 million shares, respectively.
Sectors that dragged the benchmark index in the red included banking (-59.87 points), power generation & distribution (-58.66 points) and cement (-32.21 points). Among the companies, Hub Power Company Ltd (HUBC -52.58 pts), United Bank Ltd (UBL -25.58 points) and Lucky Cement Ltd (LUCK -21.52 points) dented the index the most. 
Losing 1.63pc from its cumulative market capitalization, the power generation & distribution sector emerged as the session's top gainer, with Hub Power Company Ltd (HUBC -2.84pc), Pakgen Power Ltd (PKGP -6.79pc) and Kot Addu Power Company Ltd (KAPCO -0.96pc) closing in the red.
Meanwhile, in a notification to the exchange, Dolmen City REIT (DCR -0.53pc) announced that its management has decided to waive 15pc rentals of the tenants having retail outlets in "Dolmen Mall Clifton" for the month of Sept 2020. The discount will not apply to tenants providing essential services such as supermarkets and banks.