New, shiny, and full of untapped potential, the fintech space in Pakistan is at war. It has only been over the past decade or so that fintech companies are being taken seriously as harbingers and leaders of the future in the country. And it has only been the past few years in which a deluge of fintech startups and companies have tried to disrupt everything from banking to payments and telecommunications. 
Essentially, what fintech companies do is provide technology based solutions to different organizations. They do business with both consumers and other businesses, making the fintech space a vast and diverse one. Over the past few years as the trend for fintech has risen, companies have come and gone, startups have risen and fallen, the government has felt the need to try and figure out how to regulate fintech companies, and there has been a cultural shift in how both consumers and businesses look at how financial matters should be managed. 
In all this while, the fintech companies themselves have remained scattered. And with demands coming in from all corners for innovation and forward thinking, many of the early entrants have felt a need for an association that would advocate the cause of the fintech companies. 
It is with this desire for an association that our story begins, and as with any good story these days, it begins over Whatsapp.
The origins of the associations
It all started in a WhatsApp group. The players in Pakistan's fintech space all received a message floating the idea for the formation of an association founded to help nurture the fintech industry in Pakistan. The message was sent by Nadeem Hussain, a veteran of fintech in Pakistan, who built EasyPaisa from ground up and led it to a $450 million exit by Ant Financial in the largest known transaction of this sort in Pakistan.
Article continues after this advertisement
Needless to say, he is a man with a reputation. The idea for the association was that it would provide a platform for the member companies to get all sorts of advisory services, support from other members and a platform to liaise with the regulators on important matters concerning the industry. 

This was the need of the hour, and the founders of the many fintech companies in Pakistan were hopeful and enthusiastic about Nadeem's suggestions. All large industries, from textiles to sports goods, have associations to represent them. When the coronavirus lockdown happened, it was the elected members of these associations that met with the Prime Minister to plead their industry's case. The fintech industry had no such association. 
But the matter would not be as simple as all that. On July 19, 2020, it was announced in the Whatsapp group that the structure of the association had been finalised, with the names of initial members of the association finalised before prior knowledge or consent of the fintech companies that were made members of the body, and the agenda of the association finalised and announced in a similar manner. The association was formed and dubbed the Fintech Association of Pakistan (FAP). 
FAP then went on to announce that among its members were some of the big commercial banks such as UBL and JS Bank, along with banks that back two of Pakistan's largest telecommunication companies: Telenor Microfinance Bank and Mobilink Microfinance Bank. And as an earlier Profit feature has discussed, telecom companies, banks, and fintech companies have beef of their own. 
Immediately, the alarm bells began to sound. The founders of different fintech companies began to realise that the representative organization they were being asked to be a part of had stakeholder from the telecommunications and banking industries. Now, fintechs do not only have banks and telecom companies as their clients. There are many fintechs that offer services to provide supply chain solutions, for example. But with the telecommunication and banking sectors part of the association, the proposed association would push a very particular agenda – one that would not be good for the smaller players. 
The fintechs were now uneasy, and the announcement that the banks were going to be on the governing board of the association was the final nail in the coffin. That message set the grounds for creation of another association, made by and for fintech companies only. An alternative organization that has come to be known as the Pakistan Fintech Association (PFA).
The need for an association
As mentioned earlier, fintech companies are a diverse bunch. Each company operates in a different sphere, catering to different segments entirely. Some are very, very, niche and naturally smaller, while others can be much larger companies. 
And as Karim Jindani, the CEO of Paysys Labs that is the founding member of Pakistan Fintech Association (PFA), the parallel association started after FAP, there are a few very particular challenges in Pakistan faced by fintech companies. "For new entrants, if a company enters with a very brilliant idea about giving a service, they lack a lot of key information. There is a lack of proper guidance that if you want to provide a particular service, do you need a regulatory cover or not," he says. 
Fintechs are not going to reach out to new bank customers. They will always try to serve those customers that already have a banking account or mobile wallet. And they will give new services to these customers depending on the type of services they are trying to provide. The association would thus provide these companies access to the financial ecosystem, the formal system that is banks etc. From the experience of the established players in the financial technology space, access to banks and other relevant technology companies is possible on the basis of connections. That on the basis of connections, you get access to the bank or another fintech company's systems. If someone knows 1Link better, he would go to 1Link and ask them to give access to his fintech company. The one who does not know will always be struggling. 
In addition to this, representing the industry and lobbying with the regulators for the industry is an important task that an association can undertake effectively, compared to an individual organisation going to the regulators for one thing or the other. For instance, five companies might have to go to the State Bank to get a similar thing approved. That's five people going to the SBP, for the same thing. Through the association, it can happen all at once, saving time and money for these companies, as well for the regulators. It is also here that the things get tricky. When the interests of certain segments collide with the others, the powerful wins. Something that an association can prevent from happening. 
Among the objectives listed by Fintech Association of Pakistan (FAP), the association started by Nadeem Hussain, knowledge management, information exchange and idea hub, enabling environment and networking platform have been listed as the primary objectives of the organisation on the FAP concept note. 
With the problems that smaller and nascent fintech companies would eventually be facing, and for the market to develop, it requires a level playing field. An association or an entity that clearly has the motive that it represents the best interest of the industry, rather than a segment of the industry is what the motive should be of any association that claims to represent the entire industry. 
"More and more people are coming in from outside to start companies in Pakistan.They are going to make mistakes, they are going to need guidance. An association that is not representative of fintechs would not be a good representative of these companies," a spokesperson from Pakistan Fintech Association (PFA) said. 
A representative from the same association, PFA, told Profit of a case in which a startup founder that had come from outside of Pakistan was paying hefty fees for legal counsel to understand if they required regulatory cover from the SBP for their fintech company or not. "The PFA can help with that. Otherwise they are wasting a lot of money and a lot of time. They can launch without having to pay such fees if they simply ask the association," he said, adding that there are these details that association can help fintech companies that are trying to launch in this market. 
Nadeem Hussain, citing his experience during his chairmanship of Pakistan Microfinance Network, the association for microfinance banks, for two years, said that during his time at the network, he was able to do a lot in terms of information, in terms of representing the sector in front of the regulators and that tremendously helped the industry. 
"My experience with PMN compelled me to think that we should also have a fintech association of Pakistan so that we could lobby and advocate with the SBP and the Securities and Exchange Commission of Pakistan (SECP), with the Federal Board of Revenue (FBR) and with the Pakistan Telecommunications Authority (PTA). As a consequence, FAP was created," he told Profit.
To hear members and spokespersons of the two organizations speak, they both want to do very similar things. It makes sense of course, but the rivalry between the two organizations is a firecracker. Already the PFA has got many fintech companies under its umbrella, including  NIFT, Finja, Keenu, Haball, CreditFix, Paysys Labs, TPS Labs, Finovate and Oraan, with other members on the cards as well. FAP on the other hand has listed KwickPay, Nayapay, JazzCash, EasyPaisa, Investor Lounge, UBL, JS Bank and Bank Alfalah.
But the PFA is not sitting idly by. Both the associations have not formally launched yet, but have informal operations and ongoing membership drives. After registration with the authorities concerned, both the associations plan to launch officially and get to business. And the competition is fierce and cutthroat. The only question is, should banks be a part of such an association?
The banks in the equation 
It can be settled with a simple argument. Banks already have the Pakistan Bankers Association (PBA) to advocate for their interests. Allowing banks into a fintech association only means extending them further clout. On the other hand, telecommunication companies are also represented by the banks that are backing them. But the problem is more complicated than what it looks like.
There are certain types of fintech companies. There are ones that provide financial technology services to banks, that complements the core banking business. A case in point is 1Link, the fintech company that allows interoperability between all banks for ATM withdrawals. Another one is National Institutional Facilitation Technologies (NIFT), that provides transactional clearing facilities between banks. These fintech companies do not have banking as their core business. 

Then there are fintech companies like mobile wallets SimSim, FonePay, that have digital banking as their core business. These are the companies that are small ventures, funded by venture capital money, that require exposure to a commercial banks' customers to flourish their business. Banks, on the other hand, are reluctant to expose their customers to fintechs for some legitimate reasons such as data security. Banks are reluctant to let other companies withdraw their deposits and let that be credited in some other bank. 
Pakistani banks are conservative by nature. This means that even for a fintech service, the banks individually, or as a group, would be reluctant to let some third party enter and become a major service provider. 1Link, for instance, is the largest interbank network that is owned by the banks. 1Link is backed by a consortium of 11 banks and it is the only fintech company enabling ATM interoperability. So if, for instance, any unfortunate incident leads to a disruption in 1Link services, there is no backup service for ATM interoperability. Similarly, each bank has launched its own digital wallet as well.
The simple point being that in an association where there are large banks, smaller fintech companies would not have a chance to thrive because every move will be stifled by these banks if they see it as a threat. Because, as already mentioned, fintechs are dependent on banks to allow them integrations into their systems for the fintech to survive. If the banks see any innovative fintech company as a threat, it would refuse to share API-based integrations with the said fintech. The API-based integrations are mostly required by fintech companies for accessing a bank's payment rails that move money from a payer to a payee. A fintech company, being small on funds, can not afford to deploy a payment rail of their own. Hence the need for banks.
It is in this context that an association that has banks as its part might possibly thwart any effort by a fintech company for doing anything innovative. All in all, the banks and telcos do not have the right motivation and incentives to take the fintech industry ahead swiftly, unless it serves their interest.
Something of that sort has already happened with Virtual Remittance Gateway (VRG), the fintech company enabling interoperability for the Aasan Mobile Account (AMA) scheme of the State Bank of Pakistan. VRG has already been covered by Profit. The fintech company had to bear through a painful ordeal of getting over intense opposition from telecommunications companies to get its interoperable platform launched commercially. And in the process, because VRG was perceived to be a threat by telecommunication companies, the telcos erected their own fintech company with similar operations, waiting for its commercial launch. Banks onboarded readily. However, as some sources say, the banks did not want to annoy the regulator, the SBP, by refusing to take VRG onboard. 
But VRG survived the ordeal because VRG is financed by a large business group in Pakistan, with the paid-up capital of the company running in millions of dollars. With the financial and the political clout of the founders of VRG, it was successful in overcoming lobbying by the telecommunication companies, though it had to face inordinate delay in its launch. But a smaller fintech company might not be able to do so, with limited funds and a limited runway.
The elephant in the room
The story, up until now, sounds like one where the bigger fintech companies wanted to cosy up further with the banks by including them in their association, FAP. It also may make the PFA seem like some kind of a Robin Hood offshoot looking to protect the smaller fintech companies. But to hear Nadeem Hussain talk of it, there is no other way than to include the banks, and hope they act responsibly. 
"Banks have the railroads and without that railroads, it would be very difficult for fintechs to operate," Hussain explains. "The fintechs are heavy on nimbleness but light on capital and light on infrastructure. Keeping banks outside of the association, my view was it would be optimum if the fintech was a combination of fintech players, banks and people that link the railroad like 1Link."  
The PFA recognises that banks and telcos are major stakeholders in the industry, that can influence regulations. Therefore, PFA also does not believe that the banks or telcos should have no role at all. Instead, the PFA insists that banks and telcos should actually advise on matters related to the fintech industry, but contends that both these stakeholders should have no role in the governance of the association. Hence, the PFA says that banks and telcos are part of the association but in advisory roles. 
As for the voices of fintech companies not being heard, Nadeem clarifies it is only going to happen when the board does not have a balance.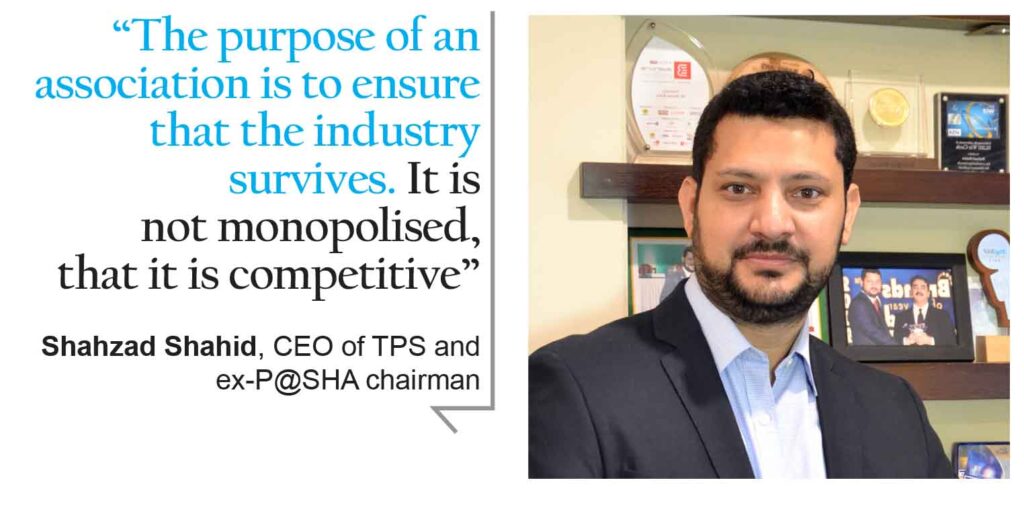 "I invited five banks, five fintechs and five independent directors and created the organisation based on 15 original members that would form the governing board. Anyone else can join the general body. After a year, we would have elections and the general body would decide who would be the next members of the board. But for the first year, they were selected. If banks allow fintechs to use their railroads, the chance of that happening is higher when they both are sitting in the same association," says Hussain. 
Two of the largest fintechs are banks: EasyPaisa and Jazzcash, that own 80% of the digital payment market. Even in lending, it is driven by them. You can not really ignore them," he adds.
Two of the largest fintech companies in Pakistan, EasyPaisa and JazzCash, are run by banks. Which is why the smaller fintech companies, for the sake of other companies looking to enter the fintech space, are fearful that their voices might be suppressed in FAP.
There are some industry leaders that go to the extent of believing that EasyPaisa and JazzCash are the reason why FAP was formed because both EasyPaisa and JazzCash lacked representation because they were always recognised as banks. And Nadeem was perhaps the right person to lead the association by virtue of his affiliation with EasyPaisa that he led for over a decade. Nadeem currently also runs a fintech company Tez Financial, and has invested in other financial technology companies as well. 
In words of an industry expert, commercial banks, that have paid-up capital of billions of rupees, will bulldoze any move by a small fintech player that they feel might threaten them. 
"When you have a small fintech CEO sit in front of the CEO of a large bank or Jazz or Telenor, do you expect them to say no to these bigwigs knowing that the fintech would need the bank or the telco for its own survival?" a source said.
"When two banks are on the board, how do I ensure that the association would not be a group of fintech companies working for those two banks? There are long term implications of such decisions," an industry expert told Profit.
Can two associations co-exist? 
"Division is not unusual. People think differently. I personally think whoever is more inclusive and more ambitious and more agile will eventually continue to survive. I think that only one association will be surviving after a year or two," the CEO of financial technology company TPS and [email protected] chairman, Shahzad Shahid told Profit. 
"[email protected] is talking about the private sector of Pakistan and the technology sector. We basically want the private sector to grow. If we have these large players whose core business is not fintech, if they become a part of any fintech association, then their policy requirement and their interests would be very different as compared to fintech startups. But the one that are investing in financial technologies as their core business, we want them to be promoted and heard," he added.
"The purpose of an association is to ensure that the industry survives. It is not monopolised, that it is competitive," Shahzad said, underlining that his company TPS is among the initial promoters of PFA, which he thinks is more inclusive and is not composed of companies that do not have financial technology services as their core business. 
"The market is very large and I think everyone's heart is at the right place. Everyone wants the betterment of the fintech industry. Even if there are three organisations instead of two, as long as they are working towards the betterment of the industry, hopefully everything will be sorted out," Nadeem Hussain said.
Though many experts believe that it is unfortunate to have two organisations, which is suboptimal for the industry, speculations are that only one will remain. And that one would be truly representative of the entire industry.