Digital lending provides small retailers easy access to a much-needed new line of financing that is fully transparent
Conventional & Sharia-compliant lending options that are tailored to the business owner's needs
Quick Asset-based loans made easy through an app technology that seamlessly integrates retailers, distributors, and payment solution providers
Cashew Financial Services (Pvt) Ltd., (Cashew) has announced that it has been granted regulatory NOC for its Non-Banking Microfinance Company by Securities & Exchange Commission of Pakistan (SECP) to roll-out digital micro-financing. The first micro-financing product to be rolled out, from cashew's digital platform, is branded "Muawin".
Cashew, through its various products aims to transform access to credit for micro-entrepreneurs& their businesses who otherwise are not serviced by banks. With a focus on the traditional retail market, Cashew is the first solution in Pakistan to offer sharia-compliant & conventional digital financing products dispersed through its own loan book.  Cashew's retailer financing will be a catalyst to drive growth for small businesses while paving the way forward for the Digital Sharia-Compliant financing landscape.
Founder Ammar Afif, a 20-year veteran of Silicon Valley, is on a mission to bring instant financing to the region.  Ammar is also joined by his co-founders Hashim Ali and Moeed Qamar who are both LUMS alumni and have honed their expertise in Fintech innovation.
Speaking about the news on the approval, Ammar shared: "We are grateful to the SECP for the trust they have placed in our mission by granting us regulatory NOC.  The time has never been better for disruption in Pakistan's credit space, especially with such a high penetration of smartphone-enabled internet access for shop-owners and gig-economy workers around the country.  We hope to help grow millions of small businesses through our platform.  Our philosophy is simple: Financial Inclusion leads to Financial Empowerment."
Article continues after this advertisement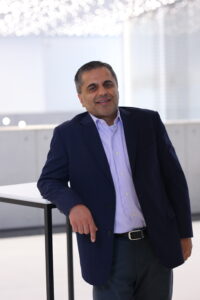 Easy access to credit is severely limited in Pakistan, with most of the population having no credit history, paper trails, or collateral to avail any formal financing.  This is a critical challenge for small business owners and gig-economy workers who are unable to expand their operations without easy access to credit.  As it currently stands, these small business owners have no choice but to borrow from informal sources that charge exorbitant interest rates, that eats into their already paper-thin margins.  Cashew sees the huge opportunity to help these enterprising people expand their businesses with access to transparent credit services so that they can build a better life for themselves.  In its first phase, the start-up will provide quick, easy, and affordable access to credit to micro-entrepreneurs, which include micro-retailers, ride-hailing drivers, delivery riders, & freelancers.
Cashew employs its proprietary technology that leverages advanced AI and ML algorithms to analyze data from multiple discrete data sets to assess its borrowers intelligently and providing credit to those without any formal financial history.  Through this, Cashew wants to showcase how access to useful & affordable lending products can be used to drive growth and meet people's needs in a responsible and sustainable way.
Disclaimer: This is a re-published article with corrections. With reference to previous article, it incorrectly stated that Muawin gets SECP Approval, launches digital financing for small businesses. It is to clarify that SECP has granted NOC to Cashew Financial Services Limited to carry out microfinance services. Whereas, Muawin is the name of brand under which Cashew Financial Services will be offering its services. The previous article incorrectly mentioned the company name and registration status. We regret any confusion caused due to this error.