KARACHI: In order to cut PIA's losses by Rs4.2 billion, the government has approved plans to lay off around 3,000 of its employees, including both regular and contractual workers.
As per details, the government's plan is to provide 2,500-3,000 regular and contractual employees of the Pakistan International Airlines with "voluntary separation" from the service scheme. The cost of this voluntary separation is approximately Rs12.9 billion, which according to the Aviation Division will be recovered within two-and-a-half years.
As per the Aviation Division, the summary for voluntary separation was approved by the prime minister in April 2019.
"As part of PIA's restructuring and to bring HR numbers closer to industry standards, the management had requested the government one-time allocation of funds to reduce the workforce by 2,500 to 3,000. The payback of these funds in terms of annual savings achieved to PIA will be 2.5-3 years. Employees will be offered an attractive separation scheme and people would have 15 day to avail the offer," PIA spokesperson Abdullah Khan explained while talking to Profit.
Article continues after this advertisement
Currently, PIA has 14,576 employees; 11,356 regular and contractual employees, with 3,220 positions outsourced.
The Aviation Division claims that 4,505 of the staff is surplus, whereas the PIA management believes around 34pc of the regular and contractual employees are surplus.
As many as 644 outsourced positions are considered surplus, of which 540 belong to the commercial department.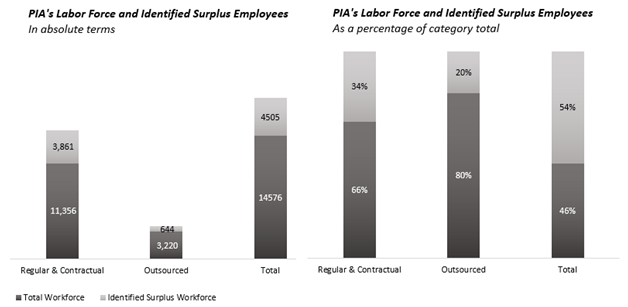 It is pertinent to mention that the Economic Coordination Committee (ECC) of the Cabinet had approved the Voluntary Separation Scheme (VSS) for the PIA employees on Monday.
"After through discussion, it was decided to approve, in principle, the voluntary separation from service scheme for PIA," the Ministry of Finance had announced after the meeting of the ECC. "The management is aiming to achieve a ratio of 250 employees per aircraft, down from approximately 486 employees per aircraft, which can be achieved with a staff of 7,500."
Meanwhile, speaking to Profit, some employees expressed concern over the ECC's decision, stating that the eligibility for early retirement at PIA is at least 20 years of service after which they receive applicable benefits. Employees who have completed 19 years and on their way to complete 20 may be deprived of the benefits they could receive if they finished 20 years.
However, sources said that PIA has set 18 years as its cutoff, further dividing the employees into two groups, i.e. those who have less than 10 years of experience, and those with 10-18 years of experience. Therefore, the management allows employees with 19 years of service to work until they complete their 20 years of service.