LAHORE:Toyota Indus Motors and Lucky Motors have both jointly increased their prices following the Federal Board of Revenue's (FBR) decision to increase the sales tax to 25% on completely knocked-down (CKD) units. The change was a result of an amendment in the Sales Tax Act (1990) through S.R.O. 297(1)/2023.
Toyota Prices 
The new prices for Toyota are as follows: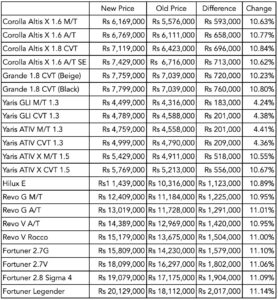 This marks the fifth price increase that Toyota has introduced this year. The previous price increases came on January 13, January 27, February 14, and February 20. Toyota's cars are now on average 39% more expensive when compared to March of last year. The 39% difference amounts to a staggering Rs 3.9 million on average.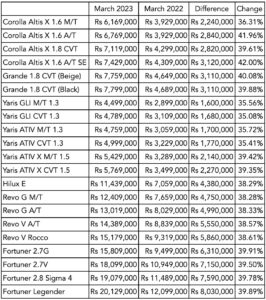 Lucky Motors 
The new prices across Lucky Motors portfolio are as follows: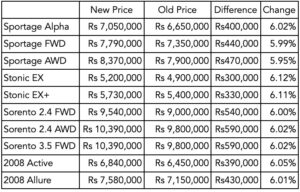 Lucky Motors' KIA Picanto lineup, however, was exempt from this upward price revision. This marks Lucky Motors' fifth upwards price revision as well. The previous price revisions came on January 31, February 21, February 24, and February 28. Lucky Motors diverges from Toyota, whereby its price increases have been focused at times in its portfolio rather than Toyota's more blanket increases. The February 21 price increase e.g. was only aimed at Lucky Motors' KIA Sportage line of vehicles, whilst this current price revision exempts Lucky Motors' KIA Picanto entirely. 
Lucky Motors' vehicles are now on average 28% more expensive than they were in March of last year. This 28% difference amounts to the average Lucky Motors vehicle being on average Rs 2.23 million more expensive.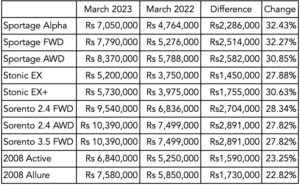 No respite ahead 
It should come as no shock to automotive customers at this point that these price increases may not be the last for this year. It is likely that these price increases have not factored in the recent round of depreciation the Pakistani Rupee has experienced against the US Dollar as the price notifications only attribute the decision to the FBR's S.R.O. 297(1)/2023. If the Rupee stabilizes at a level upwards of Rs 280 against the US Dollar, then it is likely that these prices will increase further in the very near future.