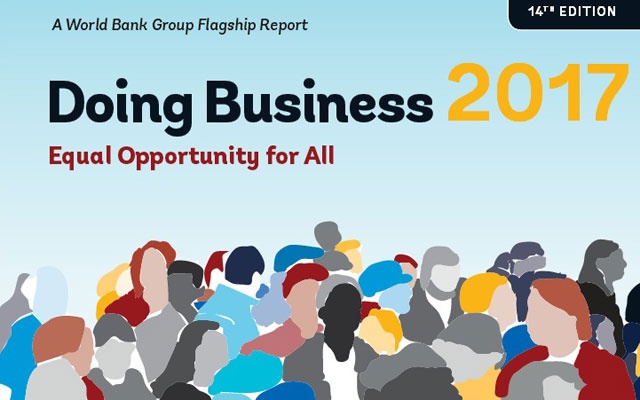 ISLAMABAD: World Bank released its Ease of Doing Business Index report on Tuesday, which revealed Pakistan's ranking has dropped to 147th among 190 economies globally.
Although, the government introduced reforms to make it easier to start businesses, but that didn't have an impact as Pakistan's ranking slipped from 144th last year. Pakistan's ranking on the influential global index stood at 43rd, a local newspaper reported.
From South Asia, Bhutan took the honours of being the highest-ranked economy in the Doing Business ranking at 75th place, followed by India at 100th, Nepal 105th, Pakistan 147th, Bangladesh 177 and Afghanistan 183rd.
Pakistan's ranking is based on surveys carried out in Karachi and Lahore, and the country did manage to make it easier to 'register property', 'strengthened minority shareholders protection', 'start a business' and 'do trade across the border'.
On the tax indicator, Pakistan's position eroded to fall by 16 places, to end up ranked at 172 compared to 156 last year. This fall is attributable to the increased tax rates which increased to 33.8pc of total profits, since the government decreased overall corporate tax rate to 30pc.
The increase in Super Tax on companies contributed to a rise in overall tax contribution. Due to multitude of taxes, companies and individuals paid 47 tax payments annually which took up 311.5 hours.
Pakistan further slipped to 105th on the indicator of getting credit for doing business from 82nd last year. In the section of starting a business, the country was ranked at 142nd and in registering property it stood at 170th.
On the index of getting electricity, Pakistan was ranked at 167th from its previous 170th and there were six procedures require completion to get an electricity connection. No improvement was recorded in the reliability of supply and transparency in electricity tariffs, the survey noted.
Pakistan's ranking improved in the index of dealing with construction permits, going up by nine notches to touch 141. To get a construction permit, 15 types of procedures need to be completed which take up to 252 days.
In index of trading across the border, the country's ranking went up by one place to touch 171st, which meant it was positioned at the bottom most pit among 20 countries. To meet border compliance procedures, an exporter requires 75 hours and cost of documentary compliance is $257. Border compliance cost stood at $457.
For imports, the documentary compliance cost stood at $735 and border compliance cost was $936.6 respectively.