During their early rule in the subcontinent, the Mughals employed runners who would take daak (letters and parcels) from one point to another and hand it over to the next runner. Before the daak reached its destination, it could at times switch hands between almost two to three dozen runners making the process tedious and time-consuming. In the 19th century, the British replaced the runners with horses and camels and by the end of the century, these runners were subsequently replaced by the railway, making postal service much quicker and more effective.
In the aftermath of the subcontinent's partition in August 1947, Pakistan Post was established as Pakistan's state-owned postal service and has since served people all over the country. So exactly how large is Pakistan Post?
Pakistan Post vs. private courier companies
The company has around 13,000 post offices throughout Pakistan, compared to its largest private sector competitor – TCS – that operates with only 900 retail outlets across the country.
More interestingly, almost 67% of Pakistan Post's offices are located in rural areas where most of its private competitors remain absent. However, Pakistan Post's presence in these rural areas, at least for the time being, contributes little to its profitability. "Of these 67% of our branches, 87% are incurring losses," Pakistan Post's new Director General Dr. Naseer Ahmed Khan, a civil servant associated with Pakistan Post since the early 90's, told Profit.
For any private sector company, it would have been a much easier call to close shop in these loss-making rural locations. But things are a bit more complicated for state-owned enterprises.
"Pakistan Post is a service providing entity so we can't really scale down our operations. If we do that, there will be a massive public outcry," says a senior official on condition of anonymity because he's not authorized to speak to the media. "However, from our perspective, if we could do that, it would be a win-win situation since a lot of Pakistan Post's rural presence is not profitable. But we are here to facilitate people."
On the other hand, compared to private courier companies, the state-owned enterprise performs a much broader function. In most cases, post offices perform about seven different functions ranging from a savings bank, postal life insurance, collecting utility bills, receiving international remittances, selling savings certificates, and working on behalf of the Ministry of Finance and the federal and provincial governments.

"We did not reinvent the company with the passage of time so the biggest gap between private companies and us is a lack of technology," says Naseer. "Private companies have a technological edge over us. Their infrastructure, like motor and trucking fleet, motorcycles and the other mechanisms needed for delivery, are much larger in number compared to ours."
These companies are able to afford such infrastructure as they are what can be called specialised courier companies. "(For private companies) being a courier company is their only role. But in case of Pakistan Post, we are doing so many other things as well. Even a small post office is functioning and performing several different functions," he says.
For the year 2017-2018, Pakistan Post recorded a deficit of Rs10.5 billion. But for the state-owned enterprise, its financial standing was not always this bad. In the year 2008-2009, it actually reported a financial surplus of Rs0.4 billion.
Naseer blames the deficit on increased salaries for government employees and a decrease in the commission rate charged by Pakistan Post's savings bank. "A couple of things happened in the year 2009-2010. Salaries of government employees were increased by 50%, and the savings bank's commission, which was fixed at 1.5% in 1995, was reduced to 0.5%. Because of these two decisions, we experienced a major setback," he says.
In addition, the company is required to pay out pensions that rise, along with salaries, every year. "We have 31,000 regular salaried employees and 17,000 part-time salaried employees in rural areas. In addition, we have another 25,000 pensioners," Dr. Naseer says.  
However, since the Pakistan Tehreek-e-Insaf (PTI) government has come to power, things have begun to improve for Pakistan Post following a successful rebranding campaign and the launch of new services under Murad Saeed, the new Federal Minister for Communications and Postal Services, that aim to shorten delivery times and increase international and domestic coverage.
In April, the federal minister announced the financial turnaround by claiming that the national courier service had earned Rs12 billion till March 2019 which was much more than what it had earned in the same period of the previous fiscal year.
As for changes on the ground, the DG said, "We have introduced a smartphone app, through which customers can track your articles, check tariffs and do a number of other things. We also introduced same-day delivery in 27 cities and pick up from home service in 11 cities across Pakistan."
"In addition, more than 550 companies have registered on the web portal for Pakistan Post's e commerce initiative called Pak Post Shop. We have also launched EMS plus, which is an international parcel service through which we can deliver internationally in 72 hours with a tracking facility," he says.
And local entrepreneurs and customers have responded to improvements in Pakistan Post. Ahmed Nabi owns a small e-commerce business in Lahore that sells clothing products throughout Pakistan. Like many other entrepreneurs involved in e-commerce in Pakistan, he started off by using the services of private courier companies to get orders delivered to customers. However, due to their higher delivery charges and narrower coverage, he switched to using the services of Pakistan Post.
Another factor that drove him towards Pakistan Post was private companies' longer Cash on Delivery (COD) payback cycles. In previous Profit coverage, sources familiar with the matter said that TCS and some other private companies had been using the COD payments to finance their own working capital and holding payments from vendors for up to three months at a time. For small startups and e-commerce business owners like Nabi, such long payback cycles can cause serious cash flow problems and many of them are increasingly opting for Pakistan Post, which offers lower rates, wider coverage and a usual payback cycle of around 10 days on average.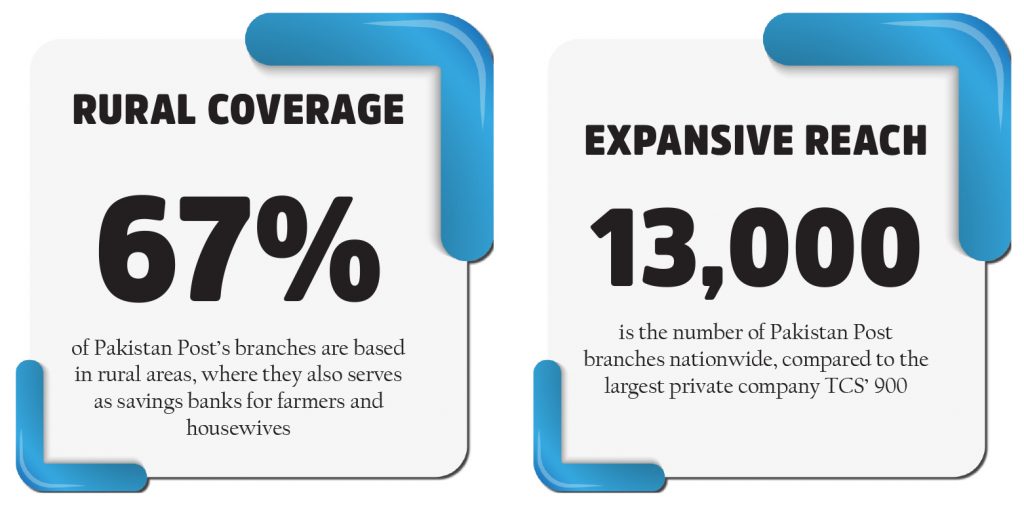 Similarly, the former German ambassador to Pakistan, Martin Kobler in January this year tweeted that he was able to send a parcel to his family in Berlin for a mere Rs200. That parcel reached his family in just seven days.
Is the competition worried? Well, Saira Awan, The Vice-Chairperson of TCS Holdings, thinks that the recent resurgence of Pakistan Post can be a good sign for the industry as a whole. "The private sector is the one that has borne the infrastructure and the investment cost in this industry for the last 35 years," she says.
"We want them (Pakistan Post) to come. We have been doing their work for so long, they should do it now so that we can move up the value chain to bigger things," she added.
But things are far from fixed at the national postal operator as Eleazar Bhatti, another e-commerce entrepreneur based in Lahore points out, "Pakistan Post, despite being a cheaper option, is generally unreliable. Their pace is usually slow. If you need to open an account with them, you have to go through a number of people. Such bureaucratic hurdles are frustrating,".
A senior Pakistan Post employee responds, on condition of anonymity: "If we are handling 40,000 articles in one office and if 0.1% of them get misplaced, that is understandable because it is such a huge volume. It happens to other courier companies as well."
However, the employee concedes that there is an inherent attitude problem among people working in government organisations that needs to be corrected. "People in state organisations are generally less accommodating but we are trying to make sure that our people are trained in customer service as well." Weather Dr. Naseer Ahmed Khan and Murad Saeed succeed in doing away with this bureaucratic culture is yet to be seen.
A step towards financial inclusion
According to data from the State Bank of Pakistan (SBP), the total number of bank branches in the country, as of June 2017, stood at 13,039 – about as many as Pakistan Post's network of branches. Having such a large presence, with a particular advantage in rural areas, and an already established savings bank, makes Pakistan Post a perfect tool for increasing financial inclusion in the country.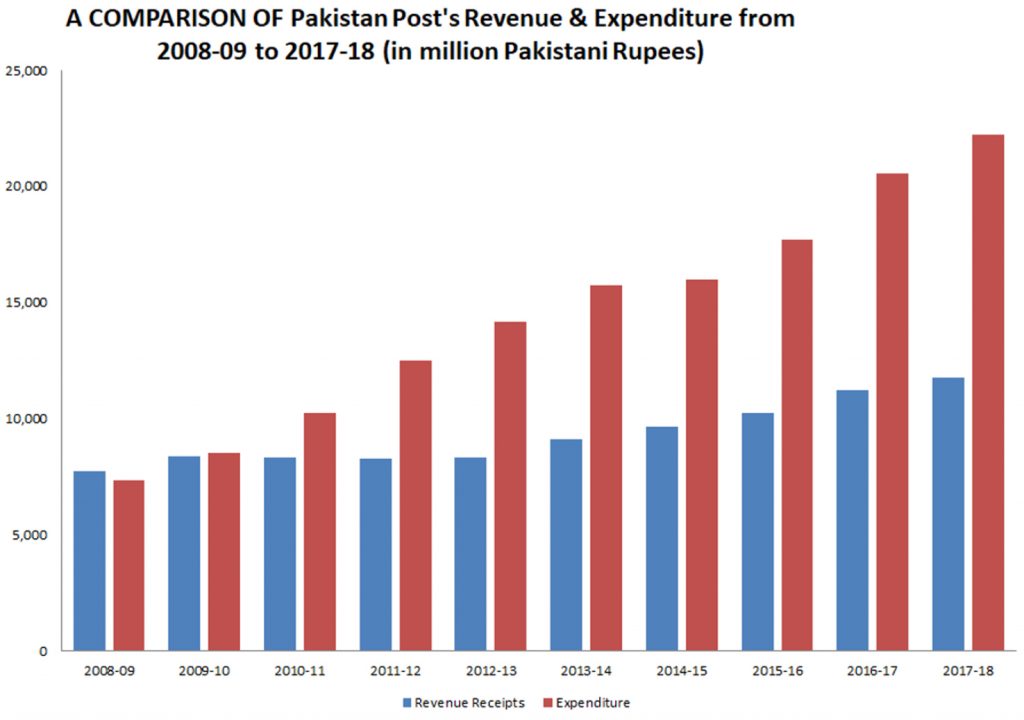 In the SBP's National Financial Inclusion Strategy, "digitization of Pakistan Post for provision of financial services on a fast-track basis to leverage its rural distribution network" has been listed as one of the actions to achieve the target of 65 million active digital transaction accounts by 2023. Currently, Pakistan Post has over three million account holders that it serves through its savings bank.
"Pakistan's savings rate is among the lowest in the region. The State Bank's National Financial Inclusion Strategy has an ambitious target of ensuring that 50% of adult population is brought into the network by 2020. Pakistan Post is playing a major part in it," says Dr. Khan. "Postal saving is among the few sources of small savings opportunities available in rural areas. Farmers, and particularly housewives, who live in these areas deposit their money with Pakistan Post." Of the 65 million accounts that the SBP has set its target for, 20 million will be owned by women.
Other functions of the savings bank include collecting utility bill payments, receiving international remittances and making pension payments to pensioners of the armed forces and other organisations. According to Pakistan Post's website, the organisation currently pays out pensions to approximately 1.14 million pensioners of the armed forces including from the Pakistan Army, Pakistan Air Force, Pakistan Navy, and the Frontier Constabulary.
Dr. Khan, however, is optimistic that Pakistan Post's postal savings service will not only increase financial inclusion in the country but can also play a vital part in making Pakistan Post profitable again. "We are aiming to fill the gap between our expenditure and revenue by the end of this financial year. We will be working very hard to achieve that target and want to make Pakistan Post an earning department despite everything."