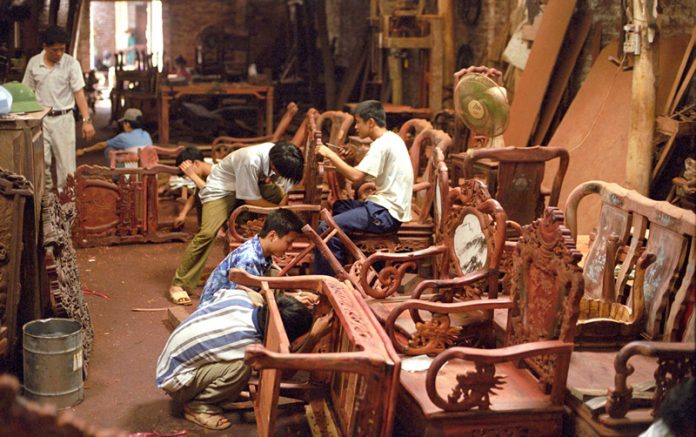 LAHORE
Pakistan Furniture Council (PFC) is set to hold the 9th Interiors Pakistan Expo-2017 from December 15, here at the Expo centre to promote and introduce Pakistani interiors, furniture and accessories in and outside Pakistan.
According to PFC sources on Friday, the exhibition will help in opening new vistas and venues to the amazing potential of Pakistani furniture, fixtures and respective furnishing goods that are produced with high quality.
PFC Chief Executive Kashif Ashfaq said that essence of this mega furniture exhibition is to promote the furniture and associated Pakistan made products at local and international level. He said that China, Italy, United Kingdom, Turkey, Hong Kong, Bulgaria, Denmark, Thailand and Bangkok, had been invited for participation while delegations from other countries were also expected.
He said this mega event would also be attended by members of the diplomatic corps, leading businessmen, stakeholders of the furniture industry and foreign delegation.
He said almost 100 brands would be exhibited at the event. Master Foam is the official sponsor of the event while more than 70 leading local companies and interior designers would display their products and as per the previous trend, nearly 250,000 to 300,000 people were likely to visit this mega exhibition.
Visitors are on the lookout for buying furniture would be able to enjoy a special discount of up to 20 per cent on different items exhibited at the event.
He said this exhibition would also provide the younger designers and architects to study the market trends and display their own work alongside that of more established professionals.
He said PFC is the only platform available to all small, medium and large furniture manufacturing companies in the country to promote their business and furniture related accessories.
He said the PFC aims at promoting industry friendly legislation, improving supply chain, marketing Pakistani furniture locally as well as internationally, creating a skilled human resource at all levels, upgrading manufacturing technology, setting and monitoring quality standards for products sold by brands under its umbrella.
He said they were pursuing the government to enhance trade and manufacturing that was not limited just to the furniture hubs of Chiniot, Gujrat, Peshawar and Gojra, instead they aim to expand the reach, where skilled artisans and carpenters convert wood into art.
He said they believe that furniture sector would not only generate foreign exchange but also create potential jobs, and above all help the Pakistani furniture industry gain global recognition.
Mian Kashif demanded the government to establish exclusive expo centres for furniture industry one each in Faisalabad, Gujranwala, Sialkot, Peshawar and Quetta, especially for Lahore, Karachi and Islamabad.
"Only 25 per cent industrialists and traders of the country visit Karachi fairs and after the establishment of new expo centres with greater facilities more people would come to theses cities to increase their trade with foreigners and local investors," he hoped.
He said PFC is not only focusing to hold exhibitions in Pakistan only but also continuing its work to develop the country's presence in more countries and to act as the focal point for Pakistani furniture designers and manufacturers to enter the international market.