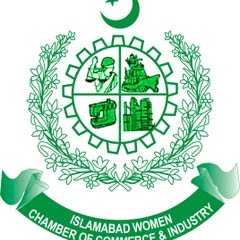 ISLAMABAD: A well-known entrepreneur Reem Abbasi has been elected unopposed as president of the Islamabad Women's Chamber of Commerce and Industry (IWCCI). Sofia Akhter has been elected as senior vice president while Munazza Arif has been voted as vice president of IWCCI.
Those who were elected to the executive committee of the IWCCI include Hajrah Kashif, Neelum Nayab, Shahida Mazhar, Musarrat Jabeen, Rubina Lahooti, and Nosheen Ali.
A press release issued here today said that the annual general meeting of the IWCCI was held with chamber's outgoing president in the chair. During the meeting, keeping in view her services, Abbasi was elected as President of the IWCCI. Samina Fazil, founder president of the chamber took the oath from the newly-elected office bearers.
Capital Administration and Development Division, Parliamentary Secretary Maiza Hameed, the chief guest, speaking on the occasion said that the success of nations is tied to the women empowerment. She said that government has taken a number of laudable steps to empower women and a lot is yet to be done.
Hameed said that families are healthier, educated and balanced while productivity improves and income increases when women are given authority.
Empowering women and reduction in gender gap is the key to change and essential to achieving the objective of poverty eradication. Women play a vital role in the development of households, society, and the country, therefore, their role cannot be neglected, she added.
Speaking at the occasion, the newly-elected President IWCCI Abbasi thanked the members of IWCCI for reposing confidence in her saying that, "We can only become a developed nation when women are encouraged and their skills utilised properly."
She said that she will assist women so that they can have a voice and become economically empowered. She added that she would follow the steps of Samina Fazil to work for the promotion of businesswomen.
Samina Fazil said that we will continue to support women entrepreneurs by enhancing their knowledge and skills.