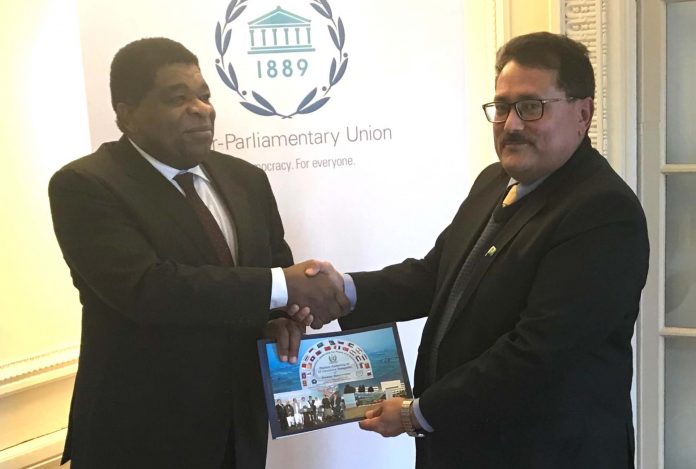 ISLAMABAD: In a recent meeting held at the IPU Headquarters in Geneva between Senate of Pakistan Secretary Amjed Pervez Malik with Inter-Parliamentary Union (IPU) Secretary General Martin Chungong, it was decided that the IPU would expand its MOU signed with Senate of Pakistan to include the guidance and patronage of the development of Model Law on effective quality control standards and codes to enhance productivity, people's health and well-being and as well as exports.
IPU Ambassador and Expert, Anda Philps was also present during the two-hour meeting and IPU lauded the role being played by the Senate of Pakistan in promoting the benchmarks aimed at achieving institutional excellence.
The meeting deliberated on avenues of further cooperation, meanwhile, it was also decided that the IPU will propose some concrete measures and a project in line with chairman's passion and desire to carve out a pro-active role of parliament in development especially development of underdeveloped federation units.
Martin Chungong expressed the willingness to cooperate in all areas of bilateral and mutual interests and said that there is a need to do something solid under sustainable development goals in Pakistan especially Balochistan.
The visit of Senate secretary to Geneva was in follow up of APA meeting in Gwadar in which IPU secretary general was a special invitee. The agenda of the meeting was to firm up proposals and ideas generated at Gwadar and subsequent meetings of Senate Chairman Muhammad Sadiq Sanjrani with him in Male' and Azerbaijan to spread the message of peace, connectivity, inclusivity and sustainable development discussed, debated and exhibited in Gwadar to 178-member countries of IPU.
The IPU Secretary General IPU emphasized on a close and enhanced coordination between Pakistan's Parliament and IPU in capacity building, technical support and orientation of members.  Both the sides also agreed to cooperate for taking the legislative drafting facility established in the Senate under MOU with IPU to higher level and standards. The IPU secretary general also called upon the need to build regional inters parliamentary synergy between IPU and APA.
As secretariat of IPU Asia Pacific Group (APG) will be with Parliament of Pakistan this year, both sides also discussed ways and means for better organizing and secretarial support before, during and after the next two IPU Assemblies in Doha and Belgrade.